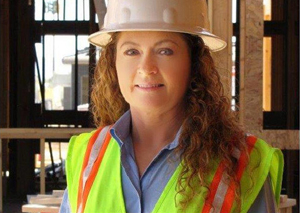 There is no half way with Brenda Thompson, whether she's digging for information on code applications, receiving a Masters of Public Administration, or hiking piney trails of Mount Charleston in Southern Nevada.
For the past 25 years, Brenda has provided inspection oversight for Clark County, Nev. Clark County covers more than 8,000 square miles of southern Nevada, spanning the snow-capped peaks of Mount Charleston, the high Mohave Desert of Las Vegas, and the Colorado River Town of Laughlin. Included in Clark County is the "Las Vegas Strip" and its surrounding environs hosting an average of 790,000 visitors weekly enjoying the most complex engineering and architecturally exotic hotels and vast entertainment venues.
She is the Inspection Manager for Clark County Department of Building & Fire Prevention. She manages an operational budget of over $10M providing both short and long term projections. She manages two remote offices located in Laughlin and Moapa and the Inspection Division in the Las Vegas office. She manages an inspection staff of nearly 50, where at its peak, was performing 750,000 inspections a year.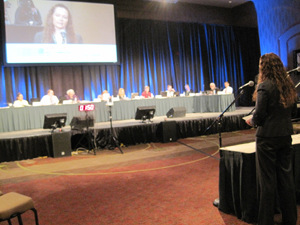 As a near California native, Thompson became involved in ICBO not long after beginning her inspection career in 1986 with the City of San Diego as an Combination Building Inspector apprentice—and then full Combination Building Inspector.
Through the years, Thompson accumulated ICC certifications for her job and career advancement. The strict focus on her tasks at hand led to a surprising discovery.
"I was checking over my certifications, and I saw that I was one short of qualifying as a Master Code Professional," Thompson said. So she took another exam and became one of only 820-plus to be able to wear the gold-colored Code Council lapel pin signifying the ultimate achievement.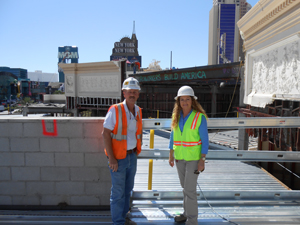 In a recommendation letter supporting Thompson for the ICC Board of Directors, Stephen DiGiovanni, President of the ICC's Southern Nevada Chapter, said she has been "a fantastic resource for our local ICC Chapter, marshalling over 100 code proposals through the national code development process."
Thompson also has served on many local and national committees, including Chair of ICC's Sustainability, Energy and High-Performance Code Action Committee, and earning ICC's National Leadership in Sustainability Award in 2014.
As with many of her achievements and committee participation, getting involved in sustainability was an extension of what Thompson saw going on in safe construction.
"I wanted to understand what it was all about and discover the applications and the issues with it," said Thompson, who serves as the State of Nevada's Energy Code Ambassador. She added the landmark agreement between the ICC and ASHRAE to produce the International Green Construction Code will make that code even stronger by drawing on those experts in the field.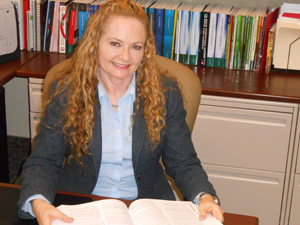 The proud mother of a State of Nevada Deputy Attorney General with a "wonderful son-in-law," Thompson was hooked on the Code Council even as a Member of the legacy organization the International Conference of Building Officials and the Southern Nevada Chapter.
Thompson said she understands the financial and organizational demands of a large organization such as the ICC. And as a Board member, she looks forward to discovering new ways to serve the Members, streamline business processes, and make ICC a more effective organization to serve the Chapters and "enrich the ICC experience for everyone involved."