The International Code Council's Affiliate Sponsor Program is a unique opportunity for building safety industry service providers, building product manufacturers and building companies and  organizations to reach the Code Council's core membership of professionals with their message. This 12-month program can help you gain valuable exposure and brand awareness.
The Code Council is the leading association dedicated to the development of model codes and standards used in the building design, construction and compliance process. The association has an unparalleled reputation around the globe for providing technical resources to the building community. Our 64,000 members and over 100,000 regular customers are the industry professionals you want to reach with your message.
Year-round Visibility, Recognition, and Exposure to over 100,000 Industry Professionals!
As an Affiliate Sponsor, your company will receive recognition and benefits for one year which includes exposure during ICC's Annual Conference, Building Safety & Design Expo, Committee Action Hearings and Public Comment Hearings. In addition, you will have year-long exposure as a supporter of the High School and College Technical Training Programs, and in the Code Council's award-winning Building Safety Journal.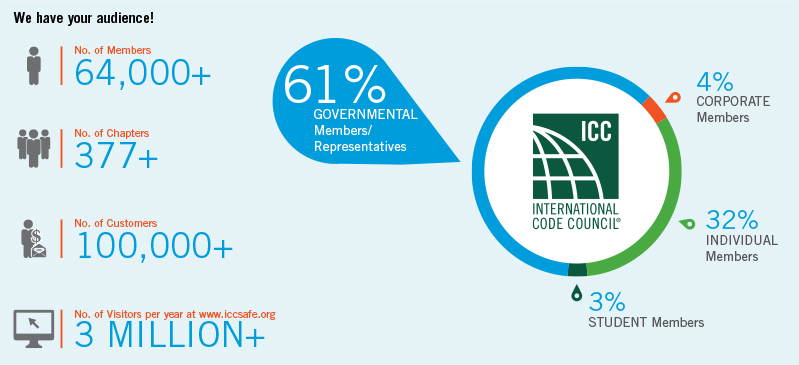 Sponsor Benefits (Click here for more details)

ICC's Annual Conference

The International Code Council's Annual Conference brings together building safety, fire prevention and other building industry professions from around the country and internationally in one location. During this event, they will be able to network and attend continuing education courses.

The Conference is a uniquely efficient opportunity to reach a large and diverse group of code officials, contractors, architects, inspectors, builders, design professionals, fire service professionals, plans examiners, and engineers to share your knowledge and expertise.

Building Safety & Design Expo

The Building Safety & Design Expo provides a platform for exhibitors to demonstrate and educate building safety and design professionals about the latest innovative technologies that are helping to build a safer world.

The Building Safety & Design Expo brings professionals from the built environment including local tradesmen, architects, engineers, plumbers, HVAC, building and fire safety professionals from around the country together in one location.

Building Safety Month

Building Safety Month is an international campaign celebrated in May to raise awareness about building safety. The Code Council, its 64,000 members, and a diverse partnership of professionals from the building construction, design and safety community come together with corporations, government agencies, professional associations and nonprofits to promote building safety through proclamations, informational events, legislative briefings and more.

High School and College Technical Training Programs

The ICC High School and College Technical Training Programs integrate courses on one or more of the International Codes into schools' current construction trade curricula. These programs offers schools a framework to help students understand how codes and regulations are used in the design and construction of residential, commercial, federal and military facilities.

Website/Social Media

Gain exposure through the ICC Affiliate website by having your company logo and profile displayed. ICC will also feature affiliate sponsors through our social media platforms (LinkedIn, Facebook and Twitter) and with an Affiliate Spotlight Article.

BSJ Weekly

The BSJ Weekly is an electronic newsletter that is distributed more than 40 times a year to more than 80,000 potential readers. The BSJ Weekly provides the latest news related to industry activities and ICC programs.

Building Safety Journal

The Code Council's digital publication features technical articles, personal perspectives, deep dives and quick hits relevant to current trends and hot topics within the industry. The Building Safety Journal portal provides you the opportunity to reach more than 69,000 industry professionals weekly, and more than 240,000 professionals monthly. New articles appear daily.

ICC Corporate Membership

Membership in the International Code Council gives you the tools to get the most out of each work day. From discounts on essential International Codes® and other publications to the best prices on top quality training and ICC certification renewals, ICC Membership helps make your budget go further. Exclusive Member benefits include code advice from our expert technical staff as well as access to member-exclusive news and articles at our award-winning Building Safety Journal news portal.

For more information:
Brian Campbell, CEM
ICC Eastern Regional Office
900 Montclair Road
Birmingham, AL 35213
1-888-422-7233 x5264
bcampbell@iccsafe.org