The ICC Community Service Award
The ICC Community Service Award recognizes outstanding service that promotes public health, safety and welfare.
The 2020 ICC Community Service Award recipient is the Mansfield (TX) Volunteer Program/Priscilla Sanchez.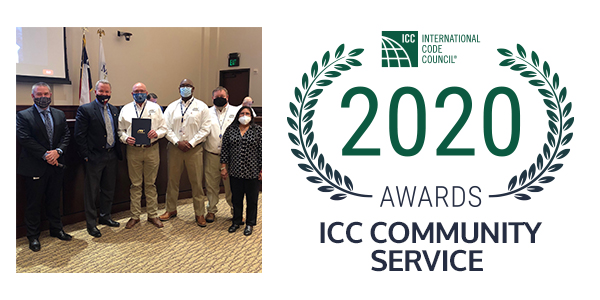 Previous Community Service Award Winners
2019: Puerto Rico Construction Code Committee
2018: Community Development Department of Peoria, Illinois, and
North Central Texas Permit Tech Chapter
2017: Women in Code Enforcement and Development (WICED)/PermitTechNation (PTN); and the Building Department of the City of San Jose, Calif.
2016: of Newport Beach, Calif., Building Division
2015: Southern Nevada Chapter; Leon Valley (TX) Fire Department
2014: Rebuilding Together Aurora [IL]; Aurora Building & Permits
2013: Butte County (CA) Department of Development Services —
 Building Division; FEMA Building Science Branch
2012: Deborah Vanek
2011: Tony Falcone
2010: City of Ft. Smith, Arkansas Development Services Department
2009: The Building Officials Association of Suffolk County
2008: Sun City, Arizona Fire Prevention Bureau
2007: Scott McDonald; Don Plass
2006: Jill Gray; Washington Association of Building Officials
2005: Quinn Davis
2004: Phillip Randal Whisman
2003: City of Asheville, North Carolina; Ron Hampton; Jerry Mallory
Nominations are due Monday, March 15, 2021. Download the application and submit to awards@iccsafe.org