---
Immediate Past President
Jay Elbettar, P.E., CBO, LEED AP, CASp
Building Safety Manager
Lake Forest, California
Send Email
"I still have a lot to learn," said Elbettar, building safety manager for the City of Lake Forest, Calif. "There are always more certifications and such you can achieve. … I want to help the members know that those opportunities are available to them … to help make them better code officials for their municipalities."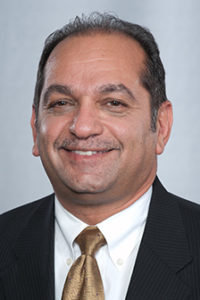 As an engineer early in his career, Jay Elbettar was impressed with code officials and with the seemingly limitless knowledge they had on many topics, from adding a screened-in porch or to safety guidelines for a 45-story building. He is a registered professional engineer in the states of California, Georgia, Florida, Colorado, Tennessee, Nevada and Texas.
Looking at his vast resume, one can see Elbettar's growth as a code official is linked to the experience he has gained in the years since. Elbettar, the ICC's 2010 Code Official of the Year, is ready to use his considerable expertise to help members.
And to learn even more himself.
"I still have a lot to learn," said Elbettar, building safety manager for the City of Lake Forest, Calif. "There are always more certifications and such you can achieve. … I want to help the members know that those opportunities are available to them … to help make them better code officials for their municipalities."
Elbettar recently came to his position with the City of Lake Forest. When he was Mission Viejo's building official, Elbettar managed and directed the operation of its building division through Charles Abbott Associates. He oversaw plan checks, inspections, counter operations and permit issuance.
Plan checking is where Elbettar began his code career in 1990 with the city of Glendale, Calif. Before that, the graduate of the University of Baghdad and the University of Southern California who was always amazed at how structures were built, focused on engineering. Born in Michigan, he followed his father, a professor of linguistics, to the Middle East, where he obtained varied educational and work experiences, including a stint as a construction engineer with the Greek firm Helliniki Techniki S.A. in the Middle East.
During nearly a decade with the U.S. Army Corps of Engineers, Elbettar often was amazed at code officials' comprehensive knowledge. "It wasn't like you focused on one project and knew the codes for that," he said. "You had to learn them all over again for a new project. [Code officials] knew them all."
With the diversity of projects in Glendale, counter work was an eye-opener, Elbettar said, personally and professionally. "With the Army Corps, you really didn't know the people," he said. "At the counter, you got to see the homeowner with their plans, as well as the developers. It was very rewarding. I learned to be more tolerant, more patient."
While in Glendale, Elbettar became involved with the International Conference of Building Officials, an ICC legacy organization. Once he saw the expertise of the committee members, he said he wanted to join them. He did, and eventually served as co-chair of the ICBO Orange Empire Chapter Code Development Committee; and as Treasurer, Secretary, Vice President, President, and Past President of the Orange Empire Chapter. He also was a two-time chair of the county-wide code uniformity adoption effort with the ICC.
In 1997, Elbettar moved on to Newport Beach, Calif., where he spent 14 years as Director of Building and Safety, and Chief Building Official and Director of a full-service department composed of three divisions, including plan review, permit issuance, inspection and building code enforcement.
Though smaller in population than Glendale, Newport Beach provided more extensive experience for Elbettar, including overseeing more high-rise buildings, dealing with a major fault line, coastal erosion and landslides, and keeping an eye on seven islands.
Impressed with the ICC during his service on many committees, Elbettar said he decided to run for the ICC Board after several people urged him to do so. "You don't get a lot of opportunities … so when some Board members on the West Coast (had terms expire), I thought I would go for it. … It's an honor to be considered for the Board, let alone be elected. I'm very thankful."
As a result, Elbettar is focused on letting members know of the opportunities the ICC offers to enrich themselves personally and professionally. Because whether as a code official, basketball player (years ago), lifelong stamp collector, or husband to Tess and father of four children, Elbettar said he wants to do his best. He wants to enable others to do their best also.
"I firmly believe that if a person does their best, they will achieve success, whatever definition they have of success," he said. "I always try to do my best, and I try to get that across to others."