---
Section C Director
Thomas W. Peterson
Building Official
Division of Facilities Construction and Management, Utah
Send Email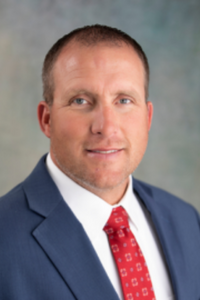 Maybe it's something Thomas Peterson learned in Boy Scouts, the backbone of youth in his native Utah. Or maybe it was subliminally instilled watching his father devote time to his community.
"When I am a part of something, I give it my all and try to go above and beyond," said Peterson, elected to the ICC Board of Directors at the Annual Business Meeting in Kansas City, Mo.
"So I've always been active in whatever I am a part of, but I really was drawn into ICC while attending my first Annual Business Meeting in Phoenix. I was welcomed by the membership and by the ICC leaders, who made me feel part of the group. That's very important to a young person just getting involved."
As an ICC Board Member, Peterson – Utah's State Building Official in the Division of Facilities Construction and Management – said he had, and has, many mentors. He believes it is crucial to pay it forward, not only for the individual's growth, but for that of an industry seeing many of its officials and inspectors retiring soon.
With a state leadership position at the relatively young age of 38, Peterson is well poised to draw in and mentor the next generation of code officials. He certainly can tell them It doesn't matter how you start; just get started.
He got started in the business "as a fluke." After graduating from Box Elder High School, he spent two years in Cape Town, South Africa, where he served on a religious mission for the LDS Church.
Not sure what he wanted to do when he returned home, Peterson accompanied a friend to a job interview for an entry-level electrician.
Very entry-level.
"I started out as an 'expediter,' running parts to different job sites," Peterson said. "I got to know the names of those parts and how they were used."
Ultimately, he became a Journeyman Electrician, installing electrical equipment in commercial and industrial sites, includes hospitals and businesses ranging from a Walmart to a ski resort. Peterson then became a Master Electrician with another firm, installing electrical equipment in commercial and industrial sites.
While he was learning a lot as an electrician, Peterson said he knew he couldn't do the heavy lifting for much longer. He already had two back surgeries, so when an inspector from Brigham City Corp. came by the site one day, he wasn't shy:
"I asked him how a person goes about getting a cushy job like he had," Peterson remembered chuckling. "He told me they just happened to have an opening for an inspector, and I should apply."
So in 2005, he set on an eight-year path as Combination Inspector for Brigham City Corp. There, he provided plan reviews and conducted on-site inspections of commercial, residential and industrial buildings to verify building code compliance. He had the chance to work with the public, helping them with their building code questions and concerns.
"I've always been interested in the code world," said Peterson, who was quick to join the local ICC Chapter in his area. In February of this year, he was installed as President of the ICC's Utah Chapter.
But who knows how long it might have taken for Peterson to get more involved had then-ICC Board President Ron Piester and future President Stephen Jones not welcomed him with open arms at the 2011 AMB in Phoenix?
"For those guys to take the time to welcome me and continue to support me has been just tremendous," said Peterson. Now on the City Council in Brigham City, he encourages his Building Official to attend ICC meetings, as well.
Before taking the job as Utah's Assistant Building Office late in 2015, Peterson served as Chief Building Official for Box Elder County, where he managed the inspection department, and performed inspections and plan reviews.
There, he got the chance to have a statewide impact, working with elected officials in creating ordinances and adopting codes. One of his favorite accomplishments so far has been bringing code officials and legislators together for common ground on the codes.
Peterson, who also has his own electrical contracting business, is married to Jodi, and they have four children, most of whom have adopted Lacrosse, which he coaches. He also enjoys golf, four-wheeling, snowmobiling, mechanic work "and serving those around me."
In late fall each year, they'll pack up the car and head to a friend's cabin in Idaho, where they'll cut down their Christmas tree.
"We pass a lot of good trees on the way out there," Peterson said, "but it's a nice family trip."