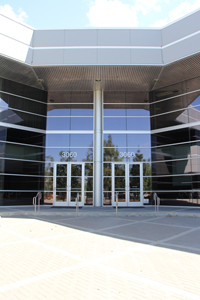 Ah, smell that? That's the "new office" smell wafting from the ICC's new Western Regional Office in Brea, Calif.
The Western Regional Office has moved from the Whittier location to 3060 Saturn St., Suite 100, in Brea. The new office opened on Sept. 2. Minutes from the Orange Freeway and the Brea Mall, the new, state-of-the-art facility will enable ICC to better serve Members and customers with codes, standards, products and services to help building safety professionals create better buildings and more resilient communities.
The facility houses ICC, ICC Evaluation Service (ICC-ES) and International Accreditation Service (IAS) staff. The relocation of the office was complete at the end of August, and staff can't wait for you to visit and show you around.
At its new office, ICC is investing in an environment conducive to continual growth and improved efficiencies that provides clients and ICC Members with expanded services. The new office enables ICC to continue to lead the industry in accreditation and product certification services and act as the global gateway for ICC Evaluation Service, LLC (ICC-ES) and the International Accreditation Service (IAS) subsidiaries.
The new Western Regional Office is easily accessible for clients, Members, employees and partners, and has close access to essential business amenities, such as restaurants and hotels in a town known for its hospitality and patronage to the arts.
The facility features the newest technology and infrastructure to enable ICC's clients and Members to interact seamlessly with each other and with ICC, ICC-ES and IAS technical staff. Features of the new office include a state-of-the-art training center ready to host industry meetings and events to help build and expand the ability of ICC to serve its Members' needs.
Consistent with the ICC's commitment to efficiency and environmental excellence, the new facility meets or exceeds CALGreen standards.
"ICC is committed to serving as a catalyst for innovations that build a safer world," said Dominic Sims, CBO, CEO of ICC. "Our new Western Regional Office location is the perfect place for us to further our mission that all concerned with the safety and performance of the built environment have access to resources and tools that help ensure safe, sustainable, affordable and resilient communities."