The International Code Council (ICC) answered the ALS Ice Bucket Challenge from the National Fire Protection Association (NFPA) to help raise awareness and funds by also making a donation to the ALS (Amyotrophic Lateral Sclerosis) Association. Six members of the ICC executive team took the challenge at ICC's Western Regional Office in Brea, Calif.
See More:
Video: Watch ICC's Executive Team Take the Ice Bucket Challenge and Challenge Others
ICC Extends the Challenge
ICC's Executive Team challenged the following organizations to take the ALS Ice Bucket Challenge: American Institute of Architects, Building Owners and Managers Association International, National Multifamily-Housing Council, American Gas Association, National Association of Home Builders, Laborer's International Union of North America, Structural Engineers Association of California, National Institute of Building Sciences, MADCAD and ASHRAE.
Six of ICC's executive staff members preparing to take the challenge, including ICC CEO Dominic Sims, IAS President Chuck Ramani, ICC-ES President Shahin Moinian, ICC Executive Vice President of Compliance Programs Michael Gardner, ICC Chief Financial Officer/Chief Operations Officer John Belcik and ICC Executive Vice President and Director of Business Development Mark Johnson.

Chuck Ramani extends the challenge to LiUNA.

John Belcik, AKA the "Masked Marauder", extends the challenge to MADCAD.

ICC executive team members doused by ICC staff for a good cause.

Dominic Sims (left) and Mark Johnson recycle water used in the Ice Bucket Challenge on landscaping at the ICC Western Regional Office.
ALS (Amyotrophic Lateral Sclerosis) Association
Learn more about ALS and the Ice Bucket Challenge.
NAHB Accepts ICC Ice Bucket Challenge
Video: NAHB Accepts ICC Ice Bucket Challenge
NFPA Challenges Other Organizations to Take the ALS Ice Bucket Challenge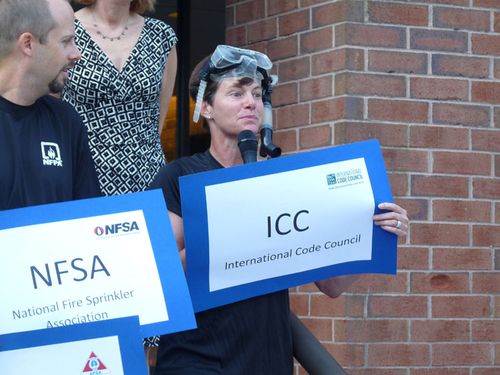 Click here for the full article.