Professional Expertise
One of the goals of raising the profile is for the local code official to establish him or herself as a valued resource and not just a regulator. It takes a broad array of abilities including effective communication, people skills and robust code knowledge. Ongoing professional development is necessary to maintain, refine, sharpen and expand the expertise required of the local code official. It is a smart, cost effective investment for the jurisdiction when the local code official is active with their local and/or state ICC Chapter; attends ICC Annual Conferences and grows his or her network of experts; and impacts future codes by participating in cdpACCESS.
ICC supports professional expertise in many ways, some of which are highlighted below. Peer-to-peer resources follow.
Raise Your Professional Standing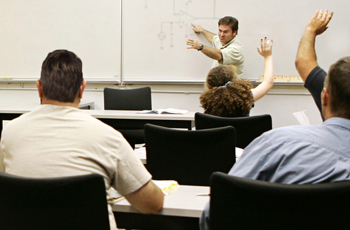 Continuing Education includes on-site education opportunities, regional training programs, and online courses through ICC.  Two 'must haves' for any building department are Inspector Skills and Building Department Administration. In addition, there are study guides, commentaries, significant changes and more, which can help the local code official be appropriate in their application of the code.
ICC Certifications are the market leader and are highly regarded in the industry. According to a recent survey of more than 2,400 members and certificants, the value of ICC Certifications are greater than the cost and many certified employees are paid more than their non-certified counterparts. Demonstrate commitment to your career by pursuing an ICC Certification.
ICC's Preferred Provider Program opens the door to extensive training opportunities from a variety of educational resources. The program recognizes and promotes ICC-approved educational courses offered by a variety of education providers, focusing on the areas of construction codes, standards and guidelines, as well as building construction materials, products and methods.
Help Each Other Succeed
The ICC Discussion Forums are ICC's online, professional discussion forums and area within the website that has a sense of community – where Members and nonmembers can provide input and exchange ideas with their peers in the industry.
Connect with us on LinkedIn for professional networking opportunities.