Architect Tammy Eagle Bull: An advocate for culturally relevant and responsible indigenous architecture
Tammy Eagle Bull is a trailblazer in her own right and an innovative thinker who uses architecture as a catalyst for change and empowerment
Tammy Eagle Bull, FAIA, NCARB, AICAE, an architect and president of the firm Encompass Architects based in Lincoln, Nebraska, hails from the Oglala Lakota Nation in Pine Ridge South Dakota. Because her parents were professional educators, they were able to raise her off the reservation in Aberdeen, a prospering city 360 miles from Pine Ridge. Despite the distance, and to maintain the cohesive family dynamic, visits to see her grandmother and cousins on the reservation were a must-do obligation.
Traveling between home and the reservation revealed a noticeably distinct contrast between the two built environments. For starters, the elementary schools in Aberdeen were newly designed, open spaces following a model that paralleled the current academic philosophy. The schools on the reservation, however, were the total opposite; poor and run down. Consequently, dialogue regarding the built environment and feelings of self-worth became an ongoing topic of discussion between Eagle Bull and her father.
Developing an interest in architecture
The older generation of the 1950s believed that when their people became more viable, a need for Native American architects and lawyers would emerge. With this mindset, Eagle Bull's grandfather encouraged her father and uncle to seek careers in architecture and law. Sadly, the social climate during that time denied the two brothers and they instead pursued careers in education. To compensate, her father saw and encouraged her natural aptitude for drawing, designing, and serving her people through architecture.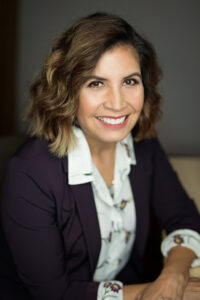 "My dad had wanted to be an architect since high school… His father, a tribal leader, once said, 'One day, our tribe will be in a position to rebuild and change our situation, and we are going to need architects and lawyers to do it,'" she explained in a 2017 American Institute of Architects (AIA) interview. "But when my father went to his non-Native counselor at school, the counselor said, 'The best you can hope for is to be a teacher.' So, he became a teacher and had a wonderful career, but he always regretted not becoming an architect."
When the time came for Eagle Bull to begin her collegiate studies, she chose Arizona State University. With her father's guidance, she was able to amass multiple scholarships, the largest being the AIA Diversity Advancement Scholarship. She earned a bachelor's degree in design-architectural studies in 1987, fulfilling the dream for herself and the two generations before her. She was then the first Native American woman to achieve this accomplishment.
Upon graduation, she started in the architecture field when she was hired by a firm in Kansas to help the company implement AutoCAD. From there, she connected with another firm to work on municipal projects. Wanting as much experience as she could get to learn non-native architectural protocols, she then moved to Seattle to work for a firm that sent her throughout the country; to encounter and manage a myriad of projects. She felt the experience provided a foundation for working with various tribal groups.
Pursuing tribal architectural opportunities
Eagle Bull returned to Minneapolis to complete her master's degree at the University of Minnesota in 1993. There, she practiced architecture for six years. During this period, she married her long-time fellow architect Tom Hesson and they moved to his hometown in Lincoln, Nebraska, in 2001. Not missing a beat, she then aligned herself with the Cunningham Group, where she managed their Native American clients; an important "next step" to pursuing tribal work. From there, getting noticed and pursued by a Native American firm was followed by a milestone event that brought with it the opportunity for her to go out on her own. She and her husband took the leap and founded Encompass Architects in 2002. The firm's name reflects the belief that architecture has an all-encompassing impact and effect on a community.
"My practice is not glamorous and you don't win awards, but it's very satisfying. When we work with tribes, I stay visible. I hear, 'You're a girl and you're an architect?' I say that it's about courage and being an architect can be a way to give back. And unlike in my dad's day, not only the boys but also the girls know it's possible."
— TAMMY EAGLE BULL
By 2005, they were involved in projects with approximately 10 tribes in the U.S. "We formed the company to not only bring high-quality service to all clients but to focus on tribal clients and thus, prioritize Native Americans and their communities," Eagle Bull explained.
Tribal work and the built environment
As predicted by her grandfather, Native American tribes are expanding in viability. Parallel to that reality, an expanding need for built environments also exists. These new structures should be designed and built by those who are sensitive and connected to Native American cultural nuances and practices. Who better to take on this task than Encompass Architects, which has become a leader in designing projects for Native American communities through all-inclusive, collaborative conversation.
Eagle Bull recalled an earlier project that implemented Encompass Architects' all-inclusive conversation: A small town in Minnesota wanted to build a "treaty site history center." Eagle Bull's idea, birthed from her clients' vision, was well received and the building phase began. Eagle Bull admits this particular milestone was pivotal, crediting her ability to listen to her clients' thoughts and ideas.
Later, a commission to redesign a 60-year-old school on the Pine Ridge Reservation in Porcupine, South Dakota, was brought to her firm. (Pine Ridge is the famous site of several landmark events in U.S. history and is tethered to many renowned individuals and places such as the Lakota leader Sitting Bull, the Ghost Dances and Wounded Knee.) Funded through the Bureau of Indian Affairs, the Pahin Sinte Owayawa School (or Porcupine School) had one unified requirement: to be a multi-functional facility. An educational institution serving kindergarten through eighth grade, Eagle Bull wanted input from not only the adults but also the students; to gain their perspective about what the new school would look like but also how it would serve them.
"Realize that architecture is a service profession. It's not about you. It's about the client."
— TAMMY EAGLE BULL
Hands-down, the students wanted their school to be a safe place where they could escape home issues and the adults wanted a multi-functional facility. This collaboration between the designer and the community made the new school a tangible expression of their all-inclusive conversation. Opening in 2009, the Pahin Sinte Owayawa School's structural composition reflects the feeling of the ideal home that is multi-functional. A shining caveat: the school was designated the first LEED silver-rated school in South Dakota, further stamping Eagle Bull's credibility, daring and leadership.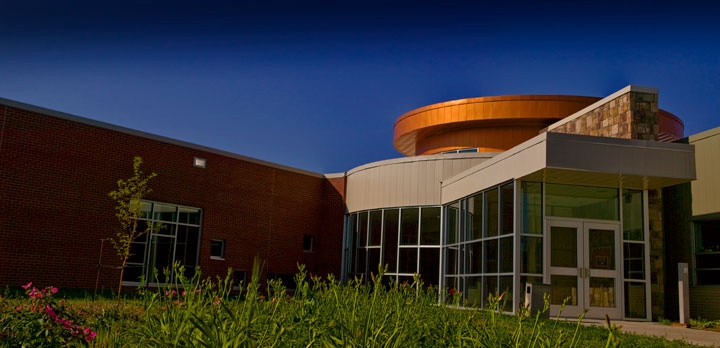 Laying the foundation for Native American architects
Embracing her status as a role model and trailblazer, Eagle Bull is laying the foundation for the next wave of Native American architects. She firmly believes the built environment is the pathway for her people to regain sovereignty and a greater sense of self-worth. She and her husband regularly speak at graduation ceremonies and are often sought out by schools and students for guidance and mentoring. Additionally, Encompass Architects holds numerous events that teach children about architecture. Some of these events are held at the firm's campus and show how architectural technology can be used to elevate Native American communities.
"In Native America, the buildings and projects there affect the communities in such a way that it's not like any other place in America. A new building on a reservation will impact everybody," Eagle Bull explained. "Having architects who are innately connected to those communities is really important because there are nuances and cultural values that need to be respected that you can't teach to non-native architects, so it's really important for us to increase the number of Native American architects because the projects in Indian country are going to continue to grow and there will continue to be a huge need there."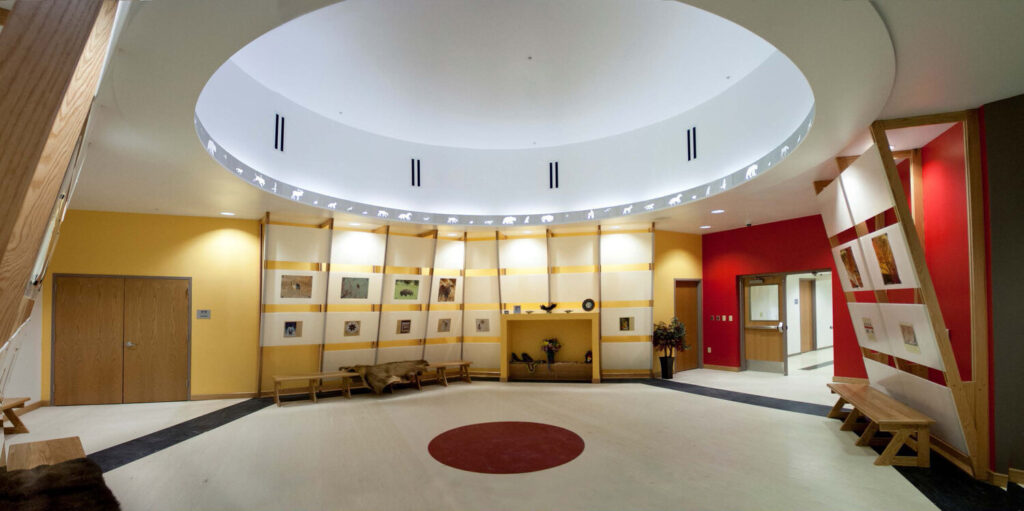 As an active member of the American Indian Council of Architects and Engineers (AICAE), Eagle Bull has been a key player in transforming this once-small group into a nationwide network that welcomes architects and engineers at all career levels. For her work, she was given the AICAE Legacy Award in 2018. In that same year, she was instrumental in negotiating a partnership with the National Organization of Minority Architects; a merger that will significantly benefit both groups. For this, Eagle Bull was selected for the AIA's Whitney M. Young Award in 2018.
"My mission is to prove and show tribal communities that architecture is another way that they can express sovereignty… It needs to extend to our built environment, the one area there that no one has focused on yet. Tribes can see it as a value. Tribes can see that it matters."
— TAMMY EAGLE BULL
Through the philosophy that Encompass Architects maintains, Eagle Bull's commitment to show tribal communities a way up and out of a devalued past and mindset is through architecture. It's an attitude that is gaining momentum and is expanding to other tribal communities to improve, refashion and redesign their built environment and infrastructure. She feels the time for enlisting Native Americans into the ranks of architectural careers is now and she continues to do more than her part to make this a reality.
References: