Building Safety Month 2021 celebrates success


Each year during the month of May, the International Code Council comes together to spread awareness about the importance of building safety through Building Safety Month. The international campaign — with a theme this year of "Prevent, Prepare, Protect. Building Codes Save." — reinforced the need for the adoption of modern, regularly updated building codes; a strong and efficient system of code enforcement; and a well-trained, professional workforce to maintain the system.
Our virtual celebration this year created a global buzz through your videos, social media posts, news releases and virtual calls and events. Thanks to the support of our members, chapters, jurisdictions, partners, sponsors and staff the Code Council was able to reach new milestones. More than 200 governors, jurisdictions and organizations issued proclamations proclaiming May 2021 Building Safety Month, including U.S. President Biden. "Investing in our infrastructure and adopting and implementing modern building codes are the most effective mitigation measures communities can undertake." Additionally, U.S. Representative Sharice Davids (D-KS 3rd District) recognized Building Safety Month and the work of the Code Council, its board and members, and industry partners during the June 17 proceedings of the U.S. Congress. Her remarks are now part of the Congressional Record — the official daily record of the debates and proceedings of the U.S. Congress. View the proclamation for National Building Safety Month and the rest of this year's proclamations.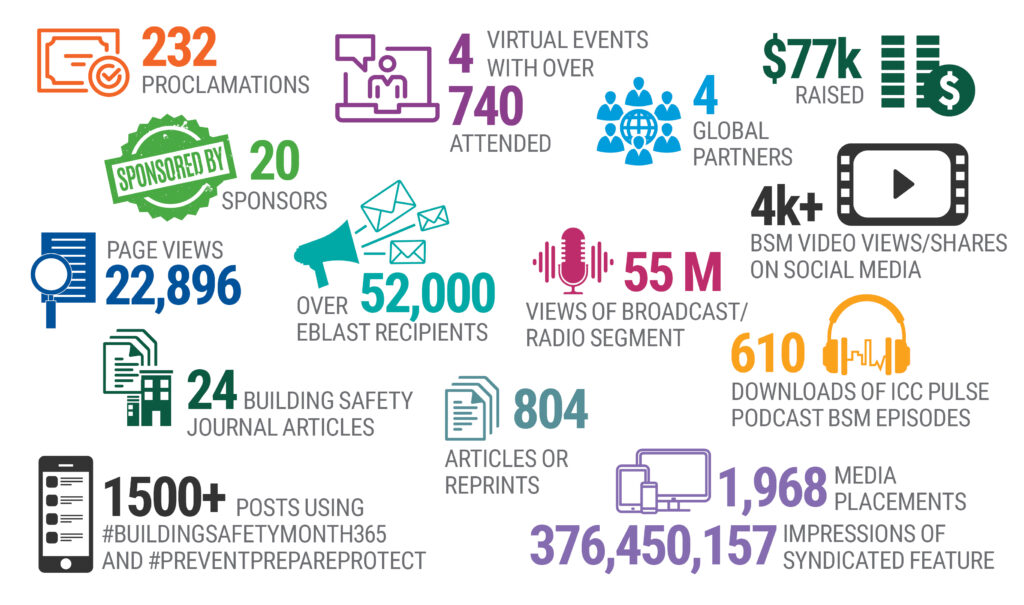 Virtual events
With the campaign being strictly virtual this year, the Code Council hosted virtual events with more than 740 attendees.
The Building Safety Month virtual event for week one — International Energy Conservation Code: 2021 Changes, Getting Involved in the 2024 Process — was held on May 5 and provided information on the significant changes in the 2021 International Energy Conservation Code (IECC) and background on the 2024 IECC development process. Co-hosted by the Code Council, the Air Movement and Control Association International, and the Residential Energy Services Network this webinar featured ICC Vice President of Innovation Ryan Colker and ICC Energy Code Specialist Jerica Stacey. View the webinar recording.
In honor of National Building Safety Month, Region five of the Federal Emergency Management Agency (FEMA) presented a new webinar in its Strategic Partnerships for More Resilient Communities Webinar Series on May 11 that brought together experienced professionals in the area of building codes research and adoption and resilience to talk about the importance of investing in building codes now, how to communicate successfully about building codes, and why FEMA is encouraging their use throughout its Hazard Mitigation programs. Ryan Colker, vice president of innovation at the International Code Council and executive director of the Alliance for National & Community Resilience, discussed what community decision-makers should know about building codes and how to build supportive partnerships in the research, public and private sector. View the webinar recording.
The Code Council hosted a Building Safety Month Speed Networking Event on May 13 to allow professionals to virtually connect in a welcoming, relaxed environment. The virtual get-together was sponsored by the American Concrete Institute and was a noteworthy event.
The Code Council's Membership Councils provide a valuable opportunity for both building safety professionals and community stakeholders to engage the Code Council as it shapes the code implementation process and protects the communities we live, work and play in. On May 14, a special live interactive event — Meet the ICC Membership Councils — paired webinar attendees with representatives from all six discipline-specific Membership Councils to discuss their group's membership, role and the varied opportunities for participation.
Clean water is the world's most precious commodity. Building, plumbing and green codes help guard it for future generations through proper construction, conservation and safe disposal. For week three of Building Safety Month, the Code Council held a virtual event on Hot Water Safety. The May 19 panel discussion with chief plumbing inspectors covered 2021 International Plumbing, Residential and Energy Conservation Code changes that have an impact on hot water safety and other hot water safety topics. Read more in this Building Safety Journal article.
On May 20, Women in Standards welcomed Sara Yerkes, senior vice president of government relations at the Code Council, to present a comprehensive overview of the codes development process and highlight the differences and similarities between a code and a standard.  During the Codes and Standards, How Are They Different and How Are Codes Developed? online event, attendees learned that in the governmental consensus process, anyone can participate, anyone can propose a change, but the final vote, held each fall, is made by public officials representing their jurisdictions. View the webinar recording.
The Code Council hosted a virtual panel event on The Future of Building Codes and Hazard Mitigation on May 25 during week four of Building Safety Month. In the panel discussion sponsored by 4LEAF, Inc., public- and private-sector senior leaders addressed how they are leveraging building codes to help shape the future of hazard mitigation. View 4LEAF's Building Safety Month video
The Code Council joined the Structural Engineers Association of Southern California and the California Building Officials on May 25 for a Building Safety Month webinar A Conversation on Bouncing Back After the Next Disaster that discussed the role of buildings, planning, zoning and codes in creating recoverable communities.
Social media
The Building Safety Month celebration also took place on social media with more than 4,000 video views and shares and the hashtags #BuildingSafetyMonth365 and #PreventPrepareProtect being retweeted and used more than 1,500 times.
Podcast episodes
Over the course of the Building Safety Month campaign, two ICC Pulse Podcast episodes were released, receiving more than 600 downloads in the first week.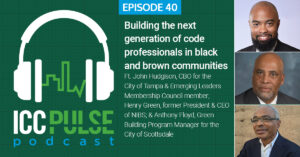 In episode 40 — Building the Next Generation of Code Professionals in Black and Brown Communities — John ("JC") Hudgison, certified building official for the city of Tampa and Emerging Leaders Membership Council member, talks with Henry Green, former president and chief executive officer of the National Institute of Building Sciences and former Code Council board president, and Anthony Floyd, green building program manager for the city of Scottsdale, on training the next generation in black and brown communities and how we can increase awareness and education about the building safety profession.
In episode 41 — Garage Door Safety — Steve Jones, Code Council senior government relations regional manager talks with Mike Fischer, executive director of the International Door Association, and Gordon Thomas, technical director at Door and Access Systems Manufacturers Association on the importance of garage door safety. As May is Garage Door Safety Month, they also share safety tips and resources for inspectors and the public on checking garage doors.
Partnerships and projects
During week two of Building Safety Month, which focused on Training the Next Generation, the Code Council announced a new partnership with the International Association of Electrical Inspectors (IAEI) that will allow the Code Council and IAEI to equip and educate electrical professionals. The Code Council also joined forces with the Code Enforcement Officer Safety Foundation to support code officials by expanding career development resources and increasing collaboration. Both building safety organizations will work together to promote best practices for the safety of code officials and share resources and exchange information in support of code official safety.
Also in May, the Interstate Renewable Energy Council (IREC) launched a three-year, $2.1 million project to reduce barriers to widespread adoption of distributed energy resources by providing education and resources to expand the knowledge of 30,000 building, fire and safety department professionals. The Code Council joined IREC on this project to help create up-to-date guidance for the safe, widespread and rapid deployment of new technologies.
Nationwide activities
Due to the COVID pandemic, city officials and code professionals nationwide stepped up and out virtually into their communities to educate their residents on how building codes and standards help to keep them safe — through webinars, online roundtable forums, virtual presentations, and e-training events. From coast to coast, jurisdictions planned events that offered something for everyone and spread awareness on the importance of building safety through promoting our themes of energy and innovation, training the next generation, water safety and disaster preparedness.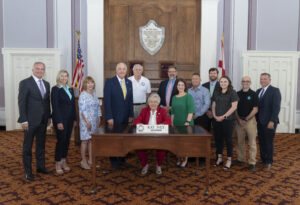 International Code Council Chief Executive Officer Dominic Sims (far left) attended a ceremony on May 21, 2021, where Alabama Governor Kay Ivey signed a proclamation recognizing May as Building Safety Month in Alabama. Sims joined other representatives who play a role in protecting Alabamians through the adoption, enforcement, implementation and administration of model building safety codes.
Code Council Board Director Ron Hampton (far left) visited Carter Christian Academy to discuss Building Safety Month with the students (kindergarten through fourth grade) and interact with them through activity and coloring books. This is Hampton's fifth visit in six years promoting Building Safety Month.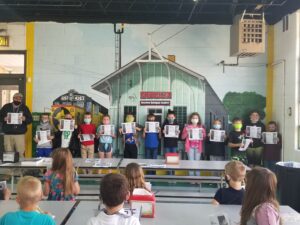 Code Council Board Director Michael Boso participated in the Lima and Allen County Building Departments' Building Safety Month coloring contest for elementary school grades one through six. Students colored and competed for a chance to win a Building Safety Month safety vest.
Since many jurisdictions had to use some level of virtual inspections during the height of the COVID-19 pandemic, the Code Council, its subsidiary ICC Community Development Solutions, and Inspected, a virtual inspection software company founded at the beginning of the pandemic, helped to make remote virtual judging for this year's California Design Build Competition accessible to the student teams and judges. Started by the Construction Industry Education Foundation in 1986 as a workforce development program to introduce high school students to construction careers, the competition grew this past year to serve 834 students from 44 student teams and 43 schools.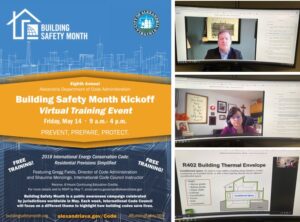 Finally, the city of Alexandria, Va., modified its annual Building Safety Month kickoff event due to the COVID-19 pandemic and they celebrated virtually on May 14 — celebrating building safety, recognizing the code professionals who help keep us safe, and participating in free training. The Building Safety Month Kickoff Virtual Training Event included "2018 International Energy Conservation Code—Residential Provisions Simplified" presented by ICC instructor Shaunna Monzingo. Upwards of 60 architects, plan reviewers, developers, inspectors and energy conservation professionals were in attendance for the six-hour virtual training on the residential aspects of the 2018 International Energy Conservation Code.
"We felt we had to do something to recognize Building Safety Month," said Gregg Fields, the city of Alexandria's code administration director. "We really miss past kick-off events where we've met in person and enjoyed time together on Market Square with guest speakers, free raffles and food, industry vendors and building code professionals. We enjoyed providing this important training and look forward to planning for our next Building Safety Month Kick-Off Event in 2022."
"The 41 years of momentous Building Safety Month celebrations are a direct result of the dedication and passion of Code Council members and building safety professionals," said Code Council Board President Greg Wheeler, CBO. "We are proud to see industry professionals going above and beyond to spread awareness about building safety through hosting virtual events, engaging in social media, and sharing resources with their communities. This voluntary effort speaks to the heroic roles our building safety professionals continue to hold, keeping their communities safe during the pandemic and ensuring a resilient future."
Building Safety Month recognizes the need for safe and sustainable structures where we live, work and play. The theme to "Prevent, Prepare, Protect" continues well beyond May's celebration.