Chapter Leadership Academy shapes the future of ICC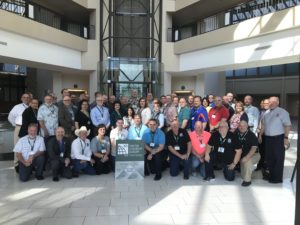 Ashley Delgado had been working as an energy plan reviewer for Washington, D.C.'s Green Building Program for a couple years when she decided she wanted to become more involved and expand the visibility of code officials and the important work they do.
"Many people don't know what code officials do," she said.
Her boss suggested looking into the International Code Council's Washington, D.C., chapter. Not long after joining, and becoming an officer, Delgado heard about ICC's annual Chapter Leadership Academy.
"Great! Where do I sign up?" she said.
The Chapter Leadership Academy was established in 2016 to assist ICC chapter officers in the areas of chapter management and growth, member recruitment and succession planning.
The first academy, held in Oklahoma City, focused on code administration, planning and communication, remembers William McKinney, vice president of the New Hampshire Building Officials Association.
Communication carried over to the 2017 academy in Atlanta, focusing on effective use of social media.
Attendees learned the art of communication and how to develop a social media strategy for their chapters.
"Code officials need to understand the importance of communication, telling people we work with, and in the community, what we do," explained McKinney.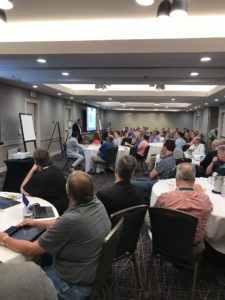 Mentoring the next generation of code officials is also a strong component of the academies.
"I truly believe the focus on developing leaders in our organization will help benefit ICC and safety in the built community," said McKinney.
To that end, the academy also included a presentation on succession planning.
Attendance at each academy has grown, McKinney said, from 40 the first year, to more than 60 this year in Denver. Discussion of the importance of mentoring highlighted ICC's presentation on the expansion of its popular High School Technical Training Program (HSTTP).
Delgado also was impressed with the HSTTP.
"I thought it was great, giving students in high school a chance to learn about what we do, and what they can do after passing their certification courses," she said. "It gives them the opportunity to help themselves in the job market."
That program also helps to inform the community about the important, and often invisible, work code officials do.
"We have to do more of that," Delgado said. "That's one of my passions."
In Denver, she and other chapter officials also had the opportunity to network with members of other chapters to pick their brains on their "challenges and successes."
They participated in a Chapter Leader Virtual Roundtable: "Second stop of the 2018 Members Forum Roadshow," hosted by ICC Board President Jay Elbettar and Secretary/Treasurer Greg Wheeler.
Delgado said the Colorado chapter taught participants how to hold local events to keep chapter members involved in the mission of spreading the word to the community.
She said her fellow chapter members were "thrilled" about the information she brought back with her. And she can't wait until next year.
Kecia Laria — a Richland County housing official in Columbia, S.C., who has attended all three academies — shared a historical perspective. She said the Denver academy was the best of the three she has attended, because it focused so much on mentoring and how to help chapters grow. She also offered a suggestion: develop more training programs specifically for young women.
Planning for next year's academy is already underway. No matter the topics, McKinney plans to be in attendance.
"To be a strong organization as a whole, we need to figure out how to attract more members to our chapters," McKinney said. "The information coming out of these academies is invaluable. ICC is right on target with these."
View photos from this year's academy.