Close to failing: American infrastructure scores a C- on new ASCE report card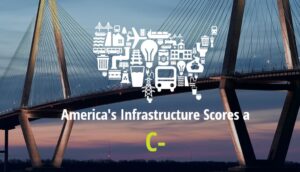 The American Society of Civil Engineers (ASCE) released its 2021 Report Card for America's Infrastructure. The report, published once every four years, gave the United States a C- overall grade, up from a D+ in 2017, marking the first time in two decades the country has received a grade in the C range. However, according to the ASCE, the overall grade still means the nation's infrastructure is in mediocre condition, has deficiencies and needs attention.
The organization also found the long-term infrastructure investment gap continues to grow. The gap has risen from $2.1 trillion over 10 years in the last report to $2.59 trillion in the latest study, meaning a funding gap of $259 billion per year. The biggest projected gap is in surface transportation, which faces $1.2 trillion in projected unmet needs over 10 years.
The study evaluated 17 categories of infrastructure, with grades ranging from a B for rail to a D- for transit. Eleven of the categories in the report card received a grade in the D range: aviation, dams, hazardous waste, inland waterways, levees, public parks, roads, schools, stormwater, transit, and wastewater, with transit receiving the lowest grade in the report. The report did have some good news, noting due to increased investment, the grades for aviation, drinking water, energy, inland waterways, and ports have improved since the last assessment.
---
Fast facts:
There is a water main break every two minutes and an estimated six billion gallons of treated water lost each day in the U.S., enough to fill over 9,000 swimming pools.
Growing wear and tear on our nation's roads have left 43 percent of our public roadways in poor or mediocre condition, a number that has remained stagnant over the past several years.
There are 30,000 miles of inventoried levees across the U.S. and an additional 10,000 miles of levees whose location and condition are unknown.
---
Engineers offer solutions to overwhelming infrastructure trends
The ASCE just designated 13 new Infrastructure Gamechangers — groundbreaking infrastructure projects and programs that represent the latest advancements in transportation, water and energy infrastructure that are transforming the way engineers plan, build and adapt to the nation's infrastructure needs. Following these new additions, 40 states are now represented by a Gamechanger that meet at least one of these criteria: innovative technologies, creative funding mechanisms, trend-setting standards, and unique collaborations between agencies or private firms.
"Our nation's infrastructure just received a C- in ASCE's 2021 Infrastructure Report Card, which is not the type of grade you want to bring home," said ASCE President Jean-Louis Briaud, Ph.D., P.E. "Promoting innovative practices, principles and projects are one of the ways in which we can improve this grade. With resources stretched thin, finding solutions that can make the most of the tools afforded us can be a challenge, but is an essential component of improving the built environment. This year's Gamechangers are a testament to the forward-thinking nature of the engineering community."
Some of the latest additions to ASCE's Infrastructure Gamechangers are:
The flood prediction monitoring system in Cary, N.C., is set to save the flood-prone town millions of dollars in unnecessary damages. The town partnered with SAS and Microsoft to create a system that uses wireless sensors and rain gauges to detect water rising in local sources, which is then transmitted to a database where officials can see expected water level rise based on the current data. Once transmitted, the town uses an Internet of Things platform to send alerts to all local departments so that preparations can be made to mitigate floods.
The In-Pipe Hydroelectric Project in Hillsboro, Ore., converts excess water pressure to carbon-free electricity and is the first renewable energy project that features In-PRV smart water technology. The groundbreaking technology is expected to generate anywhere from 185,000 to 200,000 kWh of electricity per year, which will be used for electric vehicle charging stations and a local recreation center. Installation of this technology will reduce more than 162,000 pounds of carbon annually – or the equivalent of 240,000 driven miles off the road every year.
The Indiana Department of Transportation's (INDOT) Concrete Sensors allow the agency to better understand exactly how far along concrete is in the maturation process. By leaving the sensors within the concrete for an extended period, engineers can study the effectiveness of their work over time, as opposed to the conventional testing period of just 28 days. This also will communicate to INDOT when concrete needs to be replaced.
The North Dakota Department of Transportation's Autonomous Impact Protection Vehicle is used to protect construction crews from other drivers on the road who may not be paying attention to the construction site or have lost control of their vehicle. In 2019, 234 work zone-related crashes occurred on North Dakota highways, resulting in 64 injuries and two fatalities. Usually driven by a human, this vehicle is remotely controlled by a crew member without any other crew members inside to reduce potential risks.
Branson, a small town in southern Colorado with a population of only 55 residents, found infrastructure funding hard to come by when Colorado tightened its water safety regulations, which proved to be just outside the performance standards Branson's purification system was capable of. Local company Innovative Water Technologies introduced a filtration design that incorporates both wind and solar power to run its purification station, which also means the project doubles down on Colorado Governor Polis' goals of the state reaching 100 percent renewable energy by 2040. Using various crowdsourcing methods and receiving a $67,500 grant from the Colorado Department of Local Affairs, Branson is able to afford the inexpensive $75,000 unit, which is made with the intention of helping populations without large tax bases receive purified water.
Louisville's Combined Sewer Overflow (CSO) was not meeting standards set in the Clean Water Act, as storms would frequently lead to sewage discharging in local inland waterways. To mitigate the problem, the Louisville/Jefferson Country Metropolitan Sewer District embarked on the $78 million Southwestern Parkway Combined Sewer Overflow Basin project, which uses "capture and release" technology to store CSOs during storms before gradually releasing them into treatment facilities as capacity became available. Due to its location at Shawnee Park in Louisville's Olmsted Park System, the design team constructed the project underneath the park's Great Lawn to keep out of sight from the public and preserve the park's essence.
Mississippi State University researchers used an instrument developed by NASA called Uninhabited Aerial Vehicle Synthetic Aperture Radar in conjunction with satellite-based Synthetic Aperture Radar to detect the variations in the soil properties along the Mississippi River. These two instruments were able to penetrate layers of soil to analyze areas that will suffer from slump slide, which is indicative of future levee failure in a high-water event. With limited resources, this technology could be implemented in other areas prone to levee damage and find those in need of repair before the damage gets worse and repair costs rise.
Flagstaff, Ariz., is home to STAR School, the first public elementary school in America to be completely dependent on solar power. In addition to solar panels, STAR School also has wind generators and a small propane tank on standby for consecutive cloudy days. The school's architecture showcases large open windows facing the south and few, small windows toward the north to maximize heat generation and containment. STAR School promotes self-reliance, alternative building methods, and energy sources such as solar and wind power; values based heavily on local Navajo tradition.
The new Ocosta Elementary School in Westport, Wash., sits about 4,000 feet inland from the Pacific Ocean. Not far to the west lies the Cascadia Subduction Zone. Once thought to pose a minimal threat to coastal residents, the alarm has grown for decades as researchers come to better understand the subduction zone and its true potential. The scientific community now estimates there is as much as a 37 percent chance the subduction zone will trigger a magnitude 8.0 or greater earthquake sometime in the next 50 years. Even more concerning is the possibility that such an earthquake would trigger a disastrous tsunami. So when voters in the school district approved a $13.8-million bond issue in 2013 to replace the elementary school, the plans called for the creation of a vertical safe refuge to which students, staff and nearby residents could climb to safety in the approximately 20 minutes between the onset of such an earthquake and the arrival of the tsunami it would create. The key structural element for the gymnasium and safe refuge are four massive concrete stairwell towers at the corners, leading to the safe zone on the roof. The concrete shear walls of the towers are 14 inches thick, reinforced concrete and they form lateral force-resisting system for the structure. A series of 10 steel columns support the roof. The structure is designed to accommodate 1,000 people and has the capacity to handle live loads of 100 psf via a concrete slab atop a metal deck, supported by steel, wide-flange beams.
These projects are just a sample of the incredible innovations happening in the industry that can help address the challenges our systems face across the country, which were outlined in the 2021 Report Card for America's Infrastructure, released on March 3, 2021.
To view the full 2021 report and additional data, visit https://infrastructurereportcard.org/.
For more information on ASCE's Infrastructure Gamechangers, visit https://www.infrastructurereportcard.org/solutions/gamechangers/.