Five ways to keep crews safe in winter weather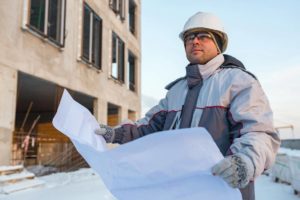 Construction may slow down due to winter weather but it certainly doesn't stop. In many cases, projects simply can't grind to a halt for an entire season — there's too much on the line. Budgets and deadline targets do not like to be missed. Plus, there's plenty of work your crew can do even in the cold of winter.
However, your most important job is to keep your crew safe. With adherence to safety comes increased quality and productivity. A happy, healthy crew is one that works that much harder. Besides, an unsafe job site is one that doesn't stay active for long — there's plenty of oversight in the industry. If you're putting your crew at risk, then people will notice. Yet, winter brings with it hazardous conditions and harsh weather — how do you keep your crew safe through it all?
Invest in the proper personal protective equipment
Personal protective equipment (PPE) is an integral part of the construction industry no matter the job or the season. However, winter weather brings with it unique challenges, which require unique solutions in the form of winter-weather PPE. If your crew isn't wearing the right PPE for winter, then you'll quickly be out of a workforce.
Insulated and waterproof boots
As durable as a good pair of steel toe boots are, they may or may not be properly insulated and waterproofed for winter. Due to the cold and wet nature of winter construction, your crew will run a real risk of frostbite or fungal infection if their boots are not both well-insulated and waterproof.
Winterized hard hats
Ensure your crew isn't just wearing a standard hard hat. They need a hat with an insulated interior that completely covers the ears when worn properly. Because much of our body heat escapes through our ears, proper head attire is extremely important to maintain our body temperatures when in cold weather.
Wear layers
The Occupational Safety and Health Administration recommends that three layers of loose-fitting clothing are worn during winter work. An inner layer of wool that will wick moisture away from the body, a middle layer of wool or synthetic material to further insulated the wearer from the cold and help mitigate external moisture, and finally, an outer wind and rainproof layer that will keep your clothing water-resistant while introducing some ventilation.
Water-resistant gloves
Warm gloves are important when you're doing construction in the winter. It's best to choose ones that provide full motion for your fingers. Most of all, find a pair that offer water resistance so they don't get wet as you work in the snow.
Allow your tools to warm up
It's often overlooked, but ensuring your tools properly warm-up before using them is an important aspect of their continued function and longevity. Plastic and rubber can both become damaged from a sudden change in temperature. Letting them gradually come to temp before turning them on will ensure they remain pliable.
Streamline your tool setup
Furthermore, the less you have to work with, the faster your equipment will warm up and the faster your crew can begin working. In freezing conditions, you may want to invest in the principles "essentialism". Ask yourself what exactly you need and what equipment can serve multiple purposes. For instance, trading a pneumatic jackhammer with a gas-powered one will mean you're only working with a gas engine on a single, portable tool rather than the jackhammer, its air compressor, and the electrical hookups needed to power it. In winter when everything moves slower, less is often more.
Provide some warmth and comfort for your crew
In colder weather, your body works harder to complete the same about of work as it would in fairer weather. It is more important than ever to provide a reprieve from the work and the elements by giving your crew a heated break area. With that said, encourage your crew to take more breaks.
Set up some propane heaters under a canopy with some hot coffee at-the-ready. You may see more downtime as your crew takes a break to warm up and dry off but you'll see better productivity with higher quality results.
Be mindful of approaching weather
Winter storms can blow in at a moment's notice. Not only can a blizzard take you by surprise, but it can cause huge problems if bad weather catches you unprepared. The last thing you want is for your crew to rush to secure the job site (making hasty mistakes in the meantime) only to face treacherous conditions on their commute home.
Watch the weather and watch it often. If a blizzard is on its way, take plenty of time to secure the job site and get your crew home before it's too late. Within the same vein, be mindful of the temperature. Winter temps can change drastically from day to day, even from hour to hour. Below freezing conditions are good for no one — those are the kinds of days you take a loss on.
Have winter weather kits available to everyone
Build winter weather kits and have them available in every truck and break area for easy access. A winter weather kit should carry a multitude of things to keep your crew safe from the potential hazards winter brings.
Hand warmers
The difference between cold fingers and frostbite is so small that you should never risk it. Hand warmers should be freely available to your crew to ensure they have a source of warmth in an emergency.
Ice scrapers, shovels and kitty litter
You might be wondering what all three of these things have in common. You'll want an ice scraper (with a brush attached) in every truck to ensure your crew can clear snow and ice from their truck for visibility. Sometimes, snow falls so fast that it becomes a problem before you even realize it. For this reason, a shovel is a useful tool for digging yourself out of a bad situation. Last, but not least, kitty litter is an excellent tool to give your truck tires a little extra traction if you find yourself spinning in place on a bad patch of ice.
Depending on the work you're doing, and how far apart your crew is, you may even need to pack survival equipment such as flares, a backup battery, a sleeping bag, and some protein bars and/or ready-to-eat meals (commonly known as MREs). Project sites come in all sizes — a bad blizzard can make one mile seem like 100.
Winter weather takes more planning, but it can be productive
Working in the winter isn't ideal but it's often necessary to complete a project on time and on-budget. While it does take more planning to ensure safety in cold weather, it can still be a productive season for your crew. Just ensure you and everyone on-site is mindful of the added hazards that cold weather brings.