Gila River Indian Community building inspectors set a new course with apprenticeship program

It's more than a job. It's a calling for building inspectors to reinvest their talents and provide safety and economic security to more than 14,000 tribal members living on the Gila River Indian Community (GRIC) reservation just south of the Phoenix, Ariz., metro area.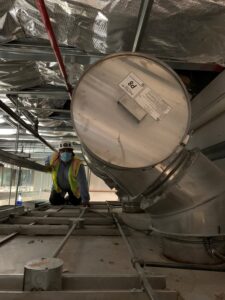 Fernando Luna got the calling when then-chief building inspector Jo Rene DeVeau set a new course for the Building Safety Division to train and hire enrolled GRIC members to become building inspectors. At the time, Luna worked for the GRIC Employment & Training Office when his supervisor told DeVeau that she should hire Luna as an apprentice.
"It was all new to me," Luna said.
For the next 18 months, Luna's apprenticeship involved on-the-job training, shadowing inspectors and studying codebooks to become certified. Today, 15 years later, Luna is the chief building inspector with his own vision of how to carry on the training program and expand the Building Safety Division.
Fresh from his service in the United States Marine Corps, David Jackson was selected for the Building Safety Apprenticeship Program. One of his mentors was Luna. The discipline and life experience of serving as a U.S. Marine gave Jackson an edge.
"I entered the program with zero experience in working with anything in construction," Jackson said.
He kept his focus on studying, shadowing and on-the-job training. He took the tests and became International Code Council certified about two years later. Today, eight years later, his Code Council certifications include Commercial Building Inspector, Commercial Mechanical Inspector, Commercial Plumbing Inspector and Residential Building Inspector.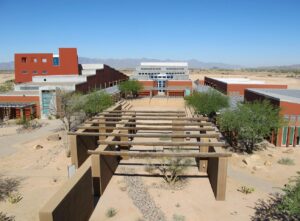 Jackson said the program is more than an apprenticeship. He said mentoring is at the heart of it. A candidate for the program is expected to set aside study hours and field time shadowing an inspector and develop a minimum level of proficiency navigating the building codes. He said the program encourages mentees to gain two certifications before being hired as full-time, salaried building inspectors at Gila River.
"Developing trust is important. Integrity," Jackson said. "So that when you hand that person the keys to the pickup to go to the job site, they can be trusted to do their jobs professionally. You want to be able to trust that when they need to say 'no,' they will say 'no.' Or if they don't know an answer or are not sure, then they'll say 'let me get more information' and then find out."
"It took many years to get to where we're at."
Eric Donahue was mentored by Jackson in the Building Safety Apprenticeship Program and received his certification as a building inspector four years ago. He received his bachelor's degree in construction management before he started the program. He said serving as a building safety inspector at Gila River Indian Community fulfills a dream to reinvest himself in the community where he grew up.
"We are all tribal members and we really want to help our community," he said. "That's why I chose to be an inspector."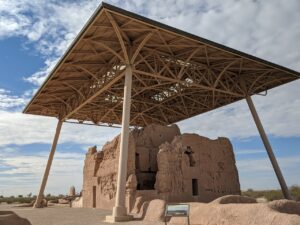 The Gila River Indian Community has been a trailblazer among Native American jurisdictions with the adoption and enforcement of construction codes. The GRIC members trace their roots back centuries ago to the Hohokam, a prehistoric people who lived and farmed along the Gila River Basin. The Casa Grande Ruins National Monument, a 13th-century four-story pueblo built by the Hohokam southwest of the 372,000-acre reservation, stands as testimony to the community's heritage of building construction.
Its first building codes were adopted in the mid-1960s and have been the foundation of a growing economy well served by new construction.
Many tribal governments in the U.S. have aspirations to grow their economies through the protections offered by the enforcement of building codes, but having the resources to adopt and enforce codes with professionally certified inspectors has been a difficult goal to achieve. Jackson said the enforcement of building codes is "empowering" to tribal governments and has served as a cornerstone to growth. Today, the community's economy is highly advanced and diversified, tapping into the growth from Phoenix and Mesa.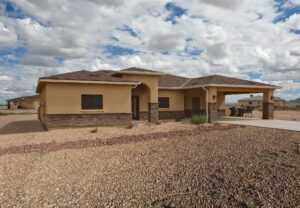 At Gila River, enforcing the International Codes has opened doors to collaborations and creativity. Jackson noted the tribe has been experimental with sustainability strategies to meet the cultural expectations of the tribe members. One example is a collaboration involving tribal leaders and the Del E. Webb School of Construction at Arizona State University to develop sustainable housing prototypes. The unique two- and three-bedroom home designs harken to desert roots, becoming a symbol of pride for residents while delivering energy efficiency. Schools and government buildings also reflect the art, history and environment of life on Gila River tribal lands.
The Building Safety Division posts its mission statement on the GRIC governmental website: "To provide our community members with the highest quality of services, to uphold and enforce Codes and Standards established to protect the Public, Health, Safety and Welfare of all residents, business owners and visitors based upon priorities which are consistent with established standards." Its work is critical to continuing the growth of quality, safe housing.
Luna, Jackson and Donahue said they hope the Building Safety Division will continue its conversion to a paperless office with electronic filing systems, remote communications with contractors and construction sites, and virtual inspections. The current COVID-19 pandemic has increased pressure to go virtual.
"What I'm excited about is to evolve from carbon paper and to eliminate as much as we can of our carbon footprint," Jackson said. "Go wireless. Go paperless. Do more inspections and see us able to handle a lot more development."
Luna, who was heading out with Donahue to conduct inspections at the new school under construction, said his mentor Jo Rene DeVeau instilled a philosophy that still drives the training program. "She felt it was important to actively seek out people in our community to become building safety inspectors. It has come a long way and we're going to keep moving," he said.
Luna said the near-future goal of the GRIC Building Safety Division is to increase the number of inspectors from three to four. He said the process is now underway to consider applicants and conduct interviews to start a new person on the mentoring path in the Building Safety Apprenticeship Program.
That means another person will soon be eligible to be a building safety inspector and continue the tradition of the calling.