Relationship building and the Texas Fire Protection Association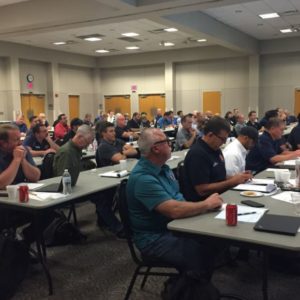 They say everything is bigger in Texas. This can aptly be applied to its fire protection and building safety relationships. The Texas Fire Protection Association (TFPA) is a large and active chapter of the International Code Council in Texas, with more than 200 members, including fire marshals, building officials, inspectors, engineers, architects, fire sprinkler and alarm contractors, and others who work in the building and fire safety profession.
The association is more than 20 years old but recently transitioned from being a chapter of the Society of Fire Protection Engineers — a relationship it still maintains — to an official chapter of the International Code Council. Kelly Sadler, regional manager for Texas of the Code Council's Government Relations department, welcomed TFPA into the Code Council family: "The Texas Fire Protection Association plays an important role in the state and is a new Code Council chapter in Texas. We welcome TFPA into the Code Council family and look forward to providing continuous solutions and training to support the chapter's goals and the building safety industry in Texas."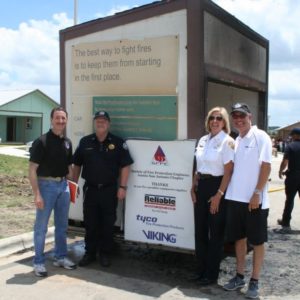 The move to Code Council chapter affiliation has helped to attract new members. For example, Bexar County Fire Marshal Louis Chris Lopez, III recently signed up his entire staff as TFPA members. "I feel that it is important for public fire protection agency employees using ICC codes to be TFPA members, as they are a chapter of the International Code Council," Lopez said. "TFPA has also been proactive in bringing AHJs [authorities having jurisdiction] together in order to make the ICC processes easier, exchange ideas and introduce new technologies."
Many associations of this type around the country have memberships that are primarily composed of Authorities Having Jurisdiction, often from a single discipline. TFPA is unique in that it has forged strong working relationships among code officials, fire protection contractors and other constituents involved throughout the fire and building safety community. Jeffrey Shapiro, P.E., TFPA executive director, noted that membership diversity has been the primary strength driving TFPA's success. "Having fire and building code officials, contractors, design professionals and others in the same room, receiving top-notch training and networking on a regular basis," Shapiro said, "forges relationships that help everyone interact more effectively in their daily work environment."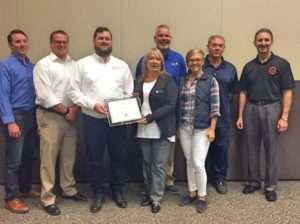 In an age when training and information can be obtained in a few clicks from behind a computer screen, face-to-face contact and interaction become even more essential. More important than the training provided are the networking opportunities that membership makes available. Code Council Board Director and liaison for Texas Shirley Ellis believes that TFPA provides "a network to contact professionals in your area who face a lot of the same issues that you face. Someone you can call and say, 'Hey, have you ever faced this… how do you do that?'" Challenges can be discussed and solutions can be created collectively. Training events and meetings have included such topics as design and drawing considerations, energy storage systems, smoke and fire separation and ratings, and innovative technologies. Instructors for these classes include representatives from Underwriters Laboratories, the National Fire Protection Association, the National Fire Sprinkler Association, state agencies and the private sector.
The chapter membership meets every other month and meetings can range from full-day seminars — that include professional development seminars instructed by recognized experts on fire protection and building safety topics — to shorter lunch-and-learn events. Special events are sometimes offered in intervening months between regular meetings. The Texas Fire Protection Association is an ICC Preferred Education Provider and continuing education units, necessary for certification renewal, are provided. The most recent meeting was attended by nearly 100 people, one of the best-attended meetings of any Code Council Texas chapter.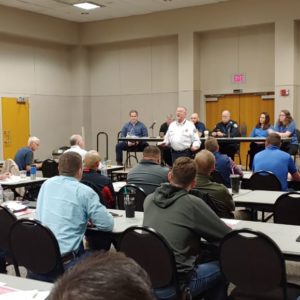 Membership in TFPA also provides a consistent voice for the industry. Codes and standards development is the foundation of the work that is done — this makes it one of the most important components of the building and fire protection industries. For contractors, inspectors, and private and public agencies membership is "a way to voice your concerns about what's happening in the codes, vet out any changes that you think may need to be made, know what changes are coming about, and how to incorporate and enforce those changes," Ellis said.
The success of the Texas Fire Protection Association provides three lessons that can be applied to any association or chapter to enhance its effectiveness. We see these lessons in the broad topics of people, training and voice. The first of these is the people. The heartbeat of the association is the people and relationships that they represent. This is created and sustained by consistently building relationships that foster collaboration. TFPA has a long history and reputation of industry involvement, relationship building and resourcing. Focus on building these relationships is essential to the success of the association.
The second lesson that can be applied relates to training and events. The activities and events of the association must appeal to the broad audience that the association wishes to attract. Training, lunches and special events need to be timely, relevant and provide real value.
Finally, it is important that every member's voice is heard. A single voice is easy to ignore, or a voice that is out of tune can be unsettling. Like the director of a great choir, the association must serve to bring harmony to the voice of its members and collectively express changes that are in the best interest of the industry at large.
Finally, TFPA's growth and success have been made possible through its online membership and event management software to ensure that logistics are managed professionally and efficiently. Shapiro notes that "looking professional is an important part of being professional." For more information about the TFPA, contact Jeffrey Shapiro, P.E., executive director, at JShapiro@TXFPA.org.