The most dangerous construction equipment: How to keep your crew safe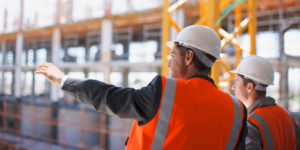 Construction can be a perilous industry — that's why safety is so important to its success. OSHA statistics make it clear that even the smallest hazards count. With such valuable input and oversight, the contemporary industry is one that diligently protects its people, above all else.
When even small equipment can pose a hazard to your workforce, it goes without saying that your bigger equipment is exponentially more threatening if used incorrectly. Just think of what a loader can do in the hands of a distracted or unskilled operator. Large and small, construction equipment is nothing to joke about. We've compiled a list of often-overlooked construction equipment that you should watch out for and practical tips on how to avoid accidents.
Ladders, an innocuous threat to your crew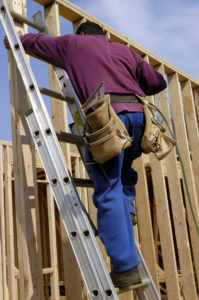 Who would ever second guess about stepping onto a ladder rung? Those of us in the industry have oftentimes seen ladders that have been improperly placed. Or ladders being used incorrectly. For some, it's even a point of pride to misuse a ladder — it's seen as a simple and versatile piece of equipment and, because of its prevalence, it doesn't get the respect it deserves.
According to the Occupational Safety and Health Administration, in 2018 there were at least 164,000 ladder injuries and 300 fatalities due to ladder-related falls. The truth is, ladders are one of the most dangerous pieces of equipment on your site.
How to practice ladder safety
Always face a ladder when ascending or descending.
Keep both hands free at all times — carrying a load will imbalance you.
Never move a ladder when it is occupied.
Never use the top of a ladder as a step.
Cranes, job site behemoths that require skill and respect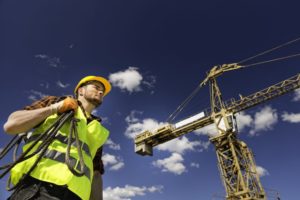 Cranes deserve the respect they get on the job site. They're unwieldy and dangerous unless controlled by a skilled operator. And even then, cranes are the cause of on-the-job-fatalities every single year. Fall-related deaths get the most attention, but swinging a crane boom into structures, power lines and people are also a frequent danger.
Beyond that, cranes require quite a bit of expertise to ensure they're properly secured and balanced. An imbalanced crane can be toppled over by its own movement or even by the wind. No one wants to see the shadow of a crane in the split second before it falls over their heads.
How to practice crane safety
Ensure that anyone who operates your crane has the knowledge and experience to do so.
Have a dedicated part of your crew that specializes in securing and balancing your crane at every job site.
Denote all overhead power lines and ensure your operator is aware of them.
Pneumatic jackhammers, full of no-good vibrations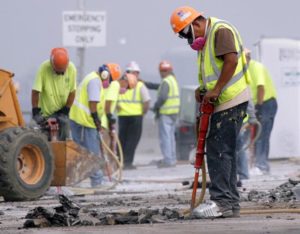 Jackhammers are a common sight at any construction site. They're a great tool for breaking rock and concrete after the larger equipment has done its job. But jackhammers come with their hazards. Namely, a danger to the operator known as "hand-arm vibration". The hazard is exactly what it sounds like — the constant vibrating of the hammer as it breaks ground has nowhere to go but into the operator's body. The risks of "hand-arm vibration" are being researched and are largely unknown today. Yet, the American Conference of Governmental Industrial Hygienists has deemed the issue serious enough to set a Threshold Limit Value to mitigate the effects.
How to practice jackhammer safety
Undergo jackhammer training for correct operation.
Wear thick, vibration-resistant gloves when operating.
Look into gas-powered jackhammers, which vibrate less than their pneumatic counterparts.
Skip loaders, easily unbalanced and lethal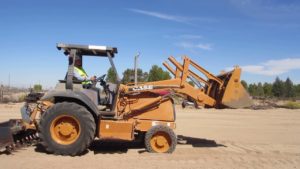 A skip loader is an integral piece of equipment to any job site that requires moving dirt. It goes by many different names depending on its design and application, but loaders are a pervasive and important component to building. And skip loaders may be the most dangerous iteration due to their long, articulated arm, which can easily become imbalanced.
The two most common dangers of a skip loader are in rollovers and tip-overs. You may think the two hazards are identical, but they're very different, as are the events that lead up to each. A rollover occurs when the loader is moved on uneven terrain, causing the cabin to roll over onto its side. Anyone caught under this machine will face serious, if not lethal, consequences. On the other hand, a tip-over is when the loader is unbalanced by its load. In the skip loader's case, it's when it pitches forward due to carrying a heavy load. Just like a forklift, skip loaders have a load capacity and a gradient threshold that you need to understand and respect.
How to practice skip loader safety
Memorize your skip loader's capacity and gradient threshold. Exceeding either will eventually lead to a catastrophic accident.
Completely mark all uneven terrain, trenches and holes on the site.
Wear your seatbelt and stay within the cabin if your loader pitches in either direction.
Do not travel with your articulated arm high into the air.
When danger is everywhere, safety is serious
There is no way to completely avoid accidents on a job site. Between tight deadlines, the hustle and bustle of even an average day, and the dangerous equipment your crew must operate, you're bound to have some mishaps here and there.
However, the difference between a mishap and a catastrophic accident are only seconds apart. With that said, you need to understand and respect the danger of the equipment you're working with, large and small. One-off safety is easy — sustaining a culture of safety is the hard part. Every member of your crew should do things the right way, even when no one's watching. Equipment is hazardous enough on its own — so do all that you can to operate it safely and responsibly.