Wildland-Urban Interface Code adopted by city of Austin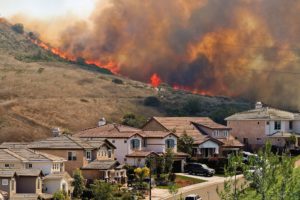 Earlier this month, Austin became the first major city in Texas to adopt a Wildland-Urban Interface (WUI) code. The city of Austin based its ordinance on the International Wildland-Urban Interface Code, a model code published by the International Code Council. Just seven years ago, Austin ranked third on a list of residential cities most at risk for wildfire-related structure losses.
Last year, Austin city council members received a report from the city auditor acknowledging the city was adequately prepared to respond to wildfires, but that more could be done to mitigate and reduce the risk of wildfires, largely in areas outside the urban core. These areas, known as the wildland-urban interface, are the zone of transition between wildlands and developed areas. The audit suggested the city adopt a years-long effort to enact requirements for fire-resistant materials on new construction and renovated buildings near potentially fire-prone brush and vegetation – over an area that's roughly two-thirds of the city. The requirements, known as the Wildfire-Urban Interface Code, have been in development by the city since 2016.
In June 2019, the Austin Public Safety Commission recommended tighter wildfire protection standards for structures built between the city's wildlands and urban center and endorsed the adoption of a WUI code. After years of planning and preparation, the city council unanimously adopted the Wildland-Urban Interface Code on April 9, 2020.
"We are grateful to the mayor and city council as well as the city manager, the Public Safety Commission and the various stakeholder groups across Austin for their support of the new Wildland-Urban Interface (WUI) Code," said Fire Chief Joel G. Baker. "The development and vetting of the code was a years-long effort; its passage goes hand-in-hand with our vegetation management and fuel mitigation strategies, and, among other things, requires all new construction projects in the WUI area to now include fire-resistant construction features. All these tools working together will help ensure communities that abut our wildland areas are ready for, and protected from, the next wildfire. Because it's not a matter of 'if' that happens, but 'when.'"
The new WUI code requires that all new homes and businesses constructed near wildland areas be built with special ignition-resistant construction materials to protect them from burning embers, which often set structures ablaze in a wildfire when they fall on wooden roofs, blow in through vents or lodge under boards. Examples of ignition-resistant materials include double-paned glass windows, non-combustible screens over attic vents and spark arrestors on fire chimneys. The code also requires the safe storage of combustible materials like liquefied petroleum gas. Also, properties that are particularly vulnerable — including those that are difficult to reach, with no water supply, have an overgrowth of heavy fuels, steep slopes and those adjacent to a 40-acre or larger wildland area — would be required to participate in diligent vegetation management and maintain a certain amount of defensible space cleared of brush and other fire fuel to make them easier to manage during a fire. Existing homes and businesses would not be subject to new structural regulations but homeowners may be required to comply with any updated maintenance policies such as vegetation management. Properties would also be subject to the new standards for any portions undergoing a renovation.
Austin's wildland-urban interface is predominantly located to the east and west and includes 64 percent of the land within the city limits, broken down into four hazard severity zones: moderate, high, extreme and preserves. Nearly a third of the zone is identified as areas of extreme hazard severity while an additional third is identified as preserve land. About 61 percent of the homes in Austin are within the wildland-urban interface. Although Central Texas has experienced several consecutive years of heavy rain, leading to an overgrowth of vegetation, the potential for devastating wildfires still looms over the region.
Adoption of a WUI code can greatly reduce the risk of fire damage to compliant structures. Similar codes are already in place in California, which was devastated last year by the Camp Fire, a 153,336-acre blaze that destroyed more than 14,000 structures, killed 88 people and has been called the deadliest and most destructive wildfire in that state's history. Data shows that 51 percent of the homes built under the updated WUI code implemented in 2008 were much more resistant to damage and saved from the fire, compared with 18 percent of those homes built before the code was in place. Additionally, a 2017 report by the National Institute of Building Sciences states that investing in a WUI code has an average overall hazard benefit-cost ratio of four-to-one.
Following the 2011 Labor Day wildfires that raged across Central Texas, destroying more than 1,800 homes and causing the evacuation of thousands of people, the Austin City Council has pushed for better wildfire protection — to reduce the number of deaths from wildland fires to zero. The new WUI code will help ensure that those communities situated against wildland areas are ready for, and protected from, the next major wildfire.