Birmingham office staff service day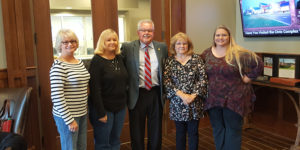 In early 2017, International Code Council (ICC) CEO Dominic Sims launched the company-wide Service Day initiative. Required of all ICC staff, Service Day calls for ICC employees to spend a day in the workplace of a member or industry stakeholder. The effort is aimed to help staff gain firsthand experiences of ICC members to identify ways to better serve and provide value.
Staff members from all ICC offices have participated in a variety of service days that include attending ICC chapter meetings or being involved in the community with building officials.
Most recently, ICC staff from the Birmingham office spent their Service Day witnessing the Inspections Services Department in action in Gardendale, Alabama. The service day allowed the Birmingham team to gain a deep knowledge and understanding of the daily tasks of their local building departments.
"Understanding their roles and concerns helps us do a better job for our members," said ICC Member Services Manager Deborah Dison.
With continued support and involvement in the Service Day initiative, ICC strives to continue making conscious efforts towards the development of strong relationships within the communities it serves.
Connect to photos from the Birmingham team's service day here.