Certification opens many doors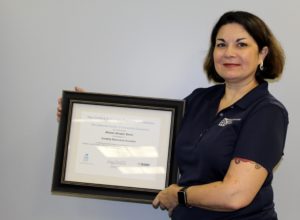 Michelle Porter doesn't just stress the importance of certification inside ICC, she lives it outside the association. The American Society of Association Executives (ASAE) announced that Porter, director of certification and testing at the International Code Council, earned the Certified Association Executive (CAE) designation, the highest professional credential in the association industry.
The CAE program serves to elevate professional standards, enhance individual performance, and designate those who have acquired and have demonstrated knowledge essential to the practice of association management.
Porter was one of 110 professionals who successfully completed the CAE examination administered nationwide on May 4, 2018. She joins more than 4,300 association professionals who currently hold the CAE credential. The summer 2018 class will be honored during the 2018 ASAE Annual Meeting & Exposition on Aug. 18–21, 2018, in Chicago.
To be designated as a certified association executive, an applicant must have a minimum of three years of experience with non-profit organization management, complete a minimum of 100 hours of specialized professional development, pass a stringent examination in association management and pledge to uphold a code of ethics. To maintain the certification, individuals must undertake ongoing professional development and activities in association and non-profit management.
Click here to see the full list of CAEs by state for summer 2018.