Code professionals mobilize in wake of Puerto Rico earthquakes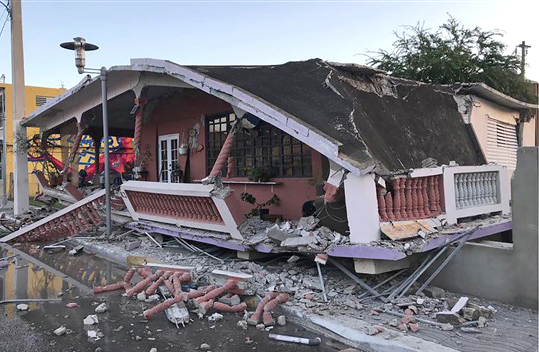 Multiple strong and damaging earthquakes in southern Puerto Rico starting in late December have killed at least one person, caused many serious injuries, collapsed numerous homes and public buildings, knocked out power in some regions, triggered landslides, and toppled popular tourist landmarks. The series of quakes include a magnitude 4.7 on Dec. 28, 2019, a magnitude 5.8 on Jan. 6, 2020, a magnitude 6.4 on Jan. 7, another magnitude 6.4 on Jan. 8, and a magnitude 5.9 on Jan. 11 — and odds are that the shaking is not over yet.
The swarm of quakes included onshore and offshore events along Puerto Rico's southwestern coast, including 11 foreshocks (smaller earthquakes that preceded the largest event, or mainshock) with magnitudes of 4 and greater, and major quakes occurring on Jan. 6–7, followed by numerous large aftershocks. Since December, there have been more than 500 temblors in the region registering 2.0 or higher. More than 30 of those quakes registered greater than 4.0 magnitude.
While Puerto Rico is no stranger to seismic activity, the latest events have wreaked havoc in a community still struggling to recover and rebuild from the devastation caused by hurricanes Maria and Irma that battered the island in 2017. The deadly storms exposed the fact that buildings across the island were not up to code. The series of earthquakes are only amplifying fears that structures have been further weakened. An estimated 5,000 people have been displaced and left homeless by the series of quakes — many sleeping in the streets or in open-air shelters and unwilling to go back to their homes until they've been deemed safe.
These quakes are the most damaging to strike Puerto Rico since 1918, and the island has been under a state of emergency since Jan. 6, 2020. As an unincorporated United States territory, the island also requested a federal emergency declaration, which was subsequently approved by President Trump. The President's approval authorizes the Federal Emergency Management Agency (FEMA) to coordinate all disaster relief efforts and to provide appropriate assistance for required emergency measures — authorized under Title V of the Robert T. Stafford Disaster Relief and Emergency Assistance Act — to save lives; protect property, public health and safety; and to lessen or avert the threat of a catastrophe. These disaster relief efforts could include post-disaster building safety evaluations.
The Structural Engineering Emergency Response Committee issued a call to action for volunteers of the International Code Council/National Council of Structural Engineers Associations Disaster Response Alliance to review and update contact information and qualifications, encourage other construction professionals about opportunities to assist in the response to the earthquake and to register, and to re-familiarize themselves with the ATC-20 Field Manual: Post-Earthquake Safety Evaluation of Buildings in preparation of responding to the events in Puerto Rico and participating in post-disaster building safety evaluations. The Disaster Response Alliance provides easy access to a single, national database of skilled volunteers to provide post-disaster safety assessments, building damage assessments, inspections and other code-related functions in the aftermath of a disaster.
Candidates need to have already completed a second responder course (e.g., the Code Council's When Disaster Strikes Institute or the California Office of Emergency Services Safety Assessment Program) along with the online FEMA training courses ICS 100, ICS 200, ICS 700 and ICS 800, which can be accessed and completed for free.