Everything you need for a preliminary building review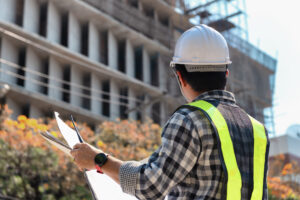 As the leading association for building safety, the Code Council works with governmental jurisdictions, builders, architects, and engineers to provide independent plan review services to verify commercial and residential buildings are in compliance with codes and standards.
We understand how codes and standards get applied to residential and commercial projects during the building permitting process and can conduct reviews so that you can see how jurisdictions will evaluate your plans.
ICC Plan Review Services are performed by certified experts who understand the International Codes.
Our preliminary plan review services are designed to offer critical information for further plan development – fast-tracking projects or foundation permit requests when a complete set of building plans and specifications are not available. Our experts review initial design code compliance, including use and occupancy classification, type of construction, height and area calculations, means of egress, fire-resistance construction requirements, and foundation design.
Documents necessary for a thorough plan review
Digital copies of the following:
Architectural/engineering design development drawings indicating the size of the building, occupancy group(s), and type of construction. Drawings should include building plans and sections with means of egress, fire separation assembly locations, and fire protection systems proposed.
Soil boring and geotechnical recommendations report.
Foundation structural calculations.
Plan review disciplines
Our staff includes expert plan reviewers with certifications in all disciplines, as well as, professional engineers, who are registered in all 50 states, Guam, the District of Columbia, and parts of Canada.
| | | |
| --- | --- | --- |
| Accessibility | Electrical | Mechanical |
| Building (structural and non structural) | Energy & Conservation | Structural |
| Commercial | Fire Safety & Protection Systems (includes sprinklers) | Plumbing |
| Residential | | |
| | | |
Get in touch with a plan review expert today
Learn more about our Plan Review Services or contact Ben Chisholm at (574) 248-9136.