Hurricane Michael devastates Florida Panhandle
Drone footage from Mexico Beach
Drone footage captured by Severestudios.com on Oct. 11, 2018, revealed widespread devastation across Mexico Beach, Fla., after Hurricane Michael made landfall as a Category 4 storm.
updated: Oct. 12, 2018
---
Price tag of Hurricane Michael could be $13.4 billion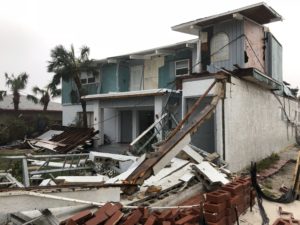 Global analytics firm CoreLogic estimates that at least 57,000 coastal Florida homes, as well as high-rise condos and businesses, were at risk for damage as Hurricane Michael made landfall. The total reconstruction value if all these homes were actually destroyed could amount to $13.4 billion. The figure for total possible damage includes single-family residential homes, manufactured and mobile homes, as well as cabins, but it doesn't include damage to other structures.
Since the Sunshine State has been battered by so many hurricanes, including Hurricane Andrew in 1992, Floridians are better prepared to handle flooding than virtually any other state. Florida homeowners have bought about one-third of the five million flood insurance policies issued by the federal government's National Flood Insurance Program. Florida also has a private flood insurance market for homeowners and businesses to purchase coverage.
updated: Oct. 12, 2018
---
Hurricane Michael devastates Florida Panhandle
Hurricane Michael crashed into the coast of the Florida Panhandle yesterday as a Category 4 storm and made history as one of the top four most-powerful hurricanes to strike the United States. At the time of landfall near Mexico Beach early Wednesday afternoon — with maximum sustained winds of 155 mph and a central pressure of 919 millibars — the storm was 1 mph shy of Category 5 status and the most intense storm on record to hit the Florida Panhandle.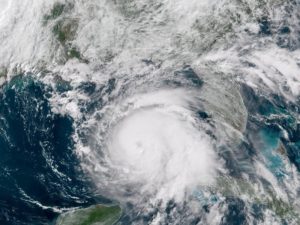 Michael's maximum sustained winds of 155 mph at the time of landfall place it behind the three Category 5 hurricane landfalls in the continental U.S.: Labor Day Hurricane (1935), Hurricane Camille (1969) and Hurricane Andrew (1992). Michael also broke the records set by the Pensacola Hurricane (1882) and Hurricane Eloise (1975) — both of which were Category 3 with 125 mph winds at landfall — by 30 mph to become the first Category 4 hurricane on record to ever hit the Panhandle.
The extent of Michael's devastation in Florida and other parts of the Southeast is still being assessed, but there will never be another Hurricane Michael in the Atlantic, the Caribbean or the Gulf of Mexico, as its name will be retired at the end of the 2018 Atlantic hurricane season.
updated: Oct. 11, 2018
---
Hurricane Michael makes landfall in Florida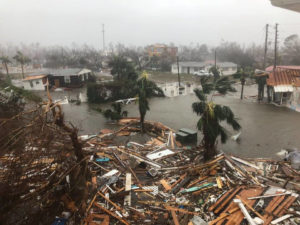 Hurricane Michael made landfall in Florida on Wednesday as a a Category 4 hurricane — the strongest storm to make landfall in the continental U.S. since Hurricane Andrew in 1992 — according to the National Hurricane Center. Now moving northeast across Florida's Panhandle, the storm continues to produce life-threatening storm surge and catastrophic winds topping 155 miles an hour.
Tornado watches have been issued by the Storm Prediction Center for much of northern Florida and south and central Georgia. Hurricane Michael and its outer bands will be spreading northeast into the region, which are capable of quickly spinning up tornadoes. Hurricanes that move in from the Gulf of Mexico can be prolific tornado producers, capable of over 100 tornadoes in one to two days following landfall. The storm is expected to cross the Carolinas on Thursday before moving off the Mid-Atlantic coast on Friday.
Weather forecasters and government officials are warning about storm surges that could potentially reach 13 feet in some areas, in a relatively flat region that is particularly vulnerable to it.
Flash flooding continues to be a concern as the Florida Panhandle and Big Bend region, southeast Alabama, and parts of Georgia could receive four to eight inches of rain, with some spots getting as much as a foot.
The governors of Alabama, Florida, Georgia, North Carolina and South Carolina have all declared emergencies for parts of their states, encompassing tens of millions of residents.
updated: Oct. 10, 2018
---
Hurricane Michael forecast to intensify
As it enters the Gulf of Mexico, Hurricane Michael is strengthening into a Category 3 hurricane aimed at Florida's Gulf Coast and the Panhandle. In light of the National Hurricane Center warning of possible "life-threatening storm surge" reaching at least 8 to 12 feet in hardest hit areas, the greatest concern is from these coastal areas being inundated from rising ocean waters, flooding rain and destructive winds. Mandatory evacuations have been ordered in parts of Florida's Gulf County, and serious hurricane effects may extend as far inland as the Tallahassee area and portions of the Carolinas.
Michael is projected to strike an area that is exceptionally prone to storm surge. The very shallow waters along the coast where the hurricane is expected to make landfall, where the continental shelf extends out about 70-90 miles from shore, will allow the hurricane to pile up a large storm surge along the east side of the storm's center. Flooding rainfall — from 4 to 8 inches — is likely to lead to life-threatening flash floods and may affect some of the areas recovering from Hurricane Florence. And maximum sustained winds are forecast to be around 120 mph when Michael strikes the coast, resulting in devastating wind damage, structural damage, downed trees and power outages.
At the same time that Hurricane Michael gathers off the Florida coast, the Florida Building Commission is meeting to discuss updates to the Florida Building Code based on the 2018 International Codes (I-Codes). The I-Codes are updated every three years to take into account the latest technology and lessons learned from recent disasters. Currently, representatives from the International Code Council and our partners in the Coalition for Current Safety Codes are in Sarasota to advocate for keeping the state's building code strong. Going into these hearings, the Florida Technical Advisory Committee determined a number of code updates for approval or denial, but hundreds more are stuck in limbo with no suggested action. Coalition members testifying in favor of updating the Florida codes to incorporate the latest from the I-Codes include code officials, architects, flood plain managers, fire marshals, electricians and more. Together we are encouraging Florida to continue its role as a national leader in maintaining strong, regularly updated codes.