ICC board summer meeting highlights
The International Code Council Board of Directors held its summer meeting on July 27, 2018, in Blaine, Wash. During this meeting, the board dispensed with the following notable items:
Committee and Subsidiary Board Appointments — The board approved appointments to the ICC Evaluation Service Board of Managers, the Alliance for National & Community Resilience Board of Directors, the ICC Nominating Committee, and the Professional Development Council. Individual appointment e-mails are forthcoming.
ICC Standards — The board approved the following ICC standards-based updates:
A revision to CP-28, Code Development Process, which effectively references the latest edition of ICC standards in the next edition of the International Codes.
The development of a standards project in cooperation with the National Institute of Building Sciences and the Modular Building Institute that will support the off-site construction industry.
Fellowship Award — The board approved the development of the Emory R. Rodgers Leadership in Public Safety Fellowship, which is an annual award that will afford an opportunity to one building safety professional, who has embarked upon a demonstrated executive-level career path, to further develop leadership skills through an eligible executive development program. The fellowship will debut at ICC's 2018 Annual Conference and will be made available to applicants on or before Jan. 1, 2019.
Ad Hoc Committee Updates — The board received status updates from the Building Safety and Security and Membership Council Ad Hoc Committees, and provided feedback and guidance for their continued success.
Eagle Scout Award — The board approved an ICC Certificate of Achievement or similar form of recognition for individuals who achieve the distinction of "Eagle Scout" by the Boy Scouts of America, or who achieve a similar top-level rank by an organization that has a mission and set of organizational values that are consistent with ICC's vision and mission.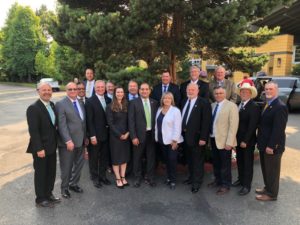 In addition to these actions, the board participated in an interactive anti-harassment training alongside ICC staff; were provided presentations on Safety 2.0, Building Safety Month 2018, and legislative and rule-making updates; and invited members in attendance from the Washington Association of Building Officials to speak on their current and upcoming initiatives.
The Code Council's next in-person board meeting will take place on Oct. 20, 2018, in Richmond, Va., in conjunction with ICC's 2018 Annual Conference. Click here for more information on upcoming and previous board meetings.
Click here to see more photos from the meeting.