ICC tours International Training Center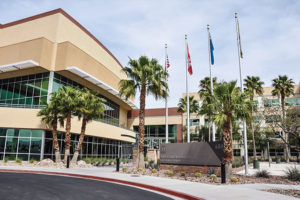 International Code Council Senior Vice President of Government Relations Sara Yerkes and Vice President of Government Relations Neil Burning joined Michael Gardner, special technical consultant to the Wall and Ceiling Alliance, at a meeting and a tour of the Carpenters International Training Center (ITC) in Las Vegas, Nev. They met with ITC Executive Director Bill Irwin and United Brotherhood of Carpenters representatives Jim Stafford and Alfonso Bastidos.
The ITC is a world-class training and education center for construction professionals. With more than six million square feet of buildings, the center includes 70 classrooms, a museum, auditoriums, dormitories, one hotel (second hotel in the process of construction), a gym, a swimming pool, a cafeteria, a ballroom and more. Students attending training can live, learn, eat and enjoy down time without leaving the training center. The craft training is based on a train-the-trainer concept with programs geared to enhance personal and leadership skills.
Carpenters train on a vast list of areas, including infection-control protocols in healthcare construction, interior systems, steam and gas turbines, pile driving, millwork, cabinetry, flooring installation, building envelope, solar panel installation, scaffolding, underwater welding, mechatronics and superintendent career training. The facilities and the quality of the training offered are impressive.
The programs offered at ITC are essential to the continued development of a highly skilled workforce. The Code Council commends the members and staff of the United Brotherhood of Carpenters for their vision and commitment in training their professionals to the latest technologies and methodologies and industry standards. Improving trade skills is a priority at the training center; Code Council staff witnessed how that commitment is being put to action.
The International Code Council's 2019 Annual Conference and Group B Public Comment Hearings will be held October 20-30, 2019, in Las Vegas, Nev. Click here for details.