ISPSC secures pool & spa safety
Clean water is the world's most precious commodity. From drinking water to bathing water, irrigation to sewage, water is integral to our lives. Building, plumbing and green codes help ensure safe water is available for our families and communities and guards this precious commodity for future generations through proper construction, conservation and safe disposal. The International Codes, developed by the International Code Council and used throughout the world, have addressed water-related issues for years.
Three jurisdictions recently moved to adopt and enforce the International Codes — including the International Swimming Pool & Spa Code (ISPSC) — providing the highest possible level of public safety.
The city of Mesa, Ariz., adopted the 2018 International Codes, which went into effect on Feb. 10, 2019.
The city of Fort Collins, Colo., adopted the 2018 International Codes, which went into effect on Jan. 12, 2019.
The city of Jefferson, Mo., adopted the 2015 International Codes, which went into effect on Oct. 21, 2017.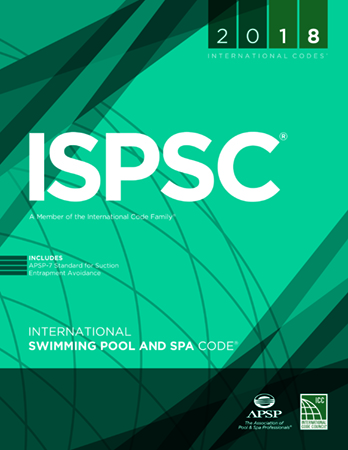 The International Swimming Pool and Spa Code (ISPSC) is transforming our nation's backyard pool and spa industry. Developed by the Code Council with the support of the Association of Pool and Spa Professionals, it encompasses the design, installation and inspection of aquatic facilities based on current American National Standards Institute standards technology and code provisions. The code establishes minimum regulations for public and residential pools, portable and in-ground spas and hot tubs, exercise spas, and water parks using prescriptive- and performance-related provisions. It covers a range of topics, including fencing, decks, lighting, heaters, circulation systems, pumps, accessibility, diving, sanitizing equipment, filters and suction fittings.
In addition to regulations for drain covers and grates, outlet configurations and fittings, and vacuum release or vented systems, the ISPSC also requires barriers to entry on all outdoor residential pools and spas that effectively prevent small children from gaining unsupervised access. It is the first comprehensive swimming pool and spa code to upgrade pool safety and meet the requirements of the Virginia Graeme Baker Pool & Safety Act. It contains provisions coordinating with the International Building Code and International Residential Code and coordinates with the widely adopted family of International Codes for seamless integration.
The role of code officials in the construction and operation of safe pools, spas and waterparks is critical to reinforce and provide the highest possible level of public safety. There are an estimated 10.4 million residential and 309,000 public swimming pools — and more than 7.3 million hot tubs in operation — in the United States and swimming is the fourth most-popular sport or recreational activity in the nation. The International Code Council is an advocate for protecting our communities and works to ensure that family and friends have a safer, more enjoyable experience when using pools and spas.
In February, Sara Yerkes, senior vice president of the Code Council's Government Relations division, visited with U.S. Consumer Product Safety Commission (CPSC) Commissioner Peter A. Feldman to discuss how the CPSC and the Code Council may continue to collaborate to advocate for safety in residential pools. In September 2018, Yerkes and International Code Council Chief Executive Officer Dominic Sims, CBO, attended Feldman's nomination hearing in support of his candidacy. The Code Council is also a top-tier Campaign Safety Partner of the Pool Safely national public education campaign launched by the U.S. Consumer Product Safety Commission to reduce childhood drownings, submersion injuries and entrapments.
Click here to view the Code Council's pool and spa safety brochure.