J. Brett Blanton confirmed as new Architect of the Capitol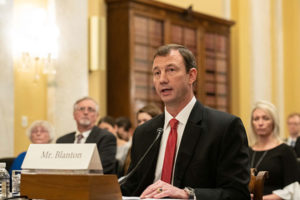 Following a confirmation hearing by the U.S. Senate Rules and Administration Committee on December 12, 2019, the U.S. Senate confirmed J. Brett Blanton as the new Architect of the Capitol (AOC) on Dec. 19, 2019. Currently awaiting to be sworn in, Blanton will serve a 10-year term as the official in charge of maintaining the Capitol complex.
Blanton follows acting directors Christine Merdon and Thomas J. Carroll III, who stepped into the role after the previous AOC, Stephen T. Ayers, retired in November 2018 after having served under U.S. presidents George W. Bush, Barack Obama and Donald Trump.
The Architect of the Capitol is in the legislative branch and is accountable to the United States Congress and the Supreme Court. Responsible for the design, construction, maintenance, operation, development and preservation of more than 18.4 million square feet of buildings and facilities throughout Capitol Hill since 1793 — including the U.S. Capitol, the Library of Congress, the U.S. Supreme Court building, and Senate and House office buildings — the AOC's Office is also responsible for the upkeep and improvement of the Capitol Grounds, and the arrangement of inaugural ceremonies and other ceremonies held in the building or on the grounds.
With 25 years of experience in facilities operations and construction management, Blanton was most recently a deputy vice president and senior engineering manager with the Metropolitan Washington Airports Authority since January 2017, the entity that runs the city's two major international airports. Prior to that, he served as vice president and a transportation engineer with architecture and engineering firm ATCS PLC based in Herndon, Va., and as a joint engineer from 2011 to 2014 for the Joint Chiefs of Staff of the United States Department of Defense, where he "oversaw standards, tasking and strategic direction of 54,000 military personnel and engineers worldwide."
A U.S. Naval Academy graduate, Blanton had a long career in the U.S. Navy, serving for 22 years before retiring in 2015. He was a member of the Navy's Civil Engineer Corps, where he oversaw major infrastructure projects and then served as executive assistant to the Navy's assistant secretary for energy, installations and environment.
Blanton earned a master's degree in ocean engineering from the Virginia Polytechnic Institute and State University and a bachelor's degree in aerospace, aeronautical and astronautical engineering from the United States Naval Academy in 1993. He is a professional engineer licensed in the state of Georgia but is not a licensed or practicing architect.
As the new AOC, Blanton will head the Cannon House Office Building Renewal Project, a five-phase renovation project slated to upgrade the Cannon House Office Building, a 111-year old Beaux-Arts office complex designed in 1908 by Carrère and Hastings, the architects behind the New York Public Library and other iconic buildings of the era.