Connecticut ICC chapters come together to celebrate and learn in joint event
Connecticut building, fire and housing code officials finally get to throw a party – and tackle the common problem of illegal dwelling units
No one is 100 percent sure who came up with the idea for three International Code Council chapters in Connecticut to hold a joint conference this past June. But after it was over, everyone agreed it was a great idea. "There's a lot of credit to go around," said Jim Rupert, building official and deputy fire marshal for the town of Bolton, Connecticut. "We were planning this for a while, and then COVID hit. There is so much overlap among the organizations. It just made sense."
The event — sponsored by the Connecticut Building Officials Association (CBOA), the Connecticut Fire Marshals Association and the Connecticut Association of Housing Code Enforcement Officials Inc. (CAHCEO) — drew about 170 officials from all over the state to hear a presentation on a topic affecting all of them: illegal dwelling units. The program also featured a keynote address by Connecticut Lieutenant Governor Susan Bysiewicz and organization installations performed by Code Council Board Directors Benjamin Breadmore and Tom Peterson. Also representing the Code Council was Bill Nash, senior regional manager of government relations for the New England area. "I think everyone had a good time," Nash said. "There was a lot of good information. That's why we hold these events. Also, a lot of times, you work in the same town or the next town over, and you never get to meet. This was a great opportunity."
Focusing on the issue of illegal dwelling units
It was also a great opportunity to celebrate CAHCEO'S 50th anniversary. The actual anniversary was last year, but officials decided to hold off a year due to lingering pandemic restrictions. The belated anniversary celebration gave rise to an idea Rupert and Judith Rothschild had for several years before the pandemic. In talking with other jurisdictions, they noted that there was overlap in the work performed by building officials, fire officials and housing code officials. "We have so much in common, especially our missions to do what we can to protect the public," said Rothschild, an attorney and director of blight remediation through the Housing Code Enforcement and Rental Licensing Program for the city of Hartford.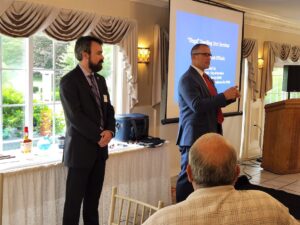 So, why not have an event where members of all three Code Council organizations can get together, network and hear a presentation on a common topic of interest? From the ignorance or defiance of zoning laws to landlords wanting to make an extra buck, the issue of illegal dwelling units and how to handle them is common to all areas and the chapter leaders thought it would be an excellent issue to tackle.
Dealing with the issue covers several disciplines, Rothschild explained, such as fire codes, health codes, housing codes and relocating unwitting residents caught in the middle. "And there can be very strong liability for the municipality if the illegal dwelling issues aren't resolved and a tragedy like a fire should happen," she added. "By having this combined conference with the three organizations, we got to see the problem from several different viewpoints. And everyone I spoke with thought that the speakers [Darren Hobbs, director of regulatory compliance for the State of Connecticut, and Joseph Kingston with the Office of the State Fire Marshal] were excellent. I think everyone went away with a lot of valuable information for their municipalities."
Seizing the opportunity to celebrate in person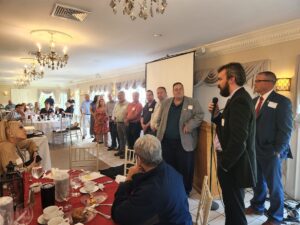 Jeff Pooler, building official for the town of Southington, said it meant a lot that the groups could hold the combined conference in person, unlike so many of the events that had to be done through Zoom during the pandemic restrictions. "I like to do things face-to-face. This was a great opportunity," said Pooler, who recently took over as CBOA president from Jim Rupert.
Frank Alvarado Jr., bilingual housing code inspector with the city of New Haven and CAHCEO president, said he was glad the organization waited a year to have its 50th-anniversary celebration. "We've been trying to do a combined conference even before COVID," said Alvarado. "And we had such a fantastic turnout. It was a great opportunity to network with large municipalities, or many of the smaller ones throughout the state. With illegal dwellings a common problem, everyone could take away something from the conference."
Rupert said chapter leaders were even able to convince state officials to offer two hours of continuing education credits for fire marshals and building officials. "We were going for 1.5 hours," Rupert said. "But I said we'll take it! It was a great success. We're all excited to do it again next year."