New! Membership Drive — Incentive Program: Great people know great people
The International Code Council works to create a great partnership with its members, to create safer homes, neighborhoods, and workplaces
The International Code Council works to create a great partnership with its members, to create safer homes, neighborhoods, and workplaces. As a reward to our loyal members, the Code Council is proud to offer you the new Membership Drive – Incentive Program.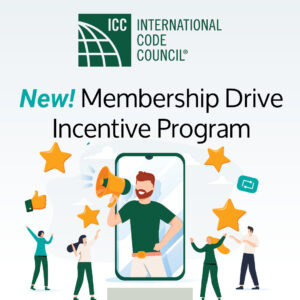 Do you have friends or family that would benefit from our products and services? If so, helping us can also help you. We know our great members know other great people. For every new member that signs up with an ICC membership* with your referral, 25 points (equal to $25) will be earned on your ICC account. Points will expire within one year from the date they are issued. These points can be used toward any purchase on our ICC website.
There is no limit on the number of points you can earn, just make sure to take advantage of this limited time program before it's over on December 31, 2022.
Why you should refer a friend to sign up as an ICC member:
FREE Digital Codes Premium Subscription
10-25% off code books, specialized publications and training materials
Discounts on training and educational programs that earn CEUs
Click here to find out more on the ICC membership benefits
How you can start earning points today:
Go to your myICC account and login. After login there will be a pop-up that displays the following: I want to be part of the Membership Drive – Incentive Program. Login to myICC and get started.
You will then be given a unique URL to which you can share with any interested friends of family. This allows us to know that the new member came from you.
Click here to find out more about the Membership Drive – Incentive Program.
If you have any questions, please contact our member services at members@iccsafe.org.
*Eligible membership categories include Building Safety Professional, Participating, Governmental, and Corporate. The Membership Drive – Incentive Program does not apply to student memberships or International Code Council staff.