Alexander Foskarino credits ICC Safety 2.0 program with success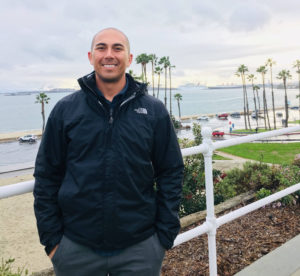 The International Code Council's Safety 2.0 initiative — comprised of new and existing Code Council programs aimed at finding a niche for young, talented professionals — welcomes a new generation to a successful and fulfilled future within the building and fire safety professions. In an industry where knowledge and expertise about the latest advances in construction science and technology, products, and services help shape and influence the entire building safety industry, the Code Council's responsive core of more than 65,000 member professionals bring a variety of backgrounds, expertise and skill to the programs.
Participants in the Code Council's Mentor Program find that the camaraderie and support from the participating mentors are not only beneficial to their careers but in some ways also assist in joining job success and access to their futures. This view is exemplified by Code Council member Alexander Foskarino — a former U.S. Army Quartermaster Officer who joined the Arcadia Fire Department in February as a part-time fire inspector — with the assistance of key players Nicole Pesqueira, fire prevention specialist II for the Brea Fire Department in California, and Susan Dowty, government relations manager for the International Code Council.
Before entering the Code Council's Mentor Program, Foskarino's story was of someone who has always set out to help the public and serve others. "Growing up, helping and protecting others has always been a big motivating factor for me," Foskarino said. "It is what led me to earn the rank of eagle scout in the Boy Scouts of America. It is what led me to the Army. And it has led me to pursue a career in fire prevention, as a fire inspector."
Initially, Foskarino was unaware of the various career opportunities in the fire service; he didn't realize that the job of a fire inspector even existed. What he did know was that when his contract with the Army was over he wanted to find a new and fulfilling career that would allow him to live closer to his family in California. Right before a deployment to Camp Buehring, a staging post for U.S. troops in the northwestern region of Kuwait, Foskarino started to learn more about the fire service and came to a career realization: that this was the organization he wanted to eventually become a part of. To make the most out of his time during the deployment, he began taking classes online to learn more about the fire service and to better prepare himself for eventually attending a fire academy. Throughout his courses, he learned about numerous historic fire-related disasters and how many of the disasters could have easily been prevented. "The more of these historic disasters I learned about, the more I realized that my passion laid with fire prevention as a fire inspector."
After transitioning out of the Army, Foskarino started researching fire academies in southern California, Rio Hondo College in Whittier was the first that Foskarino looked over. The Rio Hondo College Fire Academy provides quality training to firefighters and was also the same fire academy that his brother graduated from five years prior. For Foskarino, it was clear that the Rio Hondo fire academy was the best that he could attend. "The academy had international and, even more so, inter-agency recognition," he said. "It seemed as though everyone was trying to take courses at the academy no matter where they were living."
Shortly after completing the academy, Foskarino became a volunteer cadet firefighter for the city of Alhambra. It was at this point that he was put in touch with his mentor Nicole Pesqueira by Susan Dowty through the Code Council's Mentor Program. Dowty reached out to Pesqueira and mentioned that she had someone in the Fullerton area that was looking for a mentor.
Pesqueira, who has been mentoring students for a long time, was interested in helping Foskarino and offered to take him on as a protégé. Soon after getting in touch with him, he was doing ride-alongs. "He was always taking notes and always asking great questions," Pesqueira said. "In between, I was showing him what classes to take and giving advice on anything that he could use study-wise."
Soon after, Pesqueira encouraged Foskarino to volunteer for the Orange City Fire Department as a reserve fire inspector. He began doing this once a week with Pesqueira sending Foskarino job flyers whenever she could. As a mentor, Pesqueira provided guidance, encouragement and support. He ended up taking the fire inspector one and two series certifications with her, given that Pesqueira also teaches part-time. In February, the hard work of both mentor and mentee paid off. Foskarino was hired as a part-time fire inspector with the Arcadia Fire Department. "The International Code Council is very important for my career," he explained. "If it wasn't for the Code Council and its resources, it would have taken me much longer to get to where I am now."
The successful collaboration between Pesqueira and Foskarino was made possible through the Code Council's Mentor Program — one part of the Safety 2.0 initiative — which connects seasoned building safety professionals with job seekers interested in joining the industry. Participants on both sides can develop meaningful, long-term connections with others passionate about building safety in their area. Information submitted online is assigned to a Code Council government relations manager covering that area or region, and the Code Council has government relations managers assigned to all 50 states and U.S. territories.
"If you read about our program, you can become either a mentor or take on a mentorship," Dowty explained. "Safety 2.0 is our way of welcoming the newcomers and we have several different aspects to the program."
A unique opportunity for seasoned code professionals to reach out, connect, mentor and support those interested in pursuing a career in building safety, the programs under Safety 2.0 provide career paths for anyone interested in unlocking their potential — whether they do, or don't, go to college, or into the military, or into the trades. There is a path for just about everyone.
Given these challenging times, Foskarino's journey is admirable. It has been just three years from the time he started his first classes online to where he is now. But while the challenges at hand are an endeavor, his journey remains constant. "The best advice I could give is to be persistent with your career goals no matter what life throws at you, and to find knowledgeable mentors in the career field that you want to be a part of."
Find a mentor
Click here to be paired with an experienced building safety professional in your area. Learn more about what this exciting industry has to offer and explore different career opportunities.
Become a mentor
Click here to become a mentor for an individual considering joining the building safety profession in your area. Help shape the future of our industry by sharing your knowledge and expertise with someone new to building safety.