Celebrating the architecture of Paul Revere Williams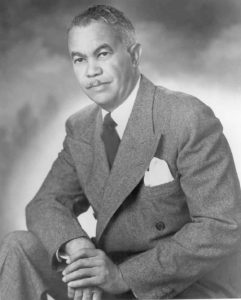 Paul Revere Williams, FAIA, was an American architect based in Los Angeles, Calif. He practiced largely in Southern California and designed the homes of numerous celebrities, including Frank Sinatra, Lucille Ball and Desi Arnaz, Lon Chaney, Barbara Stanwyck, Cary Grant, and Charles Correll. In recent years, Denzel Washington, Ellen DeGeneres and Andy Garcia all have lived in iconic Williams homes. He also designed many public and private buildings, including the Los Angeles Superior Court, the Beverly Sunset Medical Center in Los Angeles, the First AME Church in Los Angeles, the LAX Theme Building and St. Jude Children's Hospital in Memphis, Tenn. (Williams designed St. Jude's gratis, as a favor to friend Danny Thomas).
Williams was the only African-American student in his elementary school. He studied at the Los Angeles School of Art and Design and at the Los Angeles branch of the New York Beaux-Arts Institute of Design Atelier, subsequently working as a landscape architect. He went on to attend the University of Southern California, designing several residential buildings while still a student there. Williams became a certified architect in 1921, and the first certified African-American architect west of the Mississippi. In 1923, Williams became the first African-American member of the American Institute of Architects (AIA) and in 1957 he was inducted as the AIA's first black fellow.
Williams began designing homes and commercial buildings in the early 1920s. His buildings and residential structures possess grace, design and elegant proportions, which attracted people with money and taste. His work has come to signify glamorous Southern California to the rest of the country — and to the world. One of his hallmarks — a luxuriantly curving staircase — has captivated many a potential owner. By the time he died in 1980, he had created some 2,500 buildings, most of them in and around Los Angeles, but also around the globe.
When Williams began his career, he could find no black architects to be his role models or mentors. Born in downtown Los Angeles in 1894, Williams became orphaned before he turned four when his parents died of tuberculosis. A family friend raised him and told him he could do anything he wanted — and what he wanted was to design homes. Despite warnings from those who thought he was being impractical, Williams became an architect.
He made many pragmatic adjustments to the reality of racism in his day. He taught himself to draw upside down so white clients wouldn't be uncomfortable sitting next to him, and it became one of the things he was known for. Williams also toured construction sites with his hands clasped behind his back because he wasn't sure every person would want to shake a black man's hand, so he gave them the option of extending their hand first. Many of the neighborhoods in which his homes were located were closed to him because of his race — by law he could not live in some of the places where he designed homes because the land deed said a black person could not even spend the night. Williams found a way to work around such barriers because he had an ultimate goal in mind. He believed that for every home and every commercial building that he could not buy and that he could not live in, he was opening doors for the next generation.