Christopher Kiel named Virginia Tech's university building official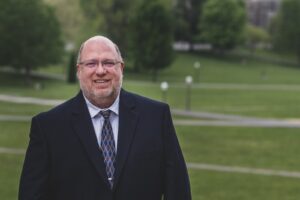 Christopher Kiel has been named Virginia Tech's university building official, where he will be responsible for enforcing the Virginia Uniform Statewide Building Code for construction work on all Virginia Tech-owned facilities across the Commonwealth of Virginia, including Blacksburg, Roanoke, the greater Washington, D.C., metro area, and everywhere in between.
Established in 2010, the Office of the University Building Official reviews plans for new construction and renovation projects and performs construction inspections required by state code. The office, and specifically Kiel's position, reports functionally to the university's Board of Visitors Building and Grounds Committee and administratively to the Vice President for Campus Planning, Infrastructure and Facilities.
Kiel brings three decades of experience in the construction industry and over two decades of experience in building and fire jurisdictions across the U.S. He joins Virginia Tech from Toledo, Ohio, where he served as senior plan check engineer for Municipal Plan Check Services. He performed plan reviews on commercial and residential projects across many code disciplines in a remote capacity.
After serving as an electrician in the U.S. military, Kiel pursued a degree in building construction management at Purdue University. He graduated with distinction. He has since held positions encompassing all aspects of the construction process: owner's representative, designer, contractor, inspector, senior plan check engineer, fire marshal, and building official.
Kiel is a licensed professional engineer in six states and holds over 40 International Code Council certifications, including that of certified building official.