Emerging Leaders Profile: Alan Campos

To help facilitate inclusive, collaborative relationships between seasoned code professionals and emerging industry leaders, the International Code Council created its Board Shadow Program — part of its successful Safety 2.0 initiative — which provides an opportunity for emerging code professionals to "shadow" the Code Council Board of Directors at the ICC Annual Conference, to intercept and absorb information and experience real-time leadership as they observe their board mentors.
Now in its fourth year, the program provides an opportunity for the ICC board to connect to diverse emerging professionals from different socio-demographic backgrounds and enables senior leaders to really hear a different level of thinking to real-time issues facing young code professionals today. The board gets a much broader range of views on strategic, complex and critical issues, and a feedback loop of challenge, solution, development and learning is created. The program demonstrates the benefits of investing in future code development leaders and helps create a diverse pipeline of "ready-to-go" leaders who understand and are already contributing to the construction industry.
Continuing our Emerging Leaders series is an interview with Alan Campos.
---
Building a stronger industry with Alan Campos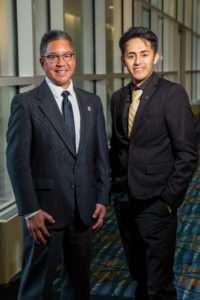 Alan Campos, building inspector for the city of Rancho Cucamonga, Calif., was a shadow at the 2018 ICC Annual Conference in Richmond, Va., and had the opportunity to accompany Board Director Stuart Tom. Campos found the experience to be very rewarding. It was here, for the first time since becoming involved in the building industry, that he could envision himself in the same shoes as the more seasoned mentors and attendees. The event gave him the drive to want to be better.
The building industry was not Campos' first choice for a career. He wanted to be a teacher, but found himself working with his father, who was a carpenter. His father saw the potential in him and suggested he work on getting his state licenses to start his own company. Campos started taking construction technology classes at Norco College, where he obtained units and certifications within a program specifically designed for learning about the building industry and codes.
For a short time, he worked part time in carpentry and saw that worrisome shortcuts were being taken on job sites where he worked and approached a building inspector on what he was seeing. He became curious on what it took to be an inspector, so that in the future he could detect these issues first-hand and correct them.
Campos reached out to some building inspectors from Ontario and Menifee and participated in a ride-a-long with the city of Ontario to see what it took to be an inspector. The ride-a-long inspired him; he learned a great deal and he found it reassuring to be around people who have the same passion and like-mindedness to do the right thing. He saw how the inspectors take time to explain why the code is enforced and why it is in their best interest from a safety perspective. After the builder understood the reason behind the code requirement, they were grateful for the inspector who took the time to explain it. Seeing how the inspector dealt with his clients, Campos realized that this was the career for him.
He became involved with the local Code Council Citrus Belt Chapter and soon received his ICC B1 Residential Building Inspector, ICC P1 Residential Plumbing Inspector and ICC M1 Residential Mechanical Inspector certifications.
He traveled to San Francisco to attend the California Building Officials Career Fair where he met Code Council Government Relations Regional Manager Susan Dowty. She was instrumental in helping Campos search for employment, gave him advice about the industry, and recommended that he look into the ICC Board Shadow Program and contact Stuart Tom about being his shadow.
Alan's first impression of the ICC Annual Conference was one of amazement. He was scared and didn't know what to expect, but immediately he met fellow shadow attendees who were just as passionate about the industry as he was. "It was an amazing opportunity to attend the meetings and hear about new ways of doing things. I got so much information and tips, and I walked away inspired," Campos said. "Stuart was great."
Campos saw that Stuart Tom was someone who wanted to make changes for the better and help further the industry into the future, something he aspires to do as well.
As a first-generation Mexican-American, Campos was raised with the value of hard work and he learned from his father that helping others is rewarding. He enjoys incorporating these values in his work to help create safer buildings and to help others understand why things have to be done a certain way — up to code.
He continues to learn and is focusing on building his career to eventually become a building official.