Emerging Leaders Profile: Cole Cloward
To help facilitate inclusive, collaborative relationships between seasoned code professionals and emerging industry leaders, the International Code Council created its Board Shadow Program — part of its successful Safety 2.0 initiative — which provides an opportunity for emerging code professionals to "shadow" the Code Council Board of Directors at the ICC Annual Conference, to intercept and absorb information and experience real-time leadership as they observe their board mentors.
Now in its fourth year, the program provides an opportunity for the ICC board to connect to diverse emerging professionals from different socio-demographic backgrounds and enables senior leaders to really hear a different level of thinking to real-time issues facing young code professionals today. The board gets a much broader range of views on strategic, complex and critical issues, and a feedback loop of challenge, solution, development and learning is created. The program demonstrates the benefits of investing in future code development leaders and helps create a diverse pipeline of "ready-to-go" leaders who understand and are already contributing to the construction industry.
Continuing our Emerging Leaders series is an interview with Cole Cloward.
---
Building a stronger industry with Cole Cloward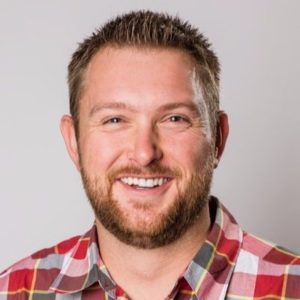 Even the best made plans don't always pan out as one would hope. Sometimes those plans don't pan out at all and you find yourself on a path that fate had in store for you all along. Such was the case for Cole Cloward, who graduated from Brigham Young University in 2011 with an emphasis in international relations. Unfortunately, the timing of his graduation was in the midst of a job slump There were not many positions available in the international relations field and he could not find work.
In high school Cloward had worked in construction, so he decided to look for employment in that field until a international relations opportunity became available. He secured a construction job and while on-site at a middle school he began asking the inspector questions about his job. The construction company saw potential in Cloward and invited him to train to be a project engineer. He met past International Code Council Board Director Jeff Whitney on a job during an inspection and questioned Whitney about codes and how he could become a building official.
Impressed by Cloward's enthusiasm, Whitney told him that he would be retiring soon and that his department would need a replacement. If Cloward was really interested in becoming a building official, Whitney would be a mentor and help guide him. However, Cloward would first need to obtain various Code Council certifications in order to be qualified and hired. Whitney walked him through the steps to get his certifications and helped him get into classes on codes. While studying codes and working toward earning his certifications, Cloward gained a great deal of hands-on experience working as a project engineer, foreman and assistant superintendent for a dinosaur museum, and two new hotels in Moab, Utah, that was part of the dinosaur museum. It was the jump start to his career in the building industry and he no longer felt the need to search for employment in international relations — fate had found a career for him.
In 2017, a position opened up at Whitney's office and he hired Cloward as a deputy building official who would be his on-the-job replacement trainee. Whitney suggested that he apply to be a part of the ICC Board Shadow Program, which would help to catapult his knowledge on how things are done, meet like-minded people working towards the same goals, and obtain a great deal of knowledge about codes and the building industry in one place. Cloward applied and was selected to be Code Council Board Director Tom Peterson's shadow mentee during the 2017 Annual Conference in Columbus, Ohio. Cloward's impression of the Board Shadow Program: "Eye opening! Every day I am grateful to have been a part of that great experience."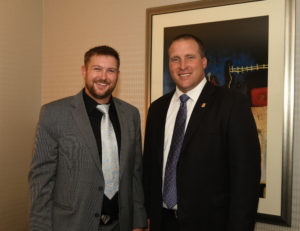 During the conference Peterson introduced Cloward to many code professionals attending from across the country. "I met so many seasoned professionals," he said. "I was able to greatly expand my network — people I can contact and reach out to when I have code questions."
"I didn't understand half of what was going on during the conference because there was so much to see and do," Cloward continued. "I was blown away with how big the industry really is, and how many people there are. It was a lot larger than I had imagined."
His involvement with the Board Shadow Program encouraged him to become more involved with the industry and soon he received a Code of Honor Scholarship, which supports participation in the code development hearings and are designed to increase Code Council members' professional development. After his participation in the code hearings he joined the Emerging Leaders Membership Council. Today he is a governing member of the committee.
For those new to the industry or interested in pursuing a career in construction or building safety, Cloward suggested taking the leap and learning more as he initially didn't even know building safety was a "career," much less an expansive and sustaining career option. "You shouldn't be afraid to try anything. Being a code official doesn't mean you are the 'bad' guy. We're all about safety and protecting our communities. A car has air bags and seat belts to help keep you safe. Likewise, a building uses components to keep occupants safe, to protect a building from damage and disaster."
Although unlikely that Cloward will pursue a career in international relations, he feels he uses those tools everyday by being involved with his community and helping to keep them safe. Additionally, his new career path provides a balanced life to spend time with his family.
Cloward plans on obtaining more certifications, continuing his involvement with the Code Council and eventually earning a Master Code Professional designation — the highest level of ICC certification and considered the "gold standard" for demonstrating proficiency in the code profession.
"Anyone can do this job if you have the drive and get the education," Cloward explained. "It is a fulfilling career."