Emerging Leaders Profile: Russell Murphy
To help facilitate inclusive, collaborative relationships between seasoned code professionals and emerging industry leaders, the International Code Council created its Board Shadow Program — part of its successful Safety 2.0 initiative — which provides an opportunity for emerging code professionals to "shadow" the Code Council Board of Directors at the ICC Annual Conference, to intercept and absorb information and experience real-time leadership as they observe their board mentors.
Now in its fourth year, the program provides an opportunity for the ICC board to connect to diverse emerging professionals from different socio-demographic backgrounds and enables senior leaders to really hear a different level of thinking to real-time issues facing young code professionals today. The board gets a much broader range of views on strategic, complex and critical issues, and a feedback loop of challenge, solution, development and learning is created. The program demonstrates the benefits of investing in future code development leaders and helps create a diverse pipeline of "ready-to-go" leaders who understand and are already contributing to the construction industry.
Continuing our Emerging Leaders series is an interview with Russell Murphy.
---
Building a stronger industry with Russell Murphy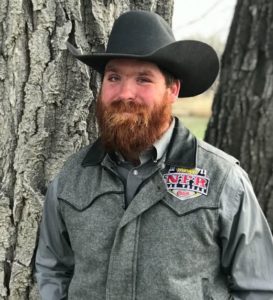 To say that a teacher has an impact on a student at an early age may be understated — sometimes that early impression can take a young student into a lifelong career. This is how Russell Murphy started in the building industry. Through the patience of his high school shop teacher, Murphy learned valuable core information about the construction business that led him to believe that this industry might be what he wanted to do for a living — he wanted to build things. To this day, Murphy acknowledges and appreciates that teacher for cultivating his initial interest in the building industry.
A professor in the construction program at Casper College in Wyoming also provided exceptional guidance to Murphy as he furthered his education. He received an associate degree in construction technology and another in construction management and then went to work for a residential construction company "pounding nails" as he puts it, building houses. It's the kind of work he really enjoyed. From there, he moved on to work as a carpenter for a commercial builder. Because of his degrees, he moved into management.
Dennis Hirsch, the building inspector in Miles City, Mont., was winding down his career and looking for a young emerging professional to mentor. He approached Murphy and introduced him to the International Code Council. "Dennis opened doors for me," said Murphy. He became involved with ICC Region II, where he took classes and received his commercial building inspector certification. Within a year, he became the city building inspector for Colstrip, Mont.
One of his fellow chapter members — Code Council Board Director Jim Brown, CBO, CFPS, deputy building official for Gillette, Wyo. —suggested that Murphy take a look at the Code Council's Board Shadow Program. With Brown's assistance, he became the board shadow for former Code Council Board Director Jeff Bechtold during the 2017 ICC Annual Conference in Columbus, Ohio. Although Murphy was already a building inspector with practical applied knowledge, the Board Shadow Program was a huge learning experience for him. He didn't know what to expect, but Bechtold quickly made him feel at ease, introducing him to many people, including some from his own region who he has had the opportunity to network with.
"If I had not gone to the ICC Annual Conference and been a part of the Board Shadow Program, I don't think I would have been as involved as I am now," Russell said. He now serves as the 2019 treasurer for ICC Region II.
When asked what advice he would give to someone getting started in the building industry, Murphy believes that a whole-industry approach is best. "You need to have a vested interest in safety and the construction business as a whole, with some background and hands-on experience," he said. "You should be in tune with the construction industry and absorb as much code knowledge as you can from the different code books."
Presently, Murphy oversees building inspection in the Colstrip area, but in the near future he would like to expand his territory into Miles City. One of the things that he likes about his job, besides the passion for the building industry as a whole, is the time it affords him to work with his family's cattle business. "It's a great profession to have to live your life and it helps me to stay close to my family and my agricultural roots."