Employee Service Day: A visit to the Port of San Diego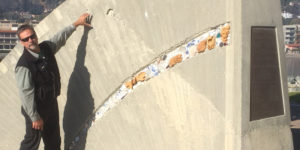 On a beautiful day when the sun was bright and the temperature reached 77 degrees, I visited Woody Brickley, Chairman of the ICC Concrete Special Inspector Exam Development Committee. Woody also chaired the Joint Special Inspector Committee of 26 individuals when we developed the SI General Requirements Module exam this year. He works as a Senior Engineering and Construction inspector for the Port of San Diego.
The Port of San Diego is a self-supporting agency established by the California State Legislature which has stewardship over shipping terminals, shipyards, environmental provisions in and around the San Diego Bay, and hosts hundreds of real estate properties, including the land occupied by the San Diego Airport.
The Port is governed by a Board of Commissioners with representatives from cites of Chula Vista, Coronado, Imperial Beach, National City, and San Diego. Woody and the Port building inspectors engage in regular interaction and coordination with these cities' building departments as well as the U.S. Navy and California State agencies such as the Wetlands Coastal Commission.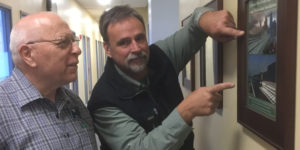 Upon arriving at the Port of San Diego Administrative offices, Woody provided a tour of the building, introducing many of the management staff and employees with explanations of what work they do and the projects they are involved with.
The morning began with a tour through several stories of the historic administration building. It was built as "moment-frame" concrete-reinforced structure. Woody pointed out in several areas of the building where the interior structure is visible, how it has more concrete beams and columns than would be typical of a similar building today.
In the 1940's it was considered somewhat of an above-ground bunker during World War II. In 1942, thousands of workers were building military aircraft at huge plants adjacent to Lindbergh Field which is now San Diego International Airport. This building was the defense plant's headquarters and was built on the east side of Pacific Highway overlooking the air field. At the time, it had to be designed to be virtually bombproof with no windows or decorative touches. Because of the war, it was to be functional only with no frills. It became known as "The Rock" and had camouflage netting around it. After the war, the building was eventually sold to the Port of San Diego and some windows were cut into the outer walls of the upper floors.