Georgia's Morgan Wheeler still making his mark by helping people build safely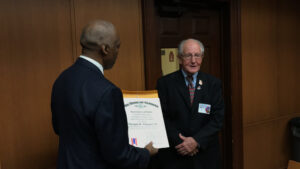 As often as he can, Morgan Wheeler will head to Helen, Ga., a mountain town not far from where he grew up. He'll drive past the souvenir-hunters teeming in the downtown and seek out a tree-lined spot along the Chattahoochee River where he can tick a homemade fly on a line in hopes of luring a trout… or not. "It's not about whether I catch something; it's about the rhythm and relaxation," said Wheeler. "I catch and release, so next time I come back, I just might catch the same one."
In more than 40 years as a code official, Wheeler said he's brought his fly-fishing set-up along on many trips to code meetings — in California, Utah and Wyoming — all to help collect his thoughts. At 78, one might think Wheeler can pull out the fishing equipment any time he likes. Except even after retiring twice, he still works part-time as a building official in North High Shoals, Oconee County, Ga. "For so many years, it was such a sleepy, little town," he said in his soft Southern accent. "And all of a sudden, it started to wake up. Land prices are rising, and they needed the help with plans and inspections."
And they have a special person to help them, someone who rubbed elbows with such legacy code giants as James Lee Witt — former International Code Council chief executive officer and Federal Emergency Management Agency director under former U.S. President Bill Clinton — and Bill Tangye, a legend with the Southern Building Code Congress International (SBCCI) and the Code Council's first chief executive officer. "I worked on the International Property Maintenance Code for four years with James Lee Witt, the one everyone uses now," Wheeler said. "And Bill Tangye used to come here for meetings, and we would have a nice golf tournament. He enjoyed that."
Wheeler worked with both Witt and Tangye as SBCCI began merging with the Building Officials Code Administrators International and the International Conference of Building Officials to form the International Code Council. "We were very protective of SBCCI," Wheeler said. "But if you don't have a standard set of codes, politicians will write their own. We needed a common voice for codes. This helped put everybody on the same page."
As a building code official for DeKalb and Walton counties in Georgia, Wheeler has collected numerous accolades, including in January 2020, when he was acknowledged for the second time by the State of Georgia on Building Officials Day for his "outstanding public service and unyielding commitment to proper city planning and development." He was so honored the first time in 2004 while serving as chairperson of the Building Officials Association of Georgia. He also has served as president of ICC Region VIII and was appointed to the State of Georgia Licensing Board where he worked with every governor since 2004.
Throughout his career, Wheeler has left a mark on the construction landscape in Georgia — as a chief building official, housing code inspector, commercial building code inspector, structural plans review coordinator, chief building inspector and structural inspections manager. And all his work has been with building safety in mind. "I like to help people," said Wheeler. "When I inspect a property, I give an explanation of the code, offer solutions and give them choices — as long as it meets the code, and it's safe." He has received letters from homeowners who expressed their appreciation for his thoughtful suggestions.
Wheeler worked in the DeKalb County Department of Planning and Development for 28 years and was responsible for all construction in the county. One of his proudest accomplishments was seeing the transformation of a former cow pasture into a sprawling business development. He was responsible for managing the plan review and on-site inspection process for Perimeter Mall and surrounding office buildings and restaurants in a suburb north of Atlanta. "It was a growing metropolis," Wheeler said of DeKalb County. "The whole area, with Atlanta and Fulton County. DeKalb grew from 400,000 people when I got there to 890,000. We would be doing 400 inspections a day."
However, managing inspections and permit approvals was only part of his job. Wheeler knew the importance of building good working relationships with homeowners, contractors, and other local and state governments. "It takes time, but creating trusting relationships makes a big difference," said Wheeler. Whether it was for residential or commercial permitting, he was responsible for making sure all contractors, including electrical, HVAC and plumbers, met the code guidelines for the state of Georgia.
In 2002, when Wheeler retired from DeKalb County, he started working as the chief building official for Walton County, Ga. In this new role, he drove 48 miles each way from his home in Stone Mountain where his wife of 58 years, "Miss Pat," is the mayor. Often, Miss Pat would accompany him to code meetings, getting to know other officials and their wives. "It's like a family," he said. "And she's as much a part of it as I am."
While working in Walton County, he recalls one of his most significant accomplishments was overseeing the plan review and inspections process for a $2 billion construction project. Baxter International, a healthcare company, cleared a 400-acre tract of land to build 1.5 million square feet of office space, with 21 buildings, over five years.
In December 2019, Wheeler retired for the second time; now working on an "as-needed" basis in North High Shoals. "I work Mondays, Wednesdays and Fridays," Wheeler said. "And they save all the work for those days. At the end of the day, I'll write reports of what people need to do to comply. A lot of days, I'll get my 10,000 steps in. Sometimes, I don't quite make it."
That included during the COVID-19 pandemic when he still did in-person inspections. But mostly, he worked from home. "I'm an outside guy," he said. "I was almost climbing the walls!"
As Wheeler looks back over his career, he'll always cherish the relationships and the people he's helped along the way. "I really do enjoy helping people. There is so much red tape just to build a home; it's a nightmare. We go to great lengths to make sure people get the help they need."
Wheeler figures he'll keep helping people as long as he's able to get around. He came from a family of six with four boys, and his parents made sure they knew the meaning — and value — of working hard. "Seems like we did nothing but work. But now, when you love what you do, and you're around people you care about, it's a win-win — it's been a wonderful experience."