"Helping Mary" project offers lessons in building safety, community spirit

As Building Safety Month approached this past May, officials in Phoenix, Ariz. — as in many other areas affected by novel coronavirus (COVID-19) pandemic restrictions — were challenged by how to get a project going this year. Then Don Councilor, CBO, general inspections field supervisor for the city of Phoenix Planning & Development Department, received a call from the city's Neighborhood Services Department that led him to volunteer to lead the city's Building Safety Month project for the second year in a row.
Mary Chavez, a 78-year-old Phoenix resident, had applied to Neighborhood Services for a grant to help repair her home. Last year, Chavez was worried about the gas water heater in her home. On Social Security and a fixed income, she hired an unlicensed plumbing contractor to replace her gas water heater with an electric unit. Six hours after the contractor had left, a burnt stud ignited and her home caught fire. The fire department responded and while no one was injured, there was major damage to the kitchen ceiling and the roof.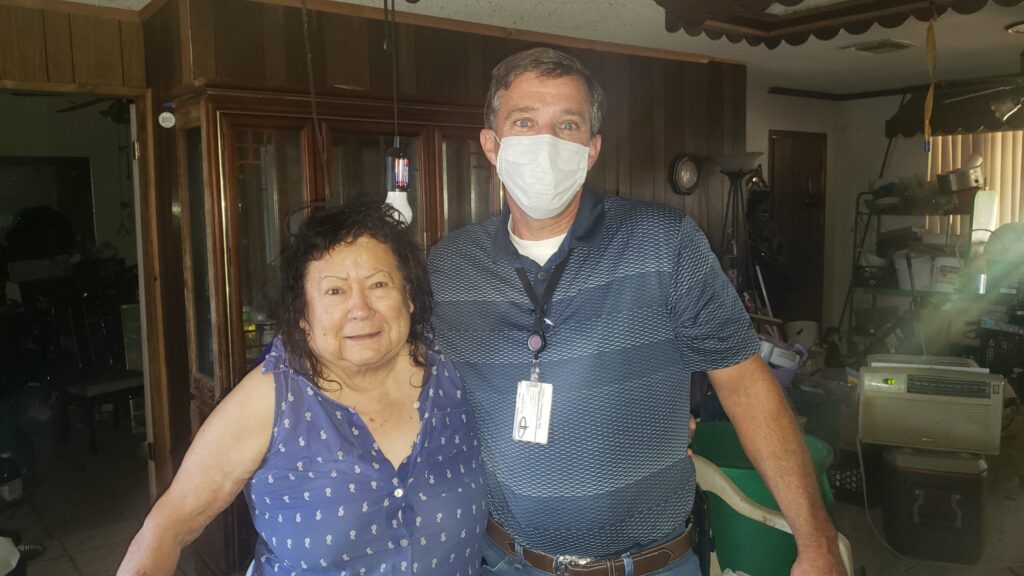 Councilor learned that Chavez, with no homeowner's insurance, had been living in the home with no electricity and an unusable kitchen, making do with a portable generator. "She didn't want to leave her pets behind, so she's been using a generator at times and a propane grill to cook," Councilor said. "Neighborhood Services said they could provide her only $9,000 and that wouldn't be enough."
Growing up and working in Phoenix, Councilor then bet on the goodwill of the building industry people he had come to know as both a contractor and a building official to come through for Chavez. "They exceeded my expectations," he said. Moments after he emailed looking for help, Councilor heard back from a contact, willing to donate work to Phoenix's "Helping Mary" project for Building Safety Month. After Angie Holdsworth, the city's public information officer, got involved, more help came forward. Holdsworth engineered local television and radio interviews and set up Councilor on a podcast to help get the word out about "Helping Mary."
Councilor's contacts were key in getting the donated materials and work, especially with the community dealing with pandemic restrictions. In a matter of days, the first of eight local contractors — expedited by the city's on-site Permit by Inspector Program — were on their way to providing an estimated $40,000 in donated materials and labor. "One even pre-paid the part we needed and said we could just pick it up," Councilor said.
Individuals chipping in with work and materials include:
Tim Gable of Gable Family Builders and Ben Miller of LeBlanc Building Company worked on framing. They engineered repair for two trusses, replaced all the burnt lumber, and replaced roof sheathing as needed prior to the new roofing being installed.
Jason Guilliam of The Plumbing Company replaced and re-located the water heater outside, installed a garbage disposal at the kitchen sink, replaced the washer box in the kitchen, replaced the tub/shower valve and got the toilet working in the hall bathroom, and replaced master bathroom sink drain.
Dan Gonzales of EPIC Plumbing donated the water heater cabinet.
Christopher Roberts of The Dumpster Dudes donated a 15-yard roll-off dumpster for the first week.
Martin Vargas of Vargas & Sons Concrete Specialist poured the slab in the rear yard for the new water heater.
Dean Laundromat of Commercial Comm and Electric replaced the main breaker, checked all the circuits to ensure they were safe to energize prior to landing on a breaker, and ran a new circuit to the new water heater location.
Richard Jones of 3 J's Plus one Electric located and paid for the main breaker replacement for the panel.
Ben Rucks of Malarkey Roofing Products and Michael Fisher of Roofline Supply and Delivery supplied all the roofing materials.
Collin Patterson of Patterson Construction provided the roofing labor.
DeWayne Lewis of Top Onyx provided and installed the tile and the tub/shower surround in the hall bathroom.
Randal DeMore of Arizona Drywall Company replaced the lid in the kitchen and repaired the hole in the living room ceiling.
Dave Nichols of Marshall Insulation donated four bags of fiberglass batts for the attic.
Dio Quintero of Dunn Edwards Paints donated 20 gallons of paint for the exterior and five gallons for the interior, as well as one gallon of Kiltz for a primer.
Joe Jaime of Jaime Electric donated a couple of smoke detectors and three can lights for upgrading the kitchen lighting, as well as wiring them in.
Daniel Oteno of AJP Electrical donated a junction box with cover, a Romex connector and a few wire-nuts to get us through the pre-drywall inspection.
Chris Normandin of Remodeling?? Just Do It!! donated a new entry door with trim, all the hardware and labor for installing it. (Mary now has keys to her house).
Finally, the city's Neighborhood Services Department used the $9,000 grant for new energy-efficient kitchen appliances and weatherization. Councilor said the work should be completed by mid-July, and although he jokes that's well after Building Safety Month, he is so very grateful that his community came through for someone in dire need.
Chavez is amazed that the community came out and did so much for her, he added. "She told us the roof alone would have cost thousands; we know she was checking prices." Councilor also understands how Chavez and others want to get work done as cheaply as possible, especially if money is tight. But unlicensed contractors, and there are many, prey on those people, he added. "Licensed contractors adhere to the minimum code standards we use," Councilor emphasized. "Trying to save money can cost you more in the long run."