ICC Members: Shaping the safety of the world around us — Mike Sizemore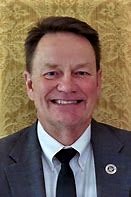 Code professionals ensure building safety today, for a stronger tomorrow. As the individuals behind modern codes and standards, these professionals are responsible for ensuring the safety and compliance of codes and standards, shaping the safety of the world around us, and serve as the safety foundation for our buildings. They don't just ensure that buildings are constructed to withstand the stress of everyday use, they are behind the security and stability of every building. They specialize in preventative measures to help communities weather unforeseen natural disasters and ensure that first responders have less to worry about and can do their jobs safely. Code professionals are an essential piece in the building and construction puzzle and are engaged in the building process from the initial building plan to the finished product.
The International Code Council is a member-focused association with over 64,000 members dedicated to developing model codes and standards used in the design, build and compliance process to construct safe, sustainable, affordable and resilient structures. They protect the public through their commitment to building safety; enforce code compliance to empower and educate stakeholders across the built environment to embrace and integrate safety standards in their work; support economic development by making our buildings sturdier, and therefore longer lasting. Their knowledge, skills, and abilities impact every building, in every community.
The Code Council recognizes the importance of continuing to grow awareness of the important work that code professionals do and the impact they have, in the hopes of encouraging aspiring building safety professionals to join in on the building safety movement. In this exclusive feature for the Building Safety Journal, we asked Mike Sizemore to share his experience in the industry, highlights of his professional career, and any insights or advice he has concerning the industry and the future of building safety.
Mike Sizemore
Building Official
City of Allen Community Development
Allen, Texas, United States
International Code Council member for 36 years
Building Officials Association of Texas
BSJ: What was the path to your career — how and why did you pursue a profession in building safety?
Sizemore: I am like many of us more 'seasoned' individuals in this business where the career chose me. I had no clue about this profession, unlike today, where we have the ICC High School Technical Training Program that raises awareness of our profession and provides the industry's future workforce with the code education they will need to succeed in a building or fire code related career. I was in my mid 20's when I began my career and I knew almost instantly this is something I want to do and enjoy doing.
BSJ: What three things do you need to be successful in this industry and in your profession?
Sizemore: First, is to try to always improve yourself, no matter where you are or what your position is. Learn all you can. Don't let yourself get stuck; keep obtaining training, certifications and enhancing your education. No one can ever take that from you. As you move up in your career it becomes more difficult for many reasons. I truly admire and wholeheartedly encourage and support those that work for me to seek out training and certifications.
Second, think in terms of solutions rather than focusing on problems. One of the best mantras I have ever heard, which I believe really nails it home in this business, came from the late Bob Fowler, 'We are here to solve complicated problems, not to complicate solved problems.' It took me a few years to understand what Bob was saying but it is crystal clear to me now and it has really helped me throughout my career.
Third, and this really could be the most important, is to like your job. When you do, it will be easier for you to treat people fairly. I try to treat people and speak to them the way I would like to be treated or spoken to. That is the key to good communication and, more often than not, will provide a positive outcome.
BSJ: What role have mentors, advisors or your network played in your career?
Sizemore: In 36 years I have had so many fantastic mentors I'm not sure I could name them all. Many know that I have worked in the industry in four different states and doing so has provided opportunities to work with some of the best people in the industry, many of whom I still network with today. That is extremely valuable. Even after 36 years I occasionally still need great advice or a different perspective from someone I trust and admire before I make a tough decision.
BSJ: What led you to become an ICC member?
Sizemore: ICC is the gold standard in my opinion, highly regarded and respected. I became a member when ICC was formed in 2002. I was also a member of ICBO and SBCCI prior to the formation of ICC.
BSJ: Are you involved in any ICC committees or councils? Do you have any ICC certifications?
Sizemore: I was on the Major Jurisdictions Committee a few years back and I have always been active in the local chapters where I am working (BOAT in Texas, Florida Association of Building Officials, Colorado Chapter of ICC and NDBOA in North Dakota).
I am a Certified Building Official, Building Code Official, Commercial/Residential Plans Examiner, Commercial Residential Building Inspector and Permit Technician.
BSJ: How long have you been in the industry?
Sizemore: Thirty-six years.
BSJ: What major changes have you seen?
Sizemore: The biggest was the formation of the ICC from the three previous model codes, which created a higher degree of efficiencies in the process for all stakeholders. We also have seen changes related to the shift towards performance from prescriptive and the enhanced use of standards that have provided building officials and design professionals with more latitude. Major changes have also occurred around some of our worst disasters such as Hurricane Andrew, the Loma Prieta Earthquake, 9/11 in New York and the devastating wildfires out West, just to name a few.
BSJ: What excites you about the future of your industry?
Sizemore: The technology aspect; who would have thought in 1985 when I began my career with the city of Dallas that one day we would have a need or capability to perform inspections remotely due to a viral pandemic, or that we would perform plan reviews more efficiently by looking at a computer screen and perform markups on those plans.
BSJ: What is one piece of advice that you would give to those starting out in the industry?
Sizemore: Don't try to memorize the code; you are really doing more of a disservice by blurting out wrong answers. We spoke about mentors earlier; a couple of mine came from the city of Dallas early in my career. One in particular never, and I mean never, provided an answer without actually looking it up and showing you in the codebook. The point being you will save yourself a lot of headaches and possibly save someone else a significant amount of money by simply ensuring you are providing correct information. Even if you think you know the answer, be sure. If you don't know, just say 'I don't know, let me get back with you on that.'
BSJ: What do you see as most surprising about the work that you do?
Sizemore: I think the lack of understanding, even to this day, about what we do and why we do it, and for that matter, what we don't do. There has been significant improvement in this area over the years though. I believe this is something we are all working harder on now more than ever.
BSJ: What would you like to do next in your professional/personal life?
Sizemore: I can't see myself doing anything but what I am doing now. I love helping people and fundamentally that is exactly what I do every day.
BSJ: What do you enjoy doing in your leisure time?
Sizemore: I love to fish, particularly bass fishing. Nothing is more therapeutic than being out on a Texas lake, back in a quiet calm cove 'flippin' a jig.'
If someone wrote a biography about you, what do you think the title would be?
Sizemore: Depends on who writes it! I think it would be No Regrets Here. I don't have any at all; everything has been a learning experience and I have never been one to be afraid of change of any kind. I feel comfortable knowing when I am sitting on the porch in that rocking chair someday that I won't have to say, 'I wish I would have done that.'
There's a world of opportunity in being a member of the International Code Council. Membership provides the tools to get the most out of each workday: from discounts on essential International Codes and other publications to the best prices on top-quality training and ICC certification renewals, Code Council membership helps budgets go further. Exclusive member benefits include code advice from expert technical staff as well as access to member-exclusive news and articles at the Building Safety Journal news portal. Plus, only Code Council members vote in the ICC code development process. An online Career Center allows job postings and searches for new job opportunities — all at no additional charge.
The Code Council offers numerous councils, committees, and resources to help code professionals grow and network with colleagues. Six discipline-specific Membership Councils offer members a place to come together and be a more powerful force in shaping your association, your industry, your career, and your future. Code Development Committees are an instrumental part of the ICC code development process and are responsible for the review and evaluation of code change proposals submitted to the International Codes. Professional Development Committees serve to better align the ICC education programs and certification programs to ensure that quality training is available to meet the needs of all members, customers and certification holders. Finally, the Value of the Code Official toolkit helps members to heighten awareness of the importance of code officials to their communities and to highlight the code official's role as a helpful advocate for community safety, health and welfare, and economic development.
To learn more about ICC membership, click here, or contact ICC Member Services by email or 888-ICC-SAFE (888-422-7233) ext. 33804.