Incoming NAHB Chair Knows Strong Codes Helped Rebuild Louisiana After Katrina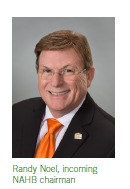 As victims of Hurricane Katrina started to recover following the devastating August 2005 storm, a group of federal, state and local officials was working amid the recovery to help make sure the devastation never got that bad again.
One of those people was Randy Noel, a Louisiana-based custom home builder with, at that time, 20 years of experience in the residential construction industry.
Noel, who also was working his way up the ladder of the National Association of Home Builders (NAHB), knew about quality, code-based construction in the Louisiana parishes (counties) where he worked. Yet he was wary when the federal government mandated Louisiana and other Katrina stricken coastal states adopt statewide codes as a condition of receiving reconstruction money.
For one thing, Noel said, that mandate was going to cost a lot of money to hire code officials and set up shop for all those parishes.
"I kept asking, 'Who's going to pay for this?'" Noel recalled. He found the answer. He found the money. And as he prepares to become NAHB chairman in January, Noel is credited not only with helping his local parishes rebuild after Katrina, but also with making Louisiana an example of how strong, up-to-date codes are an essential component of creating resilient communities following such disasters.
In fact, in its original "Rating the States" report in 2010, the Insurance Institute for Business & Home Safety lauded adoption of the Louisiana Uniform Construction Code, which is based on the 2006 edition of the International Building Code and the International Residential Code. That recognition was key because following major losses due to Katrina, most insurance companies pulled out of Louisiana, leaving high-rate policies issued through the state as the only option for many.
Though he was wary about a statewide mandated code, Noel saw they were not going to get those insurers back until they had good, solid codes in place. FEMA was offering some $25 million toward recovery following Katrina, he said, but local governments had to front the money and then apply for reimbursement. So he got the ear of then-Gov. Kathleen Blanco and was able to secure $11 million to help local governments set up code shops to augment the recovery.
He worked through the National Association of Counties (NACO) to draw some 40 code officials from all over the country to come down to help out until they could get their own trained staff. Some of those inspectors wound up staying in Louisiana, he said.
Noel logged a lot of air miles in his own Seneca, traveling to remote areas of Louisiana, pushing for the state codes and letting local officials know about the money available to help enforce them. Until they could get enough inspectors of their own, Noel asked the NACO to send code inspectors who could stand up to local government officials not used to dealing with codes.
Eight planning regions already existed throughout the state and one of those regions, South Central Planning and Development Commission (SCPDC), decided to create a regional building code enforcement program to implement the Louisiana State Uniform Construction Code throughout the region. A homebuilder in another part of Louisiana, Michael Wich, was put in charge of the South Central Planning and Development Commission (SCPDC) region. He still is amazed at how Noel took the lead to make sure Louisiana's statewide code succeeded.
"Without Randy's effort, our statewide building code would have been an epic failure," said Wich, director of building code administration in Houma, La., at SCPDC, and an ICC board director. "He had great vision and continues to advocate for strong, sensible codes."
State law mandates enforcement through certified building officials, plan reviewers and inspectors. It also provides a regulatory scheme for the application and issuance of building permits, certificates of occupancy, authority to charge fees, penalties for violating the building code and a complete system to administer the building codes effectively.
Insurance companies saw what Louisiana was doing, Noel said, and the state picked up "six, seven, eight insurance companies because we had building codes with certified inspections." Wich said further proof the codes were working occurred nearly three years to the day after Katrina, when Hurricane Gustav scored a direct hit on Louisiana.
"When we inspected after the storm, it was easy to see which buildings were done before the statewide codes," he said. "They sustained significant damage. The ones built after maybe had a few shingles missing." Louisiana state legislators who initially balked at the statewide building codes saw the same thing, Noel said.
"Those naysayers looked around and said, 'It worked. I think we did good work.'" As incoming NAHB Chairman, Noel said he plans to continue that good work through a strong relationship between ICC and his organization, which he said participated in and testified on some 2,000 code changes in 2016 alone.
"The idea is to have strong, understandable and easy to work with codes," Noel said. Wich said that's what everyone wants, and Noel will be great to work with. "Any home builder serious about safety is all about codes," Wich said. "And to have a person like Randy who is enthusiastic about the code process, well, ICC will enjoy that.
"You won't have to explain to Randy how we got where we are. He knows."