Major Jurisdiction Steering Committee welcomes new member Jose Roig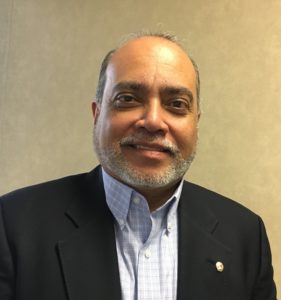 Jose G. Roig, CBO, building official with the city of Austin Development Services Department, recently answered the call and joined the Major Jurisdiction Steering Committee. For the last 10 years, he has served the people of Austin — named one of America's fastest-growing cities by Forbes due to its growth in development and construction — and he brings a tremendous amount of experience and knowledge to the committee.
A desire to give back to the code community led Roig to apply for the Major Jurisdiction Committee. "The opportunity to serve and share my experience with other jurisdictions and to be able to learn from each other led me to this opportunity," he said, "which ultimately allow us to improve the services we provide to our cities and the code community."
"My main goal is to be an advocate and promote the benefits of this committee, to show how we can work together and showcase the importance of code officials in our communities."
Roig holds six International Code Council certifications, including Certified Building Official, Commercial Building Inspector, Residential Building Inspector, and Property Maintenance and Housing Inspector; serves as a member of the 2019 Group B International Existing Building Code Code Development Committee for the 2018-2019 code development cycle; and is a member of the Building Officials Association of Texas (BOAT) Chapter of the International Code Council.
In addition to his certifications, he has an Associate of Applied Science degree in fire science and recently acquired a Bachelor of Science degree in business management. For more than 10 years, Roig has been heavily involved in the process of code adoption and enforcement in the city of Austin and has participated in several ICC code hearings.
At the local level, Roig has worked on the adoption of the International Codes in his jurisdiction, presenting to boards of appeals, professional institutions and engineer's associations regarding new codes and local amendments. With a thorough understanding of the codes, he has assisted design professionals at various stages of projects.
"My passion for the construction industry, serving as a building official for one of the fastest-growing cities, and that I will be able to share our challenges and successes when dealing with an industry that is always evolving and finding new ways and methods to build," Roig explained when asked what specific strengths he feels he brings to his new role.
"It excites me that we are making a difference in people's lives, by ensuring that buildings and homes are safe and sustainable," he continued,  "and in the opportunity that comes with leading a team of professionals, both in plan review, inspections and permit technicians, that work very hard to ensure the safety of our community."
Originally from Puerto Rico, he started off as a licensed construction supervisor and senior inspector with Tiger Home Inspections in Braintree, Mass., in 1996. He later moved to Florida where he continued his career as a building consultant in Kissimmee, Fla. He then started in Texas as a building inspector for the city of San Antonio in 2007 and as a commercial inspector for the city of Austin. He has spent the last 10-plus years with the city, moving from a position as chief building inspector to division manager/deputy building official to his current role as building official. Overseeing a staff of approximately 150 full-time employees with a total budget of over $15.5 million, he manages and directs the programs, projects and activities of the Plan Review Division, Building Inspections Division and the Permit Center while supervising plan review, issuance of permits and inspections for the Texas capital, which currently has a population exceeding one million citizens.
A representative example of the synergetic power that code officials working together can generate for the benefit of all our communities, the International Code Council (ICC) Major Jurisdiction Committee (MJC) is the premiere contact portal for federal, state and major jurisdictions. The MJC provides resources to federal, state and major jurisdictions to more effectively run their organizations.
Advocated for and endorsed by several ICC members, the MJC was created in 2004 by former ICC Board President Henry Green, who appointed former ICC Board President Ron Lynn as chair and seven people to serve on the governing committee. The MJC was formed to develop public relations among jurisdictions; establish a code review committee to address administrative matters unique to large jurisdictional areas; offer leadership resources to jurisdictions; address best practices for the management of large building departments; and coordinate inter-departmental relationships among building, fire, assessor and zoning departments.
The MJC encourages all those eligible to join and for everyone to participate in its initiatives and contribute their best practices, experiences and opinions. The committee meets twice a year prior to the ICC Committee Action Hearings and during the ICC Annual Business Meeting. The Steering Committee hosts regular conference calls that are open to all MJC members.
For the most recent news and updates from the MJC, follow them on Twitter.