Master plumber and general contractor Jonathan Cheever pursues dream of competing in the 2022 Winter Olympics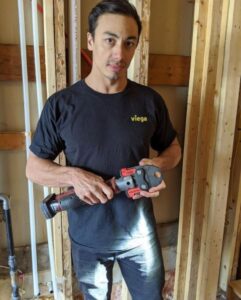 Snowboard cross is an aggressive sport. Several snowboarders race side-by-side down a twisting course, edging past each other all way to the finish line. There's bumps, jumps and turns and snowboarders reach speeds of up to 70 miles an hour. Some Olympians are able to train nonstop, year-round, to be at the top of their game. But others like master plumber and general contractor Jonathan Cheever also need a regular job. He has supported himself with a family trade — he's a plumber.
Cheever, a 2018 U.S. Olympian and former national snowboard cross champion who has balanced world-class international competition with plumbing, general contracting and design work throughout his career, learned the plumbing trade from his father while growing up in Saugus, Mass. He started sorting plumbing fixtures for his father's business when he was 10 years old — about the same time he began snowboarding. Shortly after high school he passed the test for his own plumbing license and he earned his master plumber license in 2004. He credits his career in the skilled trades as the key factor allowing him to compete internationally for more than 15 years.
"My experience in the trades has been essential to my snowboarding career," Cheever said. "Without the flexibility I found in the industry, I wouldn't have had the freedom to race all over the world, from the U.S. and Canada to New Zealand, Europe and Asia. Plumbing has also taught me lessons in patience and resilience that have been critical to maintaining a professional snowboarding career for almost 20 years."
Cheever tried college but gave it up after his freshman year to move to Utah and focus on his sport. Less than six months later, he was on the national snowboarding team. But the national team doesn't financially support the snowboarders, and all that travel can add up. It was in Utah that he realized his plumbing could help support his snowboarding. He started doing installations for a Home Depot subcontractor and started Team Cheever Design Build in Park City, Utah, which delivers high-quality residential and commercial plumbing, general contracting and interior design services. Cheever says running his own small business also meant he could get a bigger line of credit, which he used to support his snowboarding.
Cheever says that in some ways, learning to snowboard was a bit like learning plumbing. "I wasn't an expert at plumbing right away," he says. "A lot of it was learning by trial and error."
Cheever's career accomplishments include multiple podium finishes in World Cup competition; a third-place finish in the overall 2010-2011 World Cup standings; the 2010-2011 U.S. championship in snowboard cross; and a place on the U.S. team at the 2018 Winter Olympics in PyeongChang, South Korea. He is currently pursuing his dream of competing in the 2022 Winter Olympics in Beijing.
Source: Contractor Magazine