Masters of Code: Gregory Horsfall achieves the gold standard of code certification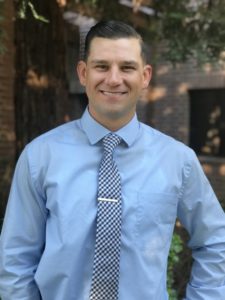 It's considered the Ph.D. of building safety codes certification. The Master Code Professional (MCP) is the highest level of designation the International Code Council offers and is the "gold standard" for demonstrating proficiency in the code profession. The Code Council has certified thousands of individuals, but only a small select number have attained this high level of achievement: just over 800 MCP professionals worldwide. Their achievements are a benefit to the code enforcement profession as well as their communities.
To obtain this level of certification requires and demonstrates a commitment to the profession, diverse knowledge of codes and a high level of self-initiative. Gregory Horsfall, Building Inspector III, Placerville, California, is the latest to join the elite group of Master Code Professionals. In this exclusive feature for the Building Safety Journal, we asked Gregory to share his experience on obtaining the MCP designation, highlights of his professional career and any insights or advice he has concerning the industry.
---
Gregory Horsfall
Building Inspector III
Building and Planning/El Dorado County
Placerville, CA
International Code Council member for 13 years
Sacramento Valley Association of Building Officials Chapter
BSJ: What led you to pursue and obtain MCP certification?
Horsfall: Before graduating High School, I had made the decision to pursue a career in the enforcement of building code regulations. Near my home town of Marysville California was Butte College. Butte had a well-known trade program that taught Building Codes. As a full-time student, I learned to maneuver and understand the theory of each code regulation and why it's in existence. In the program, we studied all the Uniform Codes. In parallel, I was studying and taking examinations on the International Codes knowing it would broaden the range for employment opportunities. Immediately after receiving a certificate in Building Inspection Technology, at the age of nineteen, I got the opportunity to obtain applicable code experience working for Mid Pac Engineering in the State of Hawaii. The experience made code interpretation and applicability transparent. Seeing the opportunities and success that is granted to me due to my knowledge and skillset continued to motivate me to reach higher levels of education and credentials from the International Code Council. After arriving at El Dorado County in 2015, the greatest jurisdiction in the State of California, I was informed that my aspirations to reach higher levels in my career will be supported. The county approved the request for codebooks, tabs, study guides, and practice examinations. They even allocated resources to provide additional time for studying and testing. Since my arrival, they have fully funded the additional twenty-four certifications I have obtained. With such a high level of support, our department is now closing in on its third MCP.

BSJ: How did you study and prepare for the many exams you took as a part of your MCP designation?
Horsfall: Like any goal one has set to achieve there must be structure. The philosophy I had was to obtain all resources, strategize and execute. Resources included: codebooks, study guides, practice examinations, certification examinations and time. Through the years of employment, I continued to educate myself on the International Codes. Dedicating and salvaging time was the most difficult task. The strategy was to read each code section in conjunction with ICC study guides and answer every practice question available. Leaving no stone unturned- an expression I use to describe the emotion I feel when studying footnotes. As for execution, I had to prioritize and focus. Even with a three-hour commute to work, I was still spending hours each day preparing for the next examination.

BSJ: What does achieving the prestigious MCP status mean to you?
Horsfall: While the bragging rights are there, achieving MCP status was subsequent to the actual goal. Which is, educating and certifying in all areas of code enforcement in the industry. I could have achieved MCP status years ago; but, I prepared for examinations not required to achieve MCP all for good reason. For example: If a customer asks a question pertaining to a regulation not required for achieving MCP I wouldn't be of executive-level service. Furthermore, I have aspirations to educate others. The greater understanding of a broad range of codes and regulations, the greater instructor I will become. Achieving MCP status means that I am now amongst an elite group of code professionals in the industry. With this status comes greater responsibility. To those seeking services in building safety will now expect greater levels of code knowledge due to the clout that MCP status carries.

BSJ: How would you describe the value or benefits that have come with the recognition of your MCP status?
Horsfall: Achieving MCP status is a milestone in my journey. From receiving my first certification at the age of eighteen to now being recognized by the International Code Council adds tremendous value to myself and reinforces the career path decisions I have made. The greatest beneficiaries of my accomplishments will be those within the built environment.

BSJ: What advice would you offer to those who are considering pursuing an MCP designation?
Horsfall: One's efforts must match one's aspirations. Staying diligent and consistent will be the key factors for success. Inspiration will come in waves. When it is not there one must rise to the occasion. Avoid stagnation at all costs, especially in the midst of exam preparation.

BSJ: How long have you been in the industry?
Horsfall: 12 years.
BSJ: What major changes have you seen?
Horsfall: The greatest change I am seeing is the rapid commercialization of the industry. For example, the number of jurisdictions engaging in contracts with consulting firms to provide community development services has dramatically increased. Not only is it a lucrative option for jurisdictions, but the demeanor of the personnel also differs from conventional government employees. Both have their pros and cons. I have had the opportunity to participate in providing services for both authorities having jurisdiction and consultants. While in government I have witnessed the struggles to provide the most effective and efficient customer service due to classification restraints and employees operating without the customer as a focal point. Vice versa, I have also witnessed the lack of integrity consulting firms have due to fear of ultimately losing contracts and lack of experience amongst staff. This may appear unconstructive; but, I believe building safety and customer service should always be the point of focus for all entities. I am also seeing code professionals in higher demand as in-house quality control for high profile projects. Which, was my personal favorite line of work. This demonstrates a greater level of commitment to building safety.

BSJ: What excites you about the future of your industry?
Horsfall: I am excited about the advancement of building features including materials, technologies, engineering, architecture and the codes and regulations associated. The industry is hardly stagnant. With every advancement comes the opportunity for growth from the personnel that makes up the industry. I personally am setting myself up for a front-row seat; and too, participating in the advancement of the industry.

BSJ: What is one piece of advice that you would give to those starting out in the industry?
Horsfall: Take every opportunity as it presents itself. The experience of any position compounds into the next. Doors will continue to open and don't hesitate to capitalize. Regardless of one's background or where one sees themselves peaking, aim higher.
BSJ: Building safety is the focal point of our mission here at the Code Council. What is the importance of building safety to you? How has ICC helped you in your career and commitment to public safety?
Horsfall: Building safety is all of what's important. While performing any duty it's easy to become complacent. Knowing that my responsibilities have a direct impact on the health of others is empathetically motivating to remain engaged while on duty. The Code Council has provided individuals committed to public safety an avenue to participate in the shaping of communities to greater levels of safety. Without model codes and credentials associated the advancement of building safety and code professionals cannot take place.
BSJ: Obtaining all those ICC certifications is quite an accomplishment. What are you going to do now that you have achieved this goal?
Horsfall: I will continue to expand my knowledge and skills to prepare myself for the next opportunity to best contribute to the building safety industry. Becoming a leader in community development, instructing courses in building code regulations and entrepreneurship are all viable options at this point in time. Nevertheless, action must be taken. My philosophy is that twenty years of performing any task are not twenty years of experience, it is one year of experience over a twenty-year period of time. As previously mentioned, the industry is hardly stagnant; nor should its emerging leaders be.
BSJ: Thank you, Gregory, and congratulations. You have definitely been an encouragement to us all in your pursuit of excellence.
---
To earn the Code Council's elite MCP designation, a candidate must first pass 10 core Code Council exams plus a number of elective Code Council exams. Typical Master Code Professionals hold 17 or more Code Council certifications. The Master Code Professional designation requires certified individuals to complete an additional 60 hours of Continuing Education Units every three years to maintain active status.
"The Master Code Professional certification is the pinnacle of all Code Council certifications, representing a level of effort, knowledge, and dedication that elevates not only the individual achieving it but the code official profession as a whole," said Code Council Chief Executive Officer Dominic Sims, CBO.
Master Code Professionals are typically responsible for all technical and management aspects of code enforcement with duties that range from the management of a code enforcement department to the supervision of inspectors and plan reviewers.
"Congratulations to Gregory on achieving this important and significant accomplishment," said Michelle Porter, director of the Code Council's Assessment Center. "I challenge and encourage all code professionals to strive for this level of achievement, and look forward to congratulating more Master Code Professionals in the future."
To learn more on how you can join this elite group and let us help you open the door to increased professional challenges and career advancement, click here.