Mike Pfeiffer Honored with 20th Annual Bobby J. Fowler Award

Each year, the International Code Council recognizes peers and colleagues who are a reflection of what the association stands for: dedication to developing model codes and standards used in the design, build and compliance process to construct safe, sustainable, affordable and resilient structures. The Code Council honored several outstanding individuals and organizations for their accomplishments and contributions to building safety and resiliency in their communities during the 2022 Annual Conference in Louisville, Kentucky.
Mike Pfeiffer, Senior Vice President of Technical Services for the International Code Council, received the Code Council's most prestigious award during its annual conference in Louisville, Ky., on Sept. 12, 2022. This honorable award was established in recognition of the first board chair, Bobby J. Fowler, who led the charge to create the consolidated Code Council. Having worked for the Code Council for 36 years, Pfeiffer embodies the award's celebration of integrity, professionalism and compassion.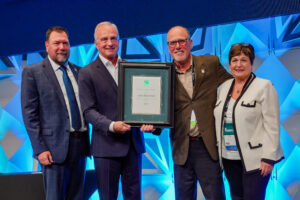 The International Code Council Origin Story
Although he didn't know Fowler personally, Pfeiffer remembers how the Code Council began. Initially, the United States was carved into three code regions with separate leaders:
Building Officials Code Administrators (BOCA) International, led by Paul Heilstedt (the first Fowler Award recipient)
Southern Building Code Congress International, led by Bill Tangye
International Conference of Building Officials, led by Jon Traw
"There were a lot of moving parts," Pfeiffer said. "So, there was a lot of interest to make codes not just regional but national."
The American Institute of Architects was one of many organizations that joined the push for unified codes across the U.S.  It was clear that building professionals wanted to forge one leading organization (and related logistics) that would encompass the 15 codes into a single, organized portfolio.
"The Code Council has evolved from legacy codes to a major supporter of all building industries," Pfeiffer added.
A Building Code Career Deserving of the Bobby J. Fowler Award
After graduating from the University of Illinois in 1980, Pfeiffer had only had one job before his Code Council tenure. He was first a structural engineer, working in Kansas City, Kansas while raising four kids with his wife Annette. He subsequently got a master's in civil engineering followed by an MBA and then moved his family to the Chicago area in 1987 to be closer to the grandparents.
He began as technical staff for BOCA International and was essential to the founding of the Code Council and the development of a single set of model codes. He created a welcoming environment to encourage building safety professionals to get involved in the essential task of updating model codes and ensured that everyone involved understood the process, that their voice was heard and that a strong consensus was always achieved.
Pfeiffer championed the use of technology and continues to be committed to process improvements. He was part of the team in making cdpACCESS a reality, which streamlined the submittal process and opened the voting process to those not in attendance at the Public Comment Hearing. In 2021 he successfully implemented the first-ever virtual Committee Action Hearing. He expanded involvement in the process through the creation of code action committees.
A Living Repository of Building Code History
During his almost four decades in building safety, Pfeiffer has become a valuable witness to many significant developments within the industry but also has witnessed many tragedies. He remembers when 114 people died during a walkway collapse at the Kansas City Hyatt Hotel in July 1981, one of the deadliest structural catastrophes in American history.
"At that time, I realized the importance of the work I was doing," Pfeiffer said. "The public is protected when you take codes, improve them and apply them."
Pfeiffer also recalls national code reflections and changes after the September 11, 2001, terrorist attacks. The Code Council digested the National Institute of Standards and Technology report to figure out what kinds of changes needed to be made to the building code to mediate or lessen similar incidents. Those observations included the need for redundancy in fire protection systems and enhancements to sprayed fire-resistant materials in high rises. He supported the increased collaboration of all trade disciplines (including plumbing, mechanical and fire) to work more efficiently.
Regional code specificity has also improved during his Code Council tenure, including increased seismicity and wildfire awareness, and addressing hurricane and tornado preparedness. In 2018, the Code Council Board of Directors created a committee to study high-rise timber buildings to see how taller cross-laminated structures can be constructed while ensuring the requisite safety to respond to fire, wind and seismic activity for inclusion in the International Building Code.
"The Code Council prides itself not just on codes, but also on solutions," Pfeiffer said. "The Code Council is a family of solutions." He talked about how the arrival of the coronavirus sparked innovative solutions to public health problems, like overflowing hospitals. He cited the creation of the pandemic task force to investigate turning gyms, schools and theaters into emergency triage healthcare facilities and the development of staff recommendations to assist the enforcement community in responding to the pandemic.
He also muses about how COVID protocols might affect daily interactions with the built environment.  Changes to address drinking fountains to prevent disease exchange, and how to re-engineer elevator buttons to reduce cross-contamination may be part of future code updates.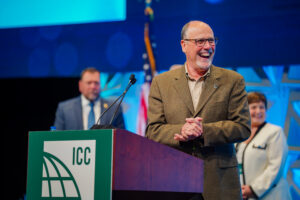 Evolving Code Conference Hearing Procedures
Pfeiffer and his team continuously look to update the code development process. The process will be revised starting with the 2024 cycle. They are working on a comprehensive overhaul of the process to achieve maximized participation.
Currently, code changes are submitted, a committee hearing is held to receive testimony,  the committee recommends an action on the changes, participants then comment on the action and a second hearing is held where the eligible voting members of the Code Council have the final vote on the changes. This is followed by an online vote of all voters. Consequently, the committee of renowned code experts is only utilized for a single hearing.  Starting in 2024, a second committee hearing will be utilized to allow participants to respond to the first hearing action and have their response comments considered by the same committee of experts to have more thoroughly vetted proposals prior to consideration and voting by the eligible voters.
"We like to look at all the processes and pick the best," Pfeiffer said. "The system ebbs and flows over the years. The Code Council is constantly looking to improve both the process and the resulting I-Codes".
He's also eager to involve the next generations, and he's pleased to see the implementation of new diversity, equity and inclusion initiatives too.
"We need 30- and 40-somethings to get involved. Most people who are currently on the committees are north of 50."
The Future for Pfeiffer
Pfeiffer's wife and four adult children – Sean, Ryan, Chris and Lauren – along with their spouses and his grandchildren, surprised him by driving down and attending the September ceremony. "Although I'm known for talking loud and a lot, I was speechless when they showed up," Pfeiffer said. "I was humbled and grateful to receive this prestigious award in front of my family."
Pfeiffer will retire at the end of March 2023, and this award is a well-deserved cap to a meaningful career of service in building safety.
"I take this job extremely seriously as well as passionately," Pfeiffer said. "We don't get to decide what goes into the code book, but we facilitate the process. All voices are heard in this transparent system. I'm proud to be part of the process along with my staff and the countless volunteers that develop codes and standards to create a safer country and world."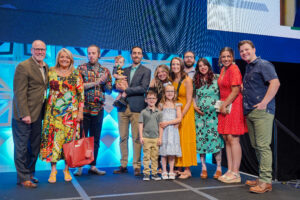 Learn more about the Code Council's awards program and nominate a building safety professional for a 2023 award by visiting the Code Council's awards page.