Randy Noel receives Meritorious Service Award
Each year, the International Code Council recognizes peers and colleagues who are a reflection of what the association stands for: dedication to developing model codes and standards used in the design, build and compliance process to construct safe, sustainable, affordable and resilient structures. The Code Council honored several outstanding individuals and organizations for their accomplishments and contributions to building safety and resiliency in their communities during the 2019 Annual Conference in Las Vegas, Nev.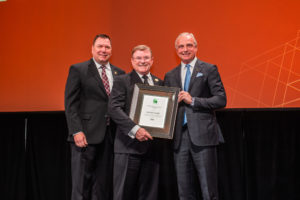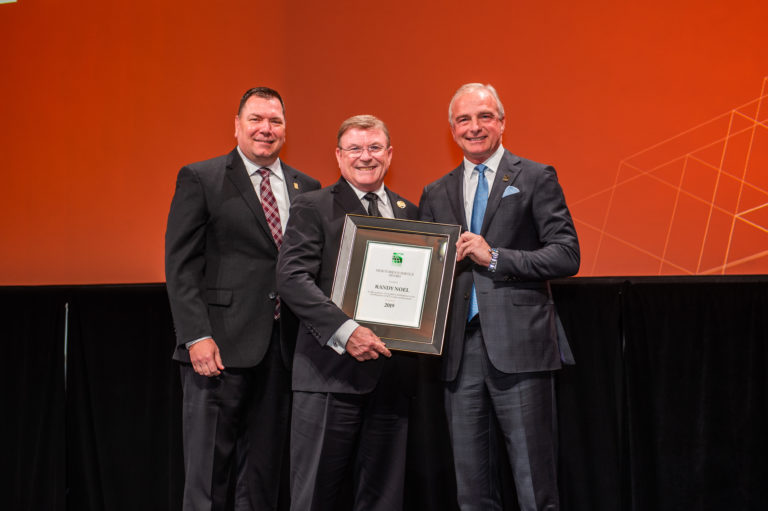 The ICC Meritorious Service Award — given in honor of Walker S. Lee and A.J. Jack Lund — is granted to an individual who has given unselfishly of time and talent in furthering the development of Code Council codes and standards. Randy Noel, MIRM, CGB, CMP, immediate past chairman of the National Association of Home Builders (NAHB) Board of Directors, received the 2019 ICC Meritorious Service Award during the ICC Annual Banquet on Oct. 22, 2019, in Las Vegas, Nev.
The founder of Reve Inc. — a custom home building firm in LaPlace, La. — Noel is a custom home builder with more than 30 years of experience in the residential construction industry. His company has built more than 1,000 custom homes in the greater New Orleans area.
Currently, the immediate past chairman of the NAHB board, he is a senior life director and has been active in the leadership structure at the local, state and national levels throughout his career. In 2009, Noel served as the NAHB state representative from Louisiana. He has served as president of the Home Builders Association of Greater New Orleans and the Louisiana Home Builders Association. In addition, he was named Builder of the Year by the Home Builders Association of Greater New Orleans in 1997 and was inducted into the Louisiana Builders Hall of Fame in 2008.
An expert on building code issues, Noel served as chairman of the Louisiana State Uniform Construction Code Council from 2006–2011, and he was integral to the formation of the Louisiana State Unified Code Council and helped to craft statewide code law.
Noel embodies the spirit of partnership between code officials and home builders. The International Code Council congratulates Randy Noel as its 2019 ICC Meritorious Service Award recipient.
View past award recipients.