Residents, building officials come together to help after tornado ravages Seneca, South Carolina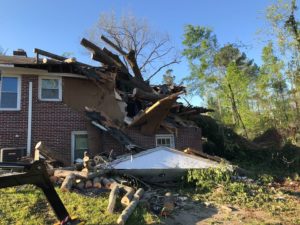 As a code professional in a county only a couple hours to the south, Donny Phipps is familiar with Seneca, S.C., an old textile town at the far northwest corner of the state, shadowed by the hunting- and fishing-rich Blue Ridge Mountains. But even an experienced building official like him wasn't prepared for what he saw when he drove into town early on April 16, 2020. "It looked like a war zone. Totally destroyed," said Phipps, building official for the city of Inman, S.C.; business development manager at Code Consulting and Inspection Services LLC; and International Code Council board director. "There were power lines down everywhere. Roofs torn off homes. Homes flattened or moved from their foundations. Trees showing roots so big I couldn't reach the top if I had stood on someone's shoulders."
Three days earlier, a tornado with wind speeds reaching nearly 170 mph came through Seneca around 7:30 a.m. By the time the twister — one of 21 that swept through the state on April 13 — passed about 15 minutes later, it had destroyed some 200 homes and leveled a BorgWarner manufacturing plant. The only fatality from the Seneca storm was a guard at BorgWarner who got caught in the guard shack, said Seneca Building Official B.J. Klaren. "BorgWarner was 'ground zero' for the tornado," he said. "They found the 'B' from the BorgWarner sign about 20 miles away. In my 50 years, I've never seen anything like this here. Even the National Weather Service was amazed."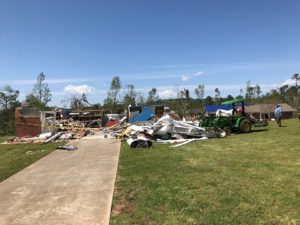 The damage has been estimated at about $250 million, and while power was restored to most of the town within a week, Klaren said rebuilding will take at least the rest of the year. They already are issuing permits that could allow residents of some of the less-damaged homes to move in more quickly. "We've been working about 80 hours a week," he said a couple of weeks after the tornado. "Issuing permits for roofs and electrical."
Rebuilding could have been delayed that much longer had the town not received a ton of help from Assistant State Fire Marshal Nathan Ellis, the townsfolk and building officials throughout the state who responded to Klaren's call for help in emergency damage assessment.
After he got the call, Patrick Brown, president of the Building Officials Association of South Carolina (BOASC) and of the South Carolina Association of Hazard Mitigation, reached out to his fellow BOASC members to see who could travel to Seneca. "They wanted 16; we got 12," said Brown of the numbers requested by Seneca officials. "Even with COVID-19, jurisdictions were still working, and it was hard for some to leave."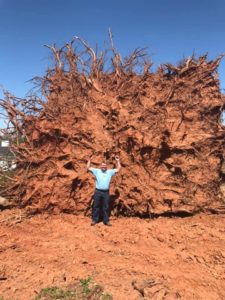 Even Brown, building code administrator for the coastal town of Edisto Beach, S.C., had to wait a bit to make sure his area was okay following an EF-2 tornado on April 15. Brown said Seneca officials wanted them at the firehouse at 7:30 a.m. on April 16, so he left town around 3:30 a.m. for the cross-state drive, arriving just in time. "As we got there, they took our temperatures, and we hit the ground running," he said. "They had set up the areas in grids and assigned teams to those grids."
Brown said the state fire marshal's office gave them each a hand-held device that allowed assessors to easily download damage at each home, making notes of whether the structure still was habitable or needed help —like switching off utility lines — right away. Officials back at the command center at the firehouse could then respond immediately if necessary.
"We pulled a lot of meters," Phipps added. Phipps said he's still not sure why someone turned the power back on to one of the homes, but the fire department had to be called out after they did.
All the information collected helps officials in Seneca, the state fire marshal's office and the Federal Emergency Management Agency determine who gets what help, how and when.
Working in an Atlantic coastal town, Brown said he had seen his share of hurricane damage, which mostly is flooding from storm surge. In Seneca, he said, there was definitely wind damage, with the odd selectivity tornadoes often show. "You'd see two or three homes leveled, and then two with maybe no damage or just part of a roof missing, as if it passed right by them."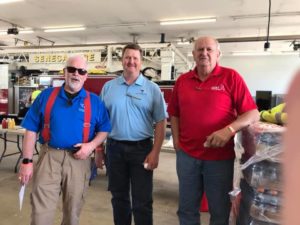 Brown was paired up with Phipps and Stephen Jones, former Code Council board president, now a senior regional manager for Government Affairs covering the states of North Carolina, South Carolina, Tennessee and his native New Jersey. After retiring from his building official post in New Jersey, Jones moved to Greenville, S.C., less than an hour away from Seneca. As he recalled the events in Seneca from a few weeks earlier, Jones was still assessing the damage in his neighborhood from an EF-2 tornado that came through two days before. "Our damage is mostly from downed trees," said Jones, adding they had no power but had gas for cooking and hot water. "In Seneca, it was wind damage. And the damage in Seneca was so random. You would see three homes in a row with their second floors ripped away, with homes untouched on each side."
The trio of code professionals spent much of the day assessing the homes on their assigned grids, marking them with the familiar triage colors: green for undamaged, yellow for slightly damaged and red for uninhabitable. Along the way, they saw property owners in similar states of assessment — from friendly waves to people in shock just trying to, literally, pick up the remaining pieces of their lives.
Seneca officials wanted them back to the firehouse by 6 p.m. and ready to go back out at 7:30 a.m. the next day. With the hotels in Seneca either damaged or filled with locals who had nowhere else to go, Brown and Phipps secured lodging about an hour away in Anderson, S.C., and Jones drove to his home in Greenville for the night.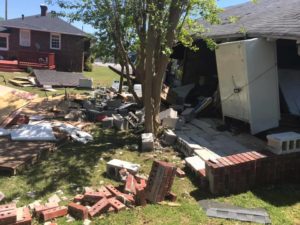 The next day, the three were assigned to areas much worse than what they had seen the day before. They vividly described one home where a tree about 8 feet in diameter crushed one corner of a home. "The woman told us her son had come in the room to wake her up when he heard the sirens," Phipps said. "They went to his room, and then the storm hit, and the tree fell on where her room was. Steve and I just looked at each other. We saw a lot, but we didn't see as much as some. I talked to a friend who had been through one. He said you never forget the sights. I'll never forget this."
During that eye-opening second day of assessments, Jones said they were going from house to house instead of from block to block as the day before. At one home, an elderly lady invited them to come around back. "The wind had picked the roof off the garage, blew out a couple of walls and put the roof back down on a refrigerator in there," he said. "There were homes literally split in half with people still in them. It was amazing."
Phipps, Brown and Jones were amazed at how the Seneca residents came together to help each other: churches providing food and water to stricken residents and helpers; teens and idled students from nearby Clemson University helping to clear trees and other debris from yards and streets.
Brown said he's also proud of the way South Carolina building officials came together to pitch in for Seneca, often having to leave their own work behind. "We've got to make sure all our municipalities have the resources they need to be safe," he said. "There's the old saying, 'The time is always right to do what's right.'"