Secondary structural steel framing manufacturer realizes accreditation advantage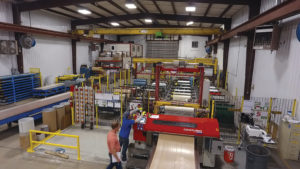 The International Accreditation Service (IAS), a member of the International Code Council Family of Companies, provides multiple accreditation programs that verify that commercial businesses, professional associations and governmental organizations are complying with national and international standards. The IAS Cold-Formed Steel Component Manufacturer Inspection Accreditation is one of the programs that helps companies demonstrate to building departments that they are meeting specific requirements and also benefit the company.
For Central States Manufacturing, a manufacturer of sub-structural steel framing components, IAS accreditation is a reflection of quality people, products and processes. The company began production of metal parts in a small 15,000-square-foot-plant in Rogers, Ark., in April 1988. Over the years, it has provided metal roofing and siding for a variety of structures ranging from backyard garages and metal roofs to industrial complexes and agricultural buildings. Today, the company produces channels, eave struts, zees, cees and angles for metal buildings from nine facilities located in Alabama, Arkansas, Indiana, Kentucky, North Carolina, Pennsylvania, South Dakota and Texas.
"We're proud of our products," said David Draper, managing director with Central States Manufacturing. "Our steel is engineered with multiple layers of protection to defend against fading, denting and rusting — and we want to communicate that quality craftsmanship with our clients. One of the best ways to demonstrate our quality and credibility is through independent accreditation."
Validating excellence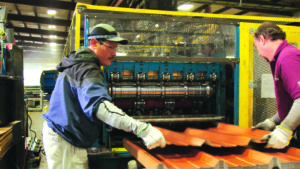 A large number of Central States Manufacturing's clients are top metal building manufacturers and erectors. Many of these manufacturers are accredited through AC472 (Metal Building Systems) and AC478 (Metal Building Inspection Assembler) provided by the International Accreditation Service (IAS).
The AC472 accreditation was developed specifically for metal building systems with support from the Metal Building Manufacturers Association. The criteria covers structural welding (modeled after AC172), cold form steel fabrication and engineering. To achieve accreditation, a manufacturer must have in place a comprehensive quality assurance program for sales, engineering and manufacturing functions.
As a manufacturer of sub-structural metal building components, Central States Manufacturing sought to meet the requirements of AC473, IAS Accreditation Criteria for Inspection Programs for Manufacturers of Cold-Formed Steel Structural and Nonstructural Components Not Requiring Welding. The accreditation provides evidence that the manufacturer has the personnel, organization, experience, knowledge, management system and commitment to operate a program in accordance with industry codes and specifications.
"One of our business goals is to expand our client base in the commercial space," said Draper. "Top pre-engineered metal building manufacturers meet the criteria outlined in AC472. It just makes sense that we meet AC473 specifications. In 2016, Central States Manufacturing began working with IAS to earn its own accreditation."
"The AC472 criteria stands alone in terms of quality system, personnel training and qualification assessments. There are other accreditation and certification programs like ISO [International Organization for Standardization] and the AISC [American Institute of Steel Construction] heavy fabrication programs that only address the manufacturing process — not the unique needs of building systems," Draper added. "We really wanted an independent verification of our quality people, processes and products."
Inside the process
The first step in the accreditation effort for Draper and his team was to provide the organization's quality management manual and related documents. The manual outlined all aspects of the manufacturing process from document control and purchasing to product traceability and inspection and testing to measuring and testing equipment.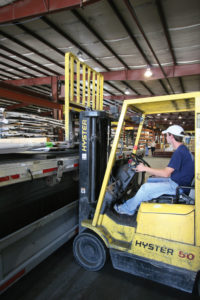 "We documented our corrective action policies for non-conformances, internal auditing procedures and quality control records, reports, forms and checklists methods," he explained. Accredited entities are evaluated for their ability to consistently inspect fabrication that meets the required quality mandated by specified requirements. Draper submitted the quality management manual by end of 2016 to IAS assessors.
"We learned a lot through the process of accreditation, which is necessarily comprehensive," added Draper. "For instance, we found that while we had well-developed processes in place, we had areas that were a little cumbersome and could benefit from a more systematic approach." One area that Draper and his team saw where they could improve was lot/material traceability, which used to be a complex process that required different systems. "We worked with our IT and purchasing departments to streamline the electronic process — which has resulted in impressive time savings."
Preparing for an audit used to take four to five hours to track down all the information needed; now that same activity takes 20 minutes. The group also tightened control of internal monitoring devices such as tape measures. "We check each tape measure against an outside calibration lab verified standard at the beginning of every shift," Draper explained. "Any tape measure that does not check out is removed and replaced. We were amazed at how many tape measures we were removing from the shop floor. Now we remove those tape measures from the floor more frequently, and that equates to a more precise finished product."
Central States Manufacturing's facility in Jasper, Ala., received IAS accreditation in August 2017. Periodic plant inspections are conducted by Architectural Testing, Inc., an Intertek Company, (AA-676) to monitor continued compliance with the requirements of AC473.
"We saw immediate value," Draper added. "One of our customers had been waiting for us to earn that accreditation in order to start buying our products. Now we're working to get all of our facilities accredited."
Corporate-wide expansion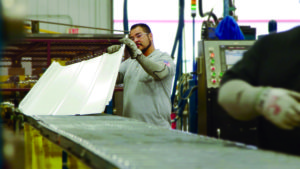 Soon after completing the necessary documentation and inspections for the Alabama facility, Draper began preparing an educational and training presentation for the quality managers at the two Texas locations in Seguin (San Antonio area) and Cedar Hill (Fort Worth area) along with the updated quality manual. "We had the quality managers conduct a comprehensive internal audit of their quality management system to close the gaps before applying for accreditation," he said.
The initial assessments of the Texas facilities were performed jointly with an inspector from an inspection agency and the IAS assessor in November 2017 and granted certification in January 2018. In December 2016, Central States Manufacturing began operating out of its new 44,000 square foot facility in Seguin, Texas. On Jan. 10, 2018, Central States Manufacturing Seguin received an official letter from IAS informing the company that they have met the requirements of AC473, IAS Accreditation Criteria for Inspection Programs for Manufacturers of Cold-Formed Steel Structural and Nonstructural Components.
Draper kicked off an education/training program in January 2018 in Arkansas, completed the assessment in July and earned accreditation in August 2018. Quality managers in Pennsylvania will soon begin preparing required documentation to apply for accreditation in 2019.
Buyers and building departments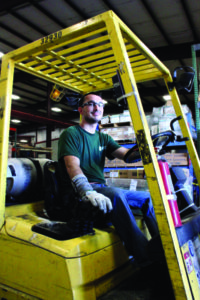 Central States Manufacturing is already realizing the benefits of accreditation in its business. "We're leveraging the IAS accreditation like the Good Housekeeping Seal of Approval to expand business opportunities with pre-engineered metal building companies," said Draper, "and that's translating to work with building departments, who are listing us as an approved source for commercial building products."
Draper is quick to say that accreditation has made a tangible difference in operations. "Many companies seek accreditation because a customer requires that kind of documentation," he added. "What many don't realize is the tremendous internal benefit, thanks largely to the spirit of continuous improvement, that's built into the IAS accreditation process."
During a recent annual review, Draper found that all facilities with the accreditation-enabled quality management system have seen marked improvement in internal and external key performance indicators. "Beyond the increase in business opportunities, we're reaping invaluable internal benefit. We believe just going through the accreditation process helped reinforce our training and customer-focused mindset," he said. "Accreditation has helped reinforce our quality products and customer-focused mentality that has been in place since the company was founded 30 years ago."