Wheeler: We continue to forge forward to become stronger than ever and more resilient

Before passing the gavel to incoming Board of Directors President Cindy Davis, CBO, deputy director of the Division of Building and Fire Regulations for the Virginia Department of Housing and Community Development, outgoing Board President Greg Wheeler, CBO, chief building official in Thornton, Colorado, spoke on the Code Council's accomplishments over the past year and expressed his appreciation for the opportunity to serve as president in these unprecedented times. "While the times have been tough, we have continued to forge forward to become stronger than ever and more resilient," Wheeler said. "I could not be prouder of who we are as an organization, and as an industry."
Below are Wheeler's full remarks as outgoing Code Council board president during the Connections Gala on Tuesday, Sept. 21, 2021, in Pittsburgh, Pennsylvania.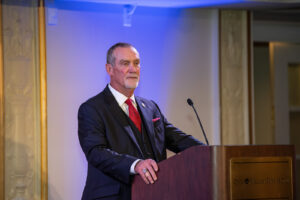 Thank you all for coming this evening. I'm so grateful to be standing before you once again.
I am especially grateful to those of you who have served or are currently serving our country in the armed services. During my tenure as Code Council Board President, I have made a routine of recognizing our service members at the top of every meeting that I have attended virtually or in person. In keeping with that tradition, I would like to take a few moments to once again recognize your sacrifice and service to all of us. If you are a veteran, active military member or family member of someone in our armed services, we thank you for your service, we thank you for your sacrifice, we thank you for our freedom and we appreciate you.
I would also like to thank those that have been instrumental in my personal and professional growth. Past presidents such as Jimmy Brothers, Ron Piester, Steve Jones and Bill Bryant have been mentors of mine and guided me throughout my tenure on the board of directors. Thank you, gentlemen, for your leadership, guidance and friendship. I'd like to thank the past and present board members who have served by my side throughout the years. It's been my pleasure to serve our association with all of you.
I want to thank the Colorado Chapter of ICC and the city of Thornton for your continued support and for allowing me the time to serve and participate in this association.
My wife Renee, who is here tonight. Renee has supported me unconditionally throughout my service on the board as an open ear and my closest advisor. Thank you, Renee.
And last but certainly not least, I'd like to thank Dominic Sims and the entire Code Council staff. During these trying times, we've banded together to be a guiding light for our industry. Our association continues to thrive as a result of its hard work and determination. While the times have been tough, we have continued to forge forward to become stronger than ever and more resilient. I could not be prouder of who we are as an organization, and as an industry.
During my inaugural address at the 2019 annual conference in Las Vegas, I announced the theme and goal of my presidency, which was "Building a Strong Foundation, Leading a Resilient Future." I couldn't be prouder to see that vision come to fruition. I outlined many of these accomplishments during my President's Report to the membership at the Annual Business Meeting.
Society is facing an increasing number of threats — both manmade and natural. Buildings serve as our safe havens and so we must prioritize resiliency. This year alone we've had a record number of storms already. Plus, the ongoing wildfires have been devastating. Therefore, increasing resiliency within communities is not only non-negotiable, but it needs to happen now.
As an organization, we've been advocating for increased resiliency within communities. However, this is not a goal we can, or should be, striving to achieve on our own. To ensure buildings are future-proofed to mitigate damage from natural disasters, it will take collaborative efforts from every industry connected to building safety. To increase energy efficiency and reduce greenhouse gas emissions, it will take governmental participation. After all, it takes a village to ensure our buildings are safe and structurally sound.
As we saw from the tragic Surfside building collapse, we need to work together to continue evolving our codes, standards, and regulations. In August, we, along with the Building Owners and Managers Association International and the National Institute of Building Sciences, convened a panel discussion that focused on how communities monitor the safety of existing buildings, what guidance exists for building owners, and how future catastrophic events can be avoided.
As an industry, we are having the "hard" discussions and taking a closer look at our tools, processes and regulations and developing best practices. These conversations, along with what we have done in the past couple of years, will not only impact the future of our industry but society as well.
I want to once again thank everyone who has and continues to contribute to our organization's success. Without their dedication, we could not have achieved the accomplishments we have so far.
It's truly been a pleasure serving as your president and watching our organization grow to new heights. Therefore, it is with an optimistic heart for the future that I welcome our new president, Cindy Davis. I know without a doubt that she will continue building on the foundation that we've already established. She will guide both the organization and the industry through the necessary innovations and advancements to achieve our mission of building safe, affordable, and sustainable communities.
Thank you.