CodeNotes: Firestop system requirements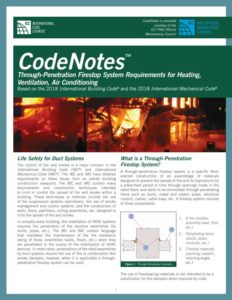 The control of fire and smoke is a major concern in both the 2018 International Building Code (IBC) and 2018 International Mechanical Code (IMC). A new edition of CodeNotes — Through-Penetration Firestop System Requirements for Heating, Ventilation, Air Conditioning (based on the 2018 IBC and IMC) — provides an understanding of the detailed requirements on these issues from an overall building construction viewpoint.
The IBC and IMC contain many requirements and construction techniques intended to limit or control the spread of fire and smoke within a building. Correctly installed and maintained firestop systems protect against the passage of flames, deadly gases and toxic smoke through openings that are created for penetrations, joints and gaps in fire-resistive walls, floors and floor/ceiling assemblies. The integrity of fire-rated assemblies is restored by firestop systems.
A through-penetration firestop system is a specific field-erected construction of an assemblage of materials designed to prevent the spread of fire and its byproducts for a prescribed period of time through openings made in fire rated floors and walls to accommodate through-penetrating items such as ducts, metal and plastic pipes, electrical conduit, cables, cable trays, etc.
The IBC and IMC requirements clearly define fire-resistant construction, the requirements for through-penetration firestopping, the details of fire-resistant design, and the responsibility of the design professionals. Chapter 7 (Fire and Smoke Protection Features) of the IBC provides detailed requirements for fire resistant-rated construction, including structural members, walls, partitions and horizontal assemblies. Other portions of the code detail when certain fire resistance-rated elements are required or what level of protection they must provide.
To learn more about what codes address firestopping penetration for ducts, how firestop systems are approved, the applicable use of a through-penetration firestop system and firestopping with fire damper applications, click here to read the entire CodeNotes.
For more information regarding code required firestopping of plumbing systems, refer to the ICC publication Firestopping, Joint Systems and Dampers. Online classes and webinars based on this publication are available.
---
As part of its goal to serve the needs of plumbing, mechanical and fuel gas (PMG) officials, the ICC PMG Official Membership Council is committed to providing free, informative code support documents known as CodesNotes that can be used to complement building departments' in-house weekly supplemental training. We hope you enjoy this newest edition of CodeNotes. Past topics include backflow devices and the protection of the water supply, gas pipe sizing based on the latest edition of the International Fuel Gas Code and the International Residential Code, and bonding of corrugated stainless steel tubing gas piping systems, just to name a few. The CodesNotes collection has recently been expanded to include a selection of notes offered in Spanish.
The ICC PMG Official Membership Council website offers many resources. The council — open to all ICC members and serving the needs of PMG officials and industry professionals — consists of a great team of professionals who are willing to share their technical expertise and experiences. You'll have the opportunity to discuss issues that you face as a community, and how ICC might best serve you. If you haven't already done so, please go online and become a member of the PMG Official Membership Council.