ICC Evaluation Service is primed for 3D printing

Imagine designing a home or office building from your computer, and with a few keystrokes, begin building them, piece by piece. That's what 3D printing construction technology is all about. And engineers have been doing it around the globe for years, using remote, robotic "printers" that take a design from the computer to the construction site.
Realizing that 3D printing is quickly becoming an in-demand technology, ICC Evaluation Service (ICC-ES) technical staff have been closely monitoring developments in the 3D printing construction industry. As the leading evaluation service in the industry whose reports are widely accepted by building officials and jurisdictions in the United States, ICC-ES has been working with leading 3D printing construction companies to develop building code compliance for one-story, single-unit, residential dwelling walls constructed using 3D printing technology.
Yes, walls. And foundations and any other part of a structure can be formed using a 3D printer. The size of the printers depends on the component you're creating.
History of construction 3D printing
While not at the forefront of major construction headlines, 3D printing construction technology has been around for some 40 years. A timeline in a February 2019 Digital Trends article credits Chuck Hull with inventing a stereolithography apparatus in 1986. This 3D-printing technique refers to a method of printing objects layer by layer using a process in which lasers selectively cause chains of molecules to link together, forming polymers.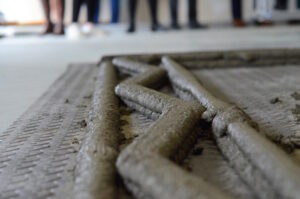 A year later, Carl Deckard at the University of Texas pioneered an alternative method of 3D printing, which turns loose powder into a solid, instead of Hull's liquid resin process. Deckard's approach to 3D printing involves using a laser to bind the powder together as a solid. It takes until 2006 until the first selective laser sintering printers are commercially viable, according to the Digital Trends article, thereby opening up new opportunities in manufacturing. What followed was research that led to the design of 3D printers that could form prosthetics for medical uses and others for construction.
Among the discoveries, according to a February 2020 For Construction Pros article, was an autonomous robotic construction system (ARCS). An engineer at the computer can tell a super-sized robotic printer on-site what and where to extrude the specially prepared compound.
Such field robotics, like drones, are especially effective in construction site areas that are especially unsafe for workers. The ability for machines to perform repetitive tasks — while workers focus on the safer, more in-depth parts of the job — can improve efficiency and reduce job site accidents.
An April 2015 For Construction Pros article notes more advantages of 3D printing construction technology, including using a special concrete and composite mixture that is thicker than regular concrete, allowing it to be self-supporting as it sets. So, 3D-printed components do not have the same design constraints that may hinder current construction methods. In addition, curved concrete structures created through 3D printing can be hollow, using less material and creating space for building services inside the structural elements.
ICC-ES focused on the future of construction 3D printing
There is a lot to consider when using 3D printing construction technology. Because 3D construction technology is not included in the 2018 edition (or earlier versions) of the International Building Code (IBC) or International Residential Code (IRC), acceptance criteria (AC) for 3D automated construction technology for 3D concrete walls (AC509) has been developed by ICC-ES technical staff under IBC Section 104.11. That section states that supporting data, where necessary to assist in the approval of materials or assemblies not specifically provided for in the code, can consist of valid research reports from approved sources.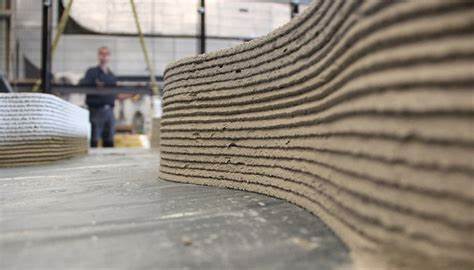 The acceptance criteria — 3D Automated Construction Technology for 3D Concrete Walls — was developed to provide requirements to qualify the use of wall construction using 3D technology under the 2018 IBC and IRC, including structural strength and compatibility, fire safety, and material durability. The acceptance criteria also outline specific product sampling and quality requirements that must be fulfilled to obtain code compliance verification. The results of evaluation and testing in accordance with the acceptance criteria will be summarized in an ICC Evaluation Service Report (ESR) made available to code officials and the public, as set forth in Section 104.11.1 of the IBC.
The ICC-ES acceptance criteria apply to 3D automated construction technology and 3D concrete used to construct interior and exterior 3D concrete walls, with or without structural steel reinforcing, used as bearing walls, non-load bearing walls, and shear walls, in one-story, single-unit, residential dwellings. The walls are to be constructed by printing 3D concrete in layers to create two outer face shells, then placing a proprietary concrete core between the shells to form a solid wall. The acceptance criteria contain multiple sections such as material performance tests (i.e., compressive strength, freeze-thaw, shrinkage and volume change, and effect of printing time interval on performance), wall structural performance tests (in-plane, out-of-plane and axial compression), as well as special inspection recommendations, fire-resistance requirements, and conditions for use as interior or exterior walls.
The acceptance criteria require each 3D concrete mixture design and reinforcing details to be tested, as well as evaluation of variations in the geometry of the 3D concrete outer shells (such as thickness and width of the extrusion layers) and the proprietary concrete core. The criteria also require a design analysis report to be submitted, which is must include a complete analysis and interpretation of the qualification test results to demonstrate that 3D concrete walls can be designed consistent with the applicable sections of the IBC or IRC.
Stay tuned! Future articles will dive into more depth on the different types of printers used, some of the software out on the market, the biggest names in 3D-printed home developers, and interviews with experts in the field.