Press fitting technology is changing the industry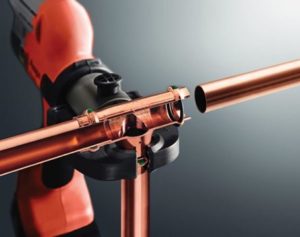 There have been many tools throughout history that were developed that have helped trade professionals in the installation of plumbing. Until recently, the plumber, fitter and welder have relied on welding, brazing and soldering to complete piping connections. By now I am sure everyone is familiar with press-fitting technology. Press fittings were first introduced to North America for potable water distribution systems back in 1999 and have continued to gain in popularity. Press fittings now are used in a multitude of applications for both metallic and plastic pipe joining. On average, over one million press fittings are installed worldwide each day.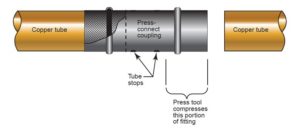 Standard ASME B16.51 for press-connect fittings for copper tubing and copper pipe was added in Section 605.14.5 and Table 605.5 of the 2015 edition of the International Plumbing Code (IPC) to provide an additional option for joining and connecting. These fittings have an internal O-ring that provides the sealing. The metal fitting is crimped onto the pipe or tube with a special tool designed for that purpose. Once crimped in position, the fitting cannot be removed, and the pipe cannot be rotated in the fitting.
The 2018 International Fuel Gas Code (IFGC) now allows Schedule 10 steel pipe to be connected by press-connect fittings listed to ANSI LC4/CSA 6.3.2. Because welding, brazing and the use of flanges is labor-intensive and more difficult with thin wall pipe, press-connect mechanical joints are a practical alternative that are sure to increase the use of Schedule 10 steel pipe.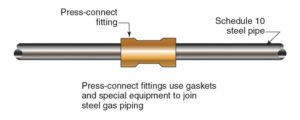 The popularity of press fittings can be contributed to many factors. Press fittings have been able to fill a gap in the workforce by reducing the time for installation of a pipe joint by as much as 60 percent. Press fittings are offered in o.5 inch up to four inches in size, making a press solution — especially for larger sizes — sought after by contractors. Press technology offers other benefits that have been considered such as:
no fire permits and a reduction in safety equipment needed for the installations;
every press is the same regardless if there are five separate installers using the products, which is not true for welding, brazed or sweat fittings;
the fittings can be installed in wet or dry systems;
reduction in mechanical injury to installers versus traditional installation methods;
less effort and no additional preparation required when preparing piping for the fitting installation and no reworking required;
no need for pipe threading and cutting machines;
no oil or filings to clean up unlike traditional methods of pipe joining;
available in a multitude of alloys and they are tested and listed for use in a wide variety of applications.
Contact the Code Council's PMG Listing Program to see what products are listed. Inspectors rely on plumbing, mechanical and fuel gas (PMG) listings issued by the ICC Evaluation Service (ICC-ES) because of the quality of the review conducted by ICC-ES PMG engineers.
Press technology has also been the choice of many engineers specifying press fittings in multiple federal buildings such as the Pentagon in Arlington County, Va.; the Statue of Liberty monument; Veterans Affairs hospitals and even in U.S. Navy ships. Because press fittings are available in copper, stainless steel and carbon steel, they will work with virtually any pipe system made of those materials. Some of the most popular applications are for potable water distribution, natural gas and propane piping distribution, refrigeration, fire protection, compressed air, corrosives, hydronic heat, low-pressure steam, vacuum, gas, and petroleum products.
With the decline of young people coming into the plumbing and pipefitting trades, it is assured that press technology will continue to grow in popularity and will help to fill the void in the workforce. As the technology develops, there will be new applications in the near future. The evolution of press-fitting technology has certainly made a positive impact in the plumbing and heating industry and is a welcomed solution in an industry that has not seen this kind of change in 50 years.
Be sure to look for plumbing, pipefitting and press technology exhibitors at this year's Building Safety & Design Expo in Richmond, Va. This event is where building safety and design professionals go to learn about these and many other innovative products. Make plans to attend the Building Safety & Design Expo to connect with manufacturers, suppliers and other industry leaders who can help you increase your productivity and grow your business. This event is organized by the International Code Council and held in conjunction with the 2018 ICC Annual Conference and Group A Public Comment Hearings.